KTM RC390 review
Overview
Make: KTM
Model: RC 390
Cubic Capacity: 373.2 CC
Horse Power: 42.9 HP
Top Speed: 180 kmph (limited)
Delhi ex-showroom Price: Rs. 2,05,000/-
Pros
Power – lots of it
Great handling
Looks hot
Affordable pricing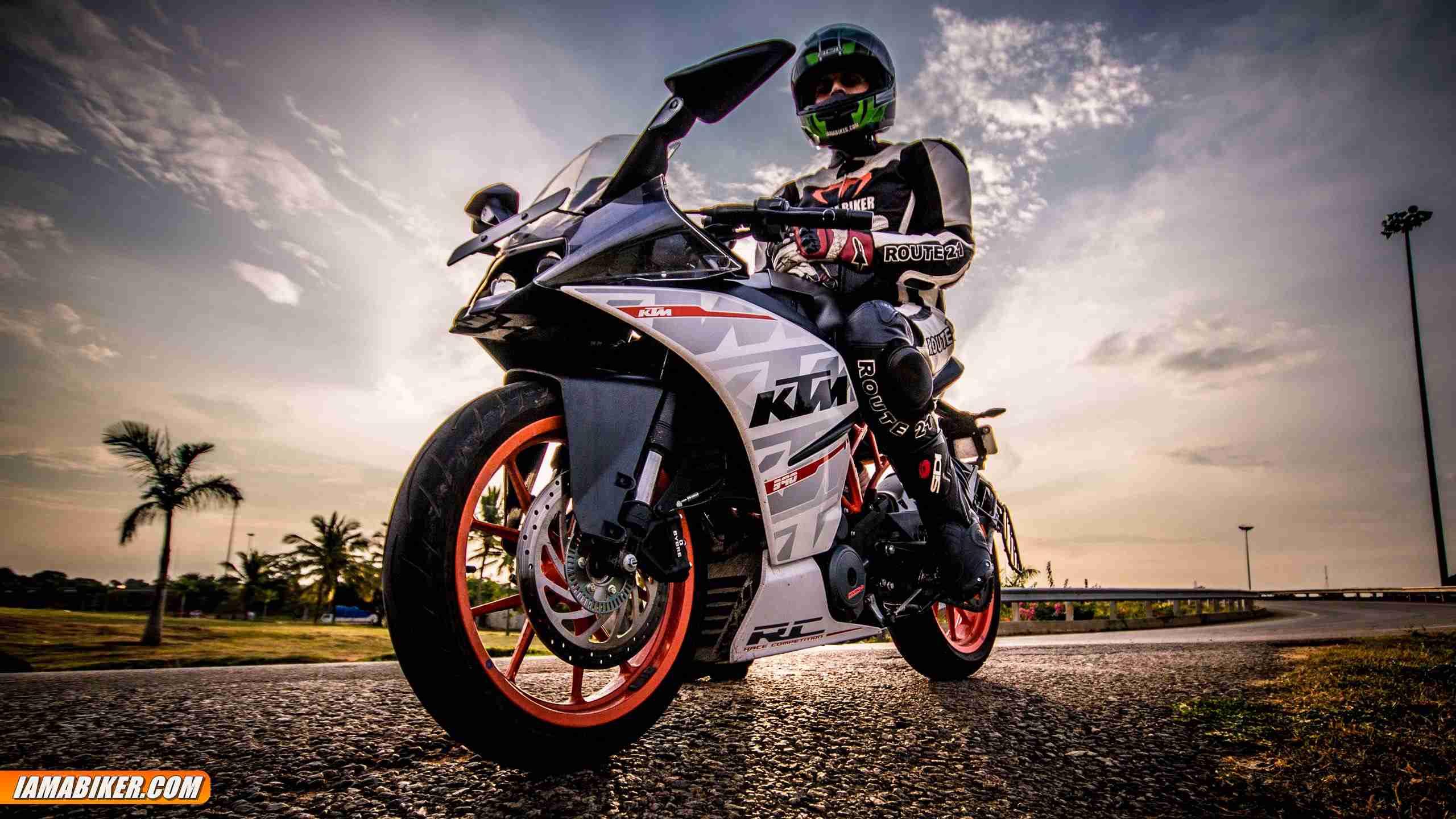 After an excruciating wait, watching on as our international counterparts rode the KTM RC 390 all over, we finally got to spend some quality time on the machine. We even had a session on it at Bajaj's Chakan track. Let us make one thing clear about the RC 390 even before we start the review, it has the capability to make you fall madly in love with it even before you ride it and it can go the other way around as well. All four of us who tested it had very different things to say about this motorcycle, we never had such varied opinion coming in for a single motorcycle and that's what makes it very interesting. Onward then, our take on the KTM RC 390 follows.
Engine and Performance
[youtube http://www.youtube.com/watch?v=KqoATOgyYY0?rel=0&showinfo=0&wmode=transparent]
Let's get directly to the thick of things. Above is a video of the RC 390 on track. Crank up the KTM RC 390 and immediately you are trying to figure out if there is something different from the Duke 390. Slot into first and immediately you notice that things are a bit more controlled than the Duke. The twitchy low end is now replaced by a much more smoother power delivery, thanks to what seems to be revised power maps. Keep the shifts above 5.5K RPM and the RC 390 will pull away like there is no tomorrow. Time the shifts to perfection and the 0 to 100 comes in at 5.7 seconds and it will go all the way to the electronically limited 180 kmph. We did a 176 kmph, but surely a lighter rider could squeeze that extra couple. The first time we got hold of the RC 390, we took it straight to some fast winding roads, where else right? It was a hot day and impressively, even session after session of hard riding, the engine remained quite composed. While the engine remained composed, the temperatures did soar quite high. On the move the new design diverts the heat away from you, that's good. But once you stop, say at a signal the heat gets to you, again not a big deal, higher capacity bikes higher the temperatures, but what was annoying was the extra long crank required to start the bike once it's really hot and the extremely loud fan noise. But once it is up, it's all fun and games again and you can rev this machine all you want and it stays with you all the way.
Spirited riding done and once you come down to the real word scenarios, the RC 390 is not really comfortable. Below the 5K RPM range the bike is not at all happy. The single cylinder wonder from KTM now is annoyed at you and looses some of its composure and refinement. This bike is meant to be ridden hard and there is no other way about it. Coming to the efficiency bit, the KTM RC 390 returned a mileage of 35 kmpl on the highway and 26 kmpl in city and a worst of 20 kmpl after very enthusiastic riding. Check out the top speed of the KTM RC 390 below.
[youtube http://www.youtube.com/watch?v=DaKWX3h3XM4?rel=0&showinfo=0&wmode=transparent]
Look and Feel and Build Quality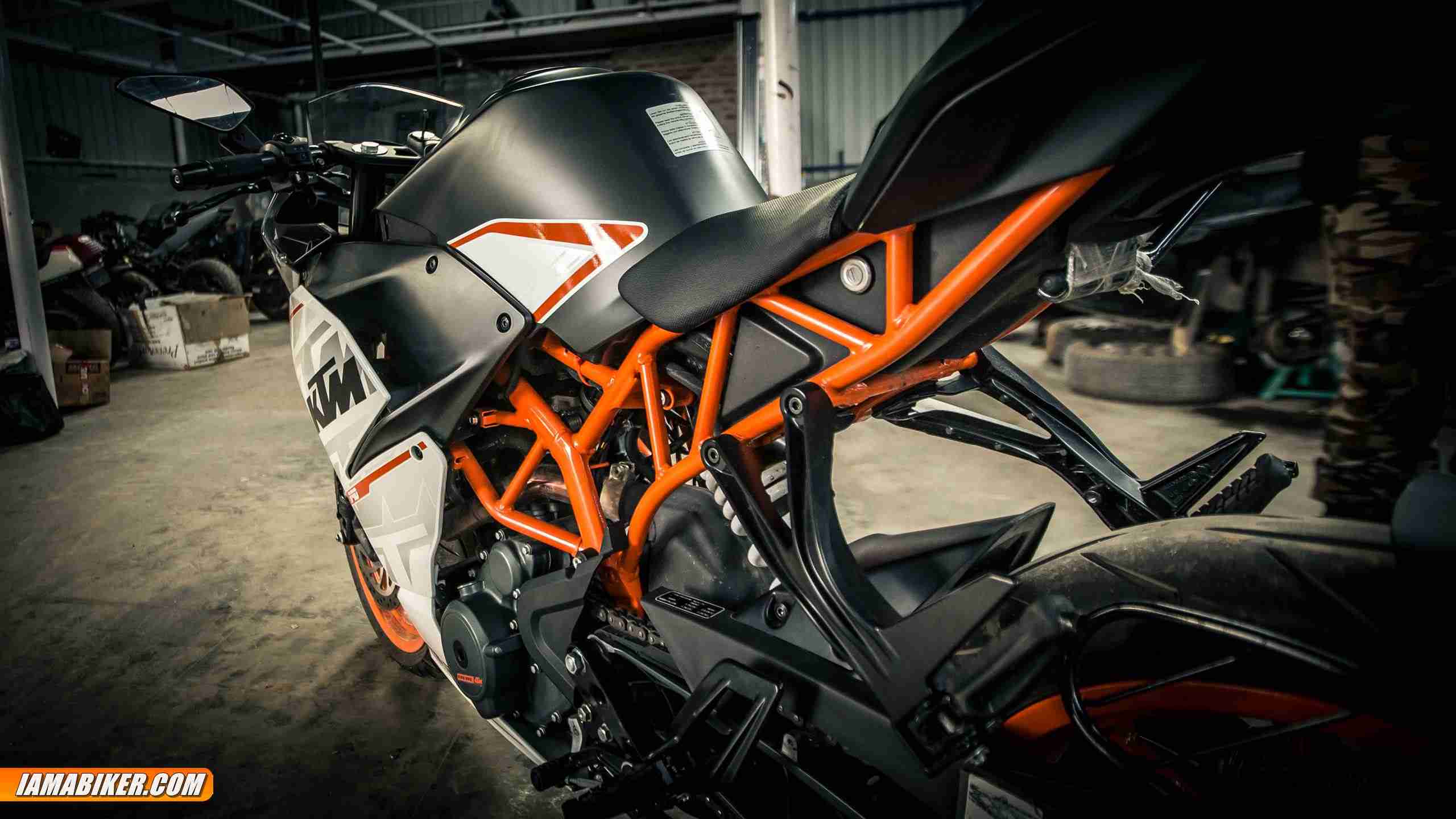 When it comes to the looks department, the KTM RC 390 looks crazy and very nonconformist. And when we say crazy we mean good crazy. But it's not for everyone, it is very out there and totally different from what we are used to from a faired motorcycle. The first thing you notice is the duel projector headlights along with the super bright LED day running lights. Then come the sharp lines and the naked almost neglected rear with the rear seat hanging high, followed by a rather beautiful minimalist tail section with LED tail and brake lights. Once you sit on the bike you are welcomed by a proper supersport riding position. If you are of shorter stature, say below the 5'10 mark, the seating position will be really aggressive for you. We were surprised to see that taller riders are actually more comfortable on the RC 390. You see the RC 390 fits riders of all sizes, short or tall, seat height is good for everybody. The supersport riding position is supported by high tank recesses so that taller riders do not feel cramped. The build quality as such is good, you see some small amount of parts sharing especially the switch gear and the tank lock, then of course the instrument console. The bike we tested had the clutch cable rubbing on the speedo, long term that could lead to some unpleasant scuff marks. It's a naked rear end, so we were not surprised to see some open wires, but some of it definitely could have been zip tied right at the factory. Small things and it's almost nitpicking but yes once you notice it, you just cannot forget it. But on a whole, plastic quality all around is pretty good and design is straight forward and everything on the bike has a purpose. It is a sharp, compact, light bike that looks hot. Also check out our collection of KTM RC390 wallpapers
Handling and Braking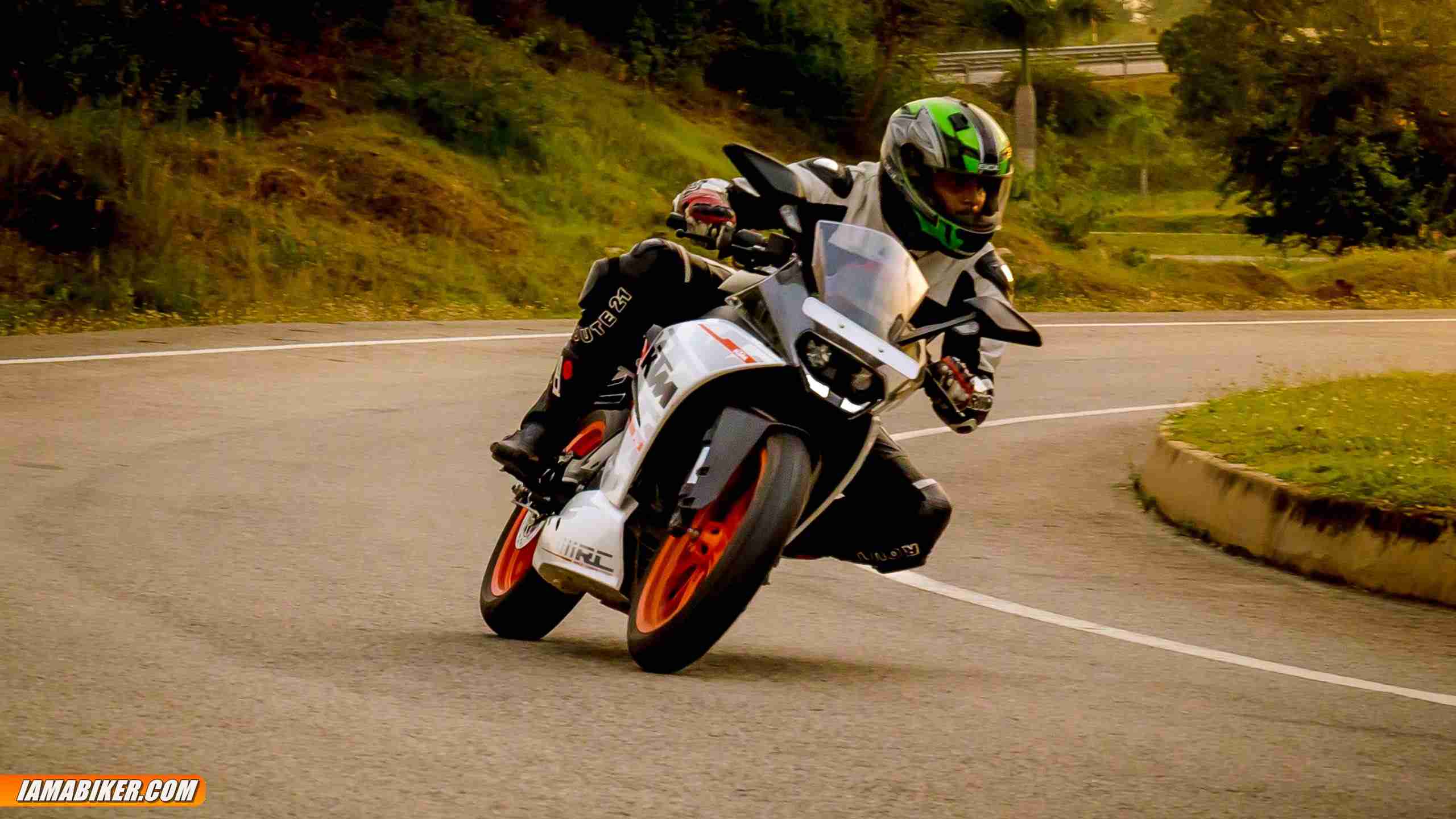 Handling and braking is the area where the RC 390 excels. The amount of confidence it gives you is just something you need to experience to believe. In a very short time after hopping on the RC 390, in all probability you have already exceeded your previous personal mental and physical blocks of high speed cornering. You know exactly what the front tyre is doing and with minimal rider input you are changing direction, mid corner corrections are a breeze. The handle bars which look like clip on's are basically regular handle bars that look like clip on's. In a strict track riding point of view it would have been good if it were a bit less wider, but for the street, it does the job pretty well. The chassis that we are so used feels so much more stable and with the reduction of rake and wheelbase, the RC 390 sure is nimble. Suspensions we feel are very cleverly set. It's firm for the track with pre load adjustable at the rear to make it even more firm for the track, but we kept it mid way, not too soft, not too firm. In city riding like we said earlier at lower RPM's it is a pain, the suspension holds good for the regular irregularities and bumps, but uncomfortable for the real world craters that we have. In the RC 390's defense it is a proper sports bike, it is meant for the fast, clean and smooth roads. So, no points deducted there. The brakes again are right up there with the best in the class, stops on the dime. The front brakes but surely need to be a bit more progressive. Right now it has some free play before they kick in and they kick in hard, so it needs some getting used to. Either ways, for the uninitiated the ABS does come to the rescue and so does the Metzeler tyres that come stock. Now these tyres provide some excellent grip almost under any conditions. We say almost only because quite obviously throw in some wet weather and it's not comfortable. We must say, if you are one of those who are waiting to, or have already picked up your RC 390, do take it to a track to see what it really can do, you will come back a changed person.
Key features & VFM
Key features of the RC 390, do we even need to point it out? Those LED DRL's, the twin projectors up front, the LED brake lights, the super sticky Metzeler tyres, the instrument console that pretty much has everything you need a press away and finally the ABS. Mirrors on the RC 390 are about as practical as the fuel tank capacity, expect a tank range south of 250 kilometers on a tank full. The turn indicators on the mirror are quite a nice touch though. The under seat pillion grab is something very unique but it does collect muck especially in the rains even with that hideous mud cover the rear wheel comes with. The headlights are brilliant you have a strong throw coming from those halogen backed projectors.
Coming to the value for money bit, honestly it does not get better than this. Spares and replacements should be relatively easy on the pocket thanks to it being made by Bajaj. If you have read our RC200 first ride report, we mention something we call the power to price ratio and if the RC 200 checks that box, the RC390 makes that box look ridiculous. At this price point there is nothing else that provides thrills like this, other than its naked brother the Duke 390.
Final Verdict
The KTM RC 390 is all about power and handling, and both of that at a really interesting price point. It puts all its near competitors at shame and even gives few from from a step above a good run for their money. It is not all good though. With such a high capacity single cylinder, refinement is not really its forte and tank range is probably our biggest grouse. Wrapping it up then, the RC 390 is not your everyday, run of the mill motorcycle. Like a lot of motorcycles in our country right now, it does not try to do a lot of things. It does just one thing good and it's a master at it. It truly is ready to race.
Specifications Sheet
ENGINE
| | |
| --- | --- |
| Design | Liquid-cooled, 4-stroke, DOHC, 4-valve |
| Bore * Stroke | 89 mm × 60 mm |
| Torque | 35 Nm @ 7000 RPM |
| Power | 42.9 HP @ 9000 RPM |
| Fuel delivery | Fuel injection |
| Starting aid | Electric |
| Transmission | 6 speed |
CHASSIS
| | |
| --- | --- |
| Frame | Tubular space frame made from steel |
| Front Suspension | WP Suspension Up Side Down |
| Rear Shock absorber | WP Monoshock |
| Brake system Front | Disc |
| Brake system Rear | Disc |
| Disc diameter front | 300 mm |
| Disc diameter rear | 230 mm |
| Front tyre | 110/70 17 inch Metzeler Sportec tubeless |
| Rear tyre | 150/60 17 inch Metzeler Sportec tubeless |
| Fuel tank capacity | 10 L |
| Headlight | 12V 55W/55W |
| Wheelbase | 1,340 ±15 mm |
| Seat height | 820 mm |
| Ground clearance | 178.5 mm |
| Dry Weight | 147 kg |
Test Riders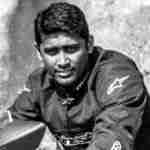 Sudeep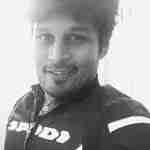 Avin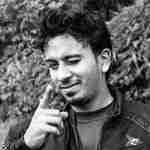 Harshit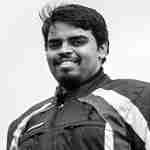 Pavan