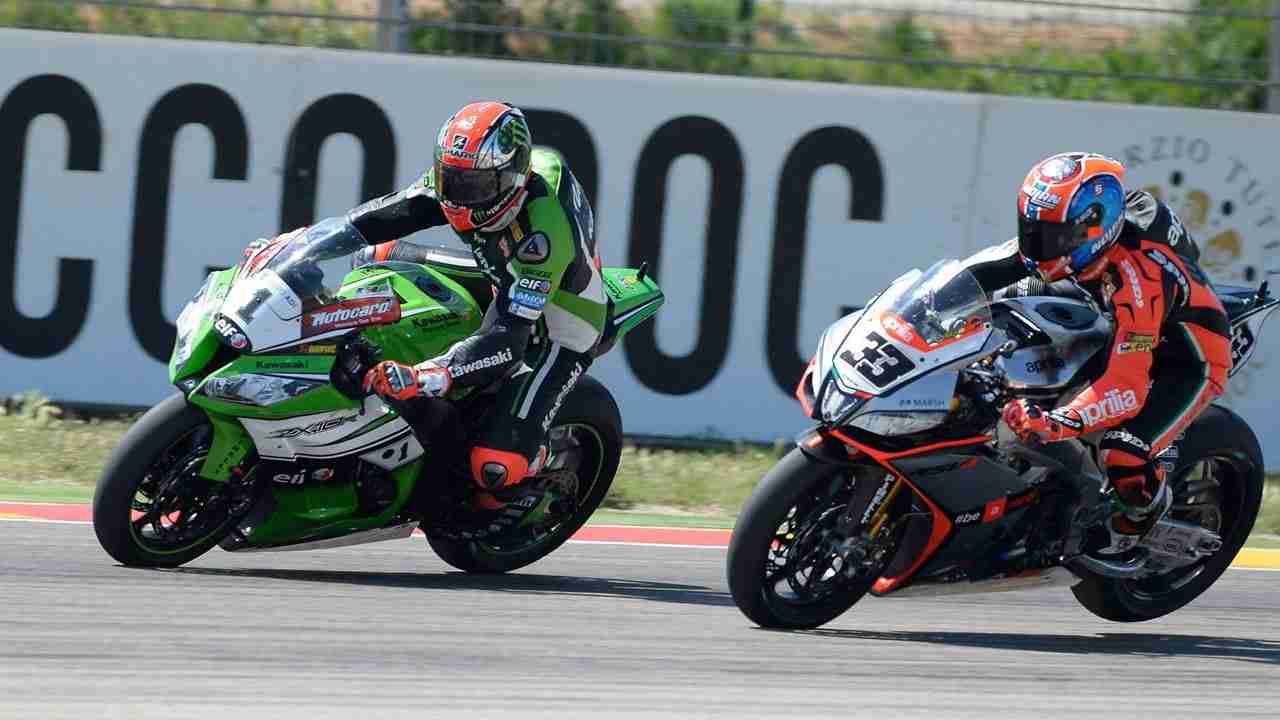 The truly peerless raceday performances from Sykes and Baz at the KRT team's home circuit of Motorland Aragon came after Sykes and Baz had also gone first and second respectively on the grid after Superpole at the 5.344km Motorland circuit. Kawasaki is now leading the Manufacturers' Championship by ten points after four individual races.
Conditions were cooler for race one, given the early start at 10.30am, with Sykes heading into an immediate lead and pushing away in his inimitable style. In race one he won by 4.275 seconds from Loris, having set a new lap record of 1'57.664 on lap two. The change in race times, introduced for the first time during this championship round, had a profound impact on the performance of the tyres mounted on the RSV4 (the reigning Manufacturer World champion bike).
In the first race, hindered by a sudden drop in tyre performance, Marco Melandri and Sylvain Guintoli progressively lost contact with the leading pack and were forced to run a brave, albeit defensive race. After a good start the Aprilia standard bearers gradually lost positions and although Guintoli managed to finish in 6th place, Melandri dropped down to 11th.
But the rider from Ravenna demonstrated the stuff of a champion and with support from the entire team he proved his character. Tom came under pressure in the warmer race two, as track temperatures doubled, with Loris his constant companion. Starting from the seventh spot on the grid, Marco began a series of battles with the riders ahead of him, leaving Guintoli, Davies, Giugliano and Rea in his exhaust, taking position after position until, four laps from the end, catching up Sykes and Baz, the pair of which had led the entire race, keeping all their adversaries at bay. With a spectacular move Melandri overtook for second place with just over 2 laps to go. But for a rider of Melandri's calibre, and after such a spectacular comeback, setting his sights on the win is a must. Marco mounted his attack in the last lap. Trying to stay glued to Sykes' wheel and at the end of the last straight stretch he carried out a braking move as spectacular as it was impossible but he went too wide and wound up in third place, finishing the race in that order.
He rode a brilliant race, truly the performance of a key player in a world championship which has only just begun and promises to be exceptionally uncertain. The test of character that Melandri and his RSV4 demonstrated on the track christens this all-Italian duo as definite hopefuls for the title. Guintoli takes home 21 points from the first European round, reconfirming his extreme consistency and the fact that anyone who wants one of the top spots in the championship standings will have to reckon with the strong French rider.
Assen in the Netherlands, on April 27th is the next stop off on the SBK calendar in 2014.
Tom Sykes
"It was very important to put in this kind of performance after the first weekend in Phillip Island. We scored two race wins today but after four or five laps of race two it felt far from perfect! Race one was very good and we had a good set-up that gave us a consistent pace on a cold track. I was expecting more of a drop off in that race but it was good to the end. I thought race two was going to be more straightforward in hot conditions so I went for the same SC0 as race one. There was a change in temperature in race two on the starting grid and I had to dig extra deep and try to make the best of the changing situation. The two guys behind me for sure had more grip than me but we were for sure able to put the Ninja ZX-10R on the pieces of tarmac those guys were looking for. I had a plan on the last lap to keep them behind me – and it worked. If someone had have made the pass and made it stick they would have deserved the win. Marco tried a pass and could not quite make the corner on the final lap. It was great racing and good for the spectators!"
Loris Baz
"There was a change in temperature for race two so we changed the rear tyre to suit it. We knew that race one would be hard for us because of the lower temperature but we hoped that the track would warm a little bit more to be sure to use the SC0 tyre. Finally it was on the limit in the opening race so we did not know what to do in race two. I pushed Pere my crew chief to use the soft one and I think it was a good decision because Tom seems to have struggled a bit more in race two on a different tyre. I caught him after a few laps and I think we had good race and we each enjoyed it. I tried to pass Tom but I lost the front a bit. I knew Melandri was closing behind so I wanted to overtake Tom as soon as possible. I could not do it and maybe I went a lap too early. When Marco came past we got involved for a while and we could not quite catch Tom. At this track we have usually struggled but here we are, close to the victory, on the podium twice and that is a good sign for the rest of the season. I am still second in the championship and now we go to Assen."
Marco Melandri
"It's a shame that we basically wasted Race 1. From the very first laps I was struggling and wasn't able to keep my pace. In the second race we made some changes with the team and the bike was working much better. I only lost a bit of time in the first part of the race. I had a little trouble braking going into turns but lap by lap I gained confidence until catching up the front runners. I overtook Baz and at that point, with the win within a shout, my DNA pushed me to make a go of it even if maybe I was a little too far behind Sykes. Unfortunately I went wide and finished third, but I had to prove that I could win and I will take that confidence with me to Assen to get my first win of the season".
Sylvain Guintoli
"Race 2 definitely went a lot better. Besides the result I was able to ride more confidently whereas in Race 1 we were just trying to take home as many points as we could manage. In Race 2 when Marco overtook me I tried to follow him and catch up the front runners but I lost the front end twice, so I decided just to maintain my pace. The improvements between the two races were clear. At one point my times were in line with the leaders but I was too far back by then to be able to catch them up. We need to figure out how the low temperatures in the first race had such an impact on our performance. With the new race times making the RSV4 perform as best as possible even with low temperatures will be important".
WSBK Aragon results
RACE 1
01. Tom Sykes -Kawasaki ZX-10R
02. Loris Baz -Kawasaki ZX-10R
03. Jonathan Rea -Honda CBR1000RR
04. Chaz Davies -Ducati 1199 Panigale R
05. Eugene Laverty -Suzuki GSX-R1000
06. Sylvain Guintoli -Aprilia RSV4 Factory
07. Toni Elias -Aprilia RSV4 Factory
08. Davide Giugliano -Ducati 1199 Panigale R
09. Leon Haslam -Honda CBR1000RR
10. Alexander Lowes -Suzuki GSX-R1000
RACE 2
01. Tom Sykes -Kawasaki ZX-10R
02. Loris Baz -Kawasaki ZX-10R
03. Marco Melandri -Aprilia RSV4 Factory
04. Sylvain Guintoli -Aprilia RSV4 Factory
05. Jonathan Rea -Honda CBR1000RR
06. Eugene Laverty -Suzuki GSX-R1000
07. Davide Giugliano -Ducati 1199 Panigale R
08. Leon Haslam -Honda CBR1000RR
09. Toni Elias -Aprilia RSV4 Factory
10. David Salom -Kawasaki ZX-10R EVO