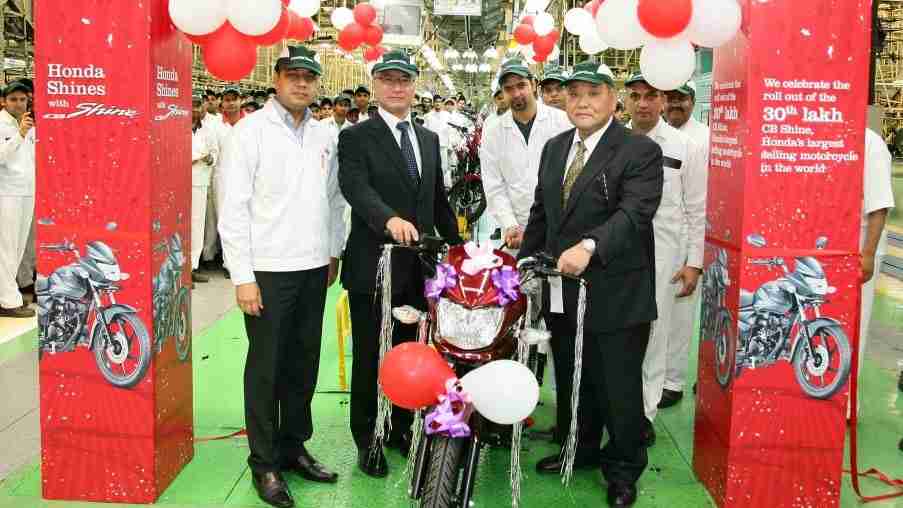 Honda Motorcycle & Scooter India Pvt. Ltd. (HMSI) created a new milestone today. Overtaking many pre-existing competition models of this segment, CB Shine has become 'India's all time highest selling 125cc motorcycle' and also First Ever 125cc motorcycle to achieve 30 lacs unit mark. On the global platform too, CB Shine has raced ahead to become Honda Motor Company, Japan's Number One selling motorcycle across Honda's two-wheeler operations worldwide for the first time ending FY'13-14. Celebrating this milestone, Mr. Keita Muramatsu — President & CEO, HMSI rolled out the epic 30th lac CB Shine produced at Honda's second plant at Tapukara, Rajasthan.
Mr. Keita Muramatsu — President & CEO, HMSI
"We thank our valued customers, business partners and Associates for this remarkable feat. CB Shine is not only No. 1 selling 125cc motorcycle in India but also the world! For the first time ending FY'14, CB Shine has become No. 1 selling motorcycle for Honda Motor Company, Japan worldwide."
Mr. Y. S Guleria — Vice President, Sales & Marketing, HMSI
"CB Shine has become India's first ever 125cc motorcycle to achieve 30 lac unit sales. This reaffirms that CB Shine is a true Winners Choice and is universally accepted by valued customers. We firmly believe customer experience and customer loyalty is priceless and will work to delight our customers in future too."
History and highlights of Honda's flagship 125cc motorcycle are as follows:
CB Shine was launched in April 2006 with the unique Optimax technology.
It quickly garnered 9% market share with sales crossing 1.17 lac units in its first year itself.
Backed by regular value additions & superior Honda technology, CB Shine became India's Single largest selling 125cc motorcycle by FY'2008-09, merely two years since its launch.
While all major 125cc motorcycle models witnessed sharp decline in sales during global economic slowdown in FY' 2008-09, CB Shine sales continued its strong upward sales trajectory.
CB Shine achieved its first 10 lac happy customers in October, 2010 (54 months) while 20 lac customer milestone was achieved in November, 2012 (25 months). With speed, the latest 30 lac Cumulative sales were achieved in April 2014 (just 16 months).
Last fiscal 2013-14, this segment faced de-growth. In comparison, CB Shine scaled greater heights with record Sales of 7.40 lac units, with ever highest single month sales of 94,300 units in March'14.
Since becoming segment leader, Honda's CB Shine leadership over nearest competitor model has consistently grown from 9% in FY'2008-09 to 61% in 2013-14. In volume terms, sales gap with nearest competitor has widened from 22,000 units to 2.81 lac units in FY'13-14, clearly indicating the overwhelming customer trust in CB Shine.
Today, every third 125cc motorcycle purchased in India is a CB Shine. Ending FY'13-14, CB Shine leads by 33% market share.