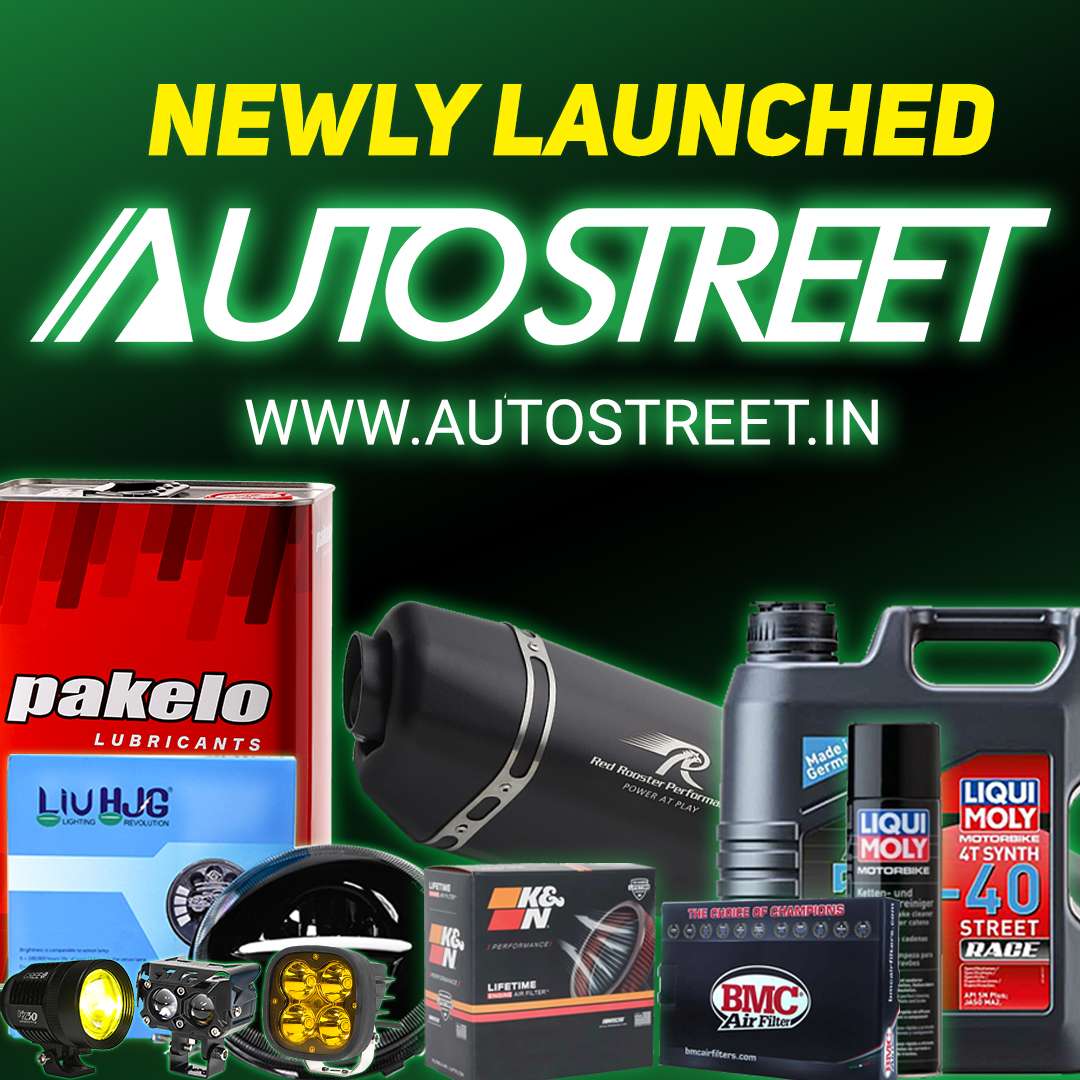 The following article has been sent in by Rohan Ganachari. He is a young, motivated, quick learning and enthusiastic biker who is very active in the motorcycling scene of Bangalore. Currently riding a CBR250R and learning a bit more about his bike and himself every day, below is his take on the saddle sore 1600 and the roller coaster of emotions that he went through on his attempt at this mammoth task.
On 29th July, 2012, at 4:32 pm, I stumbled upon a website that certifies a series of endurance rides, which on completion, entitles one to be a part of the "World's Toughest Riders". The allure of being the youngest Indian to achieve this title, haunted me over the next seven months. I downloaded articles and videos in the hope of sharpening my riding skills. More importantly, feeding my desire to attempt this feat. Needless to say, I headed out on road trips with various groups to better myself as a rider, as well as improve my endurance.
On 23rd December, 2012, I headed to Bombay via Belgaum & Pune from Bangalore to spend the holidays with my relatives. This ride gave me an opportunity to familiarize myself with the route. When I returned home, the urge to ride the SS1600K was more apparent than ever and thus began my quest to find a riding partner with the same desire!
From the 11 who showed interest, only 2 agreed, out of which 1 had to throw in the towel due to an unexpected leg injury. That left Mayank Shah and myself, exactly 21 days to prepare. A routine of going to the gym 6 days a week, a 45 minute walk every night after dinner, and healthy home-cooked food for 3 straight weeks disciplined my body and mind. But, alas, my plan to stay disciplined was thwarted by a need to eat Chinese food. My eyes were bigger than my stomach. BIG MISTAKE! Looking back at it, I realize the intensity of that mistake. Neither could I have a peaceful siesta, nor could I keep any food down.
Later that day, I was forced to ride a little over 30kms to Diwagar's house, who agreed to be one of the witnesses and who was kind enough to lend me some important paraphernalia that I would require for the ride. I spent a 'delightful' evening being hungry and dehydrated, so I comforted myself with some Maggi, two glasses of milkshake and tried to force myself to bed at 10:00 pm. What followed was a sleepless night, where all I did was toss and turn for another 2 hours. I guess, the excitement of the ride proved to be a bit too much. Luckily, the insomnia permeated to my riding partner, Mayank, so, after a quick shower and a 20kms ride to the start point, we were all set. We bid farewell to Sunil Rangnath & Diwagar, our two witnesses, and embarked on a journey to cover 1610+kms and return back to the starting point in less than 24 hours!
It was 02:43 am when we collected our first electronic receipt at NICE Road, entry at Hosur, Bangalore. We maintained a steady pace of 100-120 kmph in complete darkness with nothing but the headlights of our bikes to guide us. It was smooth sailing for the most part, but all the while, I could hear my stomach growling, filling me with regret. By the time I was done reminiscing over my blunders, we had covered 45kms in 30mins and were about to exit the NICE Road at Nelamangala, reaching the Bangalore-Pune National Highway (NH 4). From then on, we took turns leading, riding with a gap of 3-5 sec in between us to make the most of our headlights in a, more or less, completely dark environment.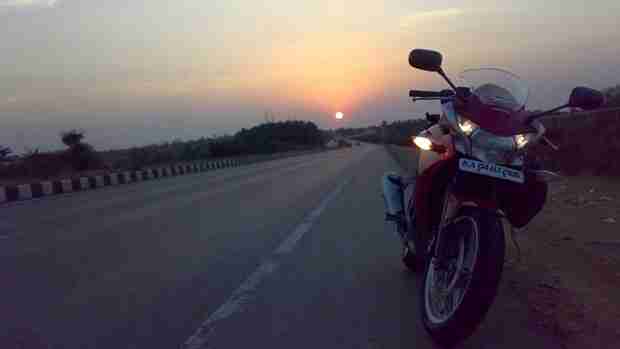 We took our 1st long break from 6:00 to 6:15 am. For a traveler, twilight is a crucial time when accidents are bound to happen. Here, I made the biggest mistake. While my friend was munching on sandwiches, chocolate bars and water, I was busy taking photos. In spite of his many attempts to get me to eat, I declined the offer. Maybe it was the adrenaline rush. The next 400kms was amazing! The sun was burning bright, everything around us was crystal clear and we opened throttle!
After a while, we decided to split and ride solo as our riding patterns are different. I maintain a faster pace, taking a break every 100kms and Mayank has better stamina, Now, I was all alone with my bike, and the sweet sound of her engine to give me company. These are some of the best moments in life that I cherish. My bike and I, alone on an open, never-ending road. This lulls me into a trance, often disturbed by people carrying goods on their heads crossing the road without a second thought, these are the moments that shock you back to reality, reminding you that concentration is key.
There were many accidents (trucks, tractors and vans) that I witnessed along the way, which made me realize that one mistake would have disastrous consequences. The realization that I was many kilometers away from the nearest city, with no one to rely on, AND NO GLASSES (since in the moment of brilliance, I happened to lose those) brought chills to my body, and yet, forced me to maintain a minimum speed of 115kmph, be it night or day, rain or storm, for the entire 24 hours. This is the severity of the SS1600K. I'm not surprised to say, the title "World's Toughest Riders" seems to be very appropriate.
I finally took my first 15mins break at Belgaum where I had some Cavendish bananas, sweets and water. All the while, I was getting the usual celebrity stares from the locals and the same old questions of "kitna deti hai", the cost of my ride, the destination, the origin and the purpose of my travel. I must say, breaks at public places during the day are best avoided to stay away from all the unnecessary attention.
All through the journey, I was in constant contact with my riding partner messaging the distance from the current location with respect to the start point (in comparison with the ODO), to know the exact distance between each other. We decided to meet at McDonalds, Kolhapur and boy was Mayank surprised looking at my face!
My left eye was completely red and I looked tired and hungry. I ordered a burger and two glasses of cold water (1 to drink and other to wash my face with). Although it made me feel better for a fleeting moment, 5 minutes later I had the same look on my face. Mayank had to leave and I stayed back for a while. After riding for 45kms, fatigue kicked in and kicked in hard! I decided to stop at an isolated place near a village called Kasegoan. I sat down at a milestone relaxing, listening to my favorite tones and sipping a can of Redbull. I sat there about 20 minutes, witnessed a group of Harley Davidsons thundering by and that's when I decided it's time to quit!
I thought that I'd want to grow old and maybe own a Harley someday and certainly not have THIS become my last ride. So I collected an electronic receipt to mark my U-turn point and headed back to the same McDonalds at Kolhapur, where I spent another 20 minutes. This time, reality kicked in. I was petrified at the thought of being alone, having no one to talk to and most of all, being a whopping 650kms from home!
I did call up a couple of my friends, in the hopes of seeking comfort, but it was of no consequence. Just when everything seemed hopeless I remembered the most important person of my life, the one who has given me everything I have ever wanted, fulfilling my every need. My mother!
With Mom on my mind and 650kms to go, I throttled through 300kms, in 3 hours, with 3 stops and 3 more cans of Redbull. Day turned to dusk and since I had lost my glasses on the way, it was really hard to ride. The light throw from my bike never seemed to be enough and the taillights of the trucks in front of me, blurred. In addition, the high-beams of the oncoming traffic blinded me every now and then. To top it all off, the rear wheel got pierced by a nail.
It was a scary situation for a 19 year old riding in complete darkness, all alone, through what seemed to resemble a scene from a classic Bollywood horror movie. Huge trees stood on either side, and the white strips on-road disappeared every 10 kilometers. I tailed behind SUVs as they provided me with better visibility and tried to stay in the middle row whenever possible.
This is when I needed human contact the most, so I made my stops at toll booths where I could rest and listen to the banter of the toll collectors. I will never say I regret the experience I had, because till date, I have always needed company for whatever activity, but after riding through hundreds of kilometers of darkness, all by myself, I'm proud to say to have lost the need to depend on others. I managed to maintain an average of 95kmph not falling below 85kmph or crossing 110kmph.
I reached Nelamangala at 11:30 pm entering the NICE Road and remembered my exit at the same spot 21 hours ago. I calculated that I had 3 hours left and just 300kms to go. At that instant, I decided that I could, in fact, complete the SS1600K. I continued on NICE Road as fast as I could, but then it started to drizzle, limiting me to 125kmph.
Having 250kms more to go, I headed towards Salem in an attempt to finish within the time stipulated, sadly enough I was caught by cops at the Karnataka-Tamil Nadu border for my unusual avatar. They let me go only after I explained my situation, showed them my documents and wasted my precious time. To add to it, the roads were bad, under-construction and filled with heavy traffic slowing me down to as low as 15-10kmph. I finally reached a point called Shoolagiri to tank-up. I noticed I had 200kms more to cover in 1 hour 45 minutes. The light at the end of the tunnel seemed to fade, I did ride a little further, but the pathetic road conditions and the amount of truck traffic was too much to take. I knew the inevitable and so, I took my final U-turn, and headed home.
The painful realization that after riding 1410+kms in 22hours 15mins, there was absolutely no other option left, thus began a disheartening 70kms ride back home. I concluded my journey by covering 1500kms in 24hours.
Exhausted, depressed and yet, I felt like a winner!
I was one of the very few teenagers to cover such an enormous distance in one go. It was an awesome, unforgettable experience. As I look at my watch, at anytime of the day or night, I remember that on the 30th of March, 2013, I was on my bike, riding somewhere on the NH 04.