The following article has been penned by Ricardo Pereira, founder of Bulleteer Customs.
---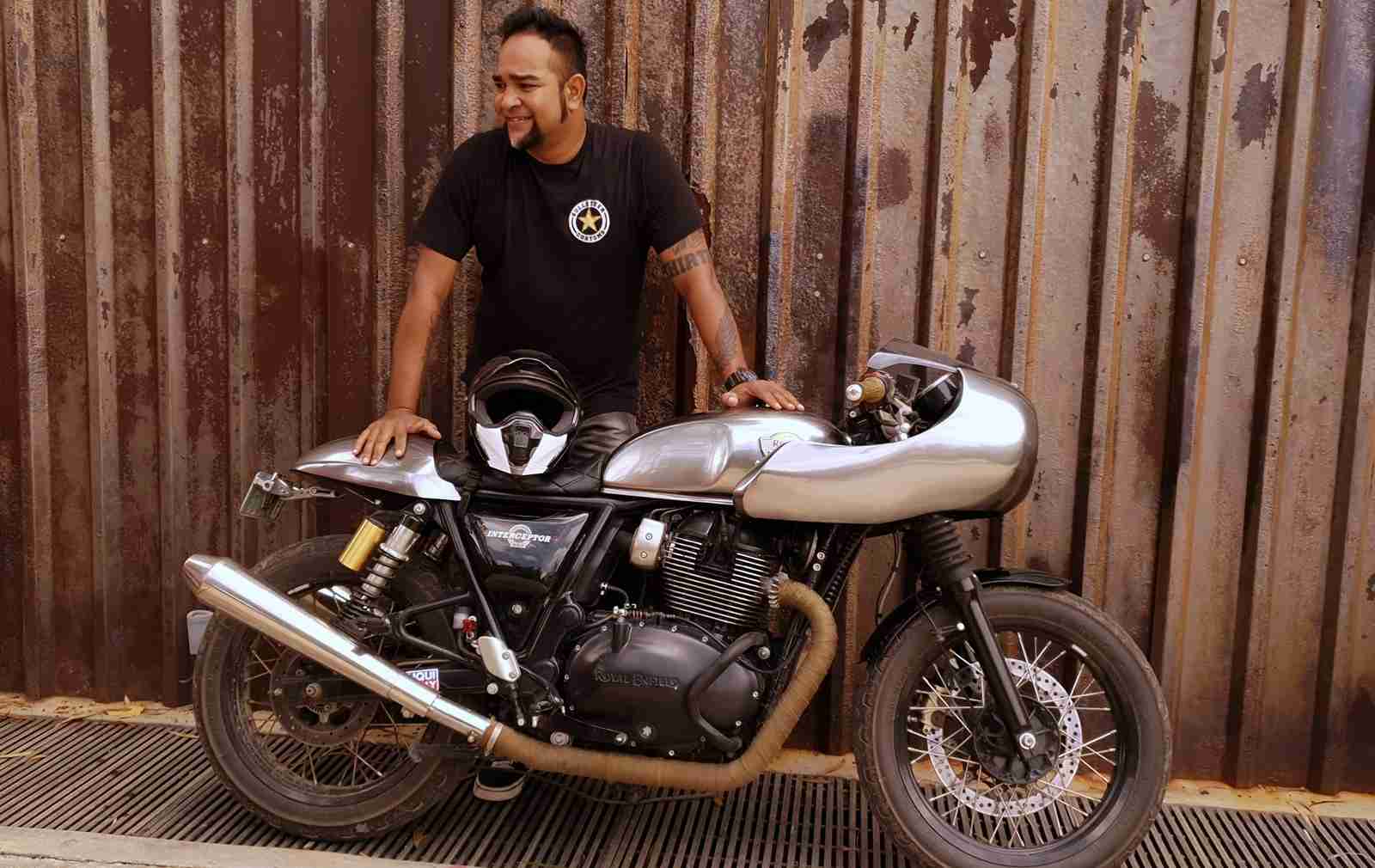 My first bike was a 1984 Cast iron Royal Enfield 350cc, a gift from my dad, the bike was a dream come true as I'd found all the other bikes at that time to be puny and lackluster. Even back then the first thing on my mind was to personalize it and take it out for a long ride and I did, I named the bike Gasolina and my first ride on this bike was to Coorg, followed by 6 trips to Ooty in the following year its self.
I found the Bangalore to Ooty ride was a blissful combination of straight highways, forest roads, ghat sections and quaint towns and not to forget the occasional deer and elephant spotting on the way, this made for the perfect weekend getaway. I've had to deal with punctures, carburetor blockages and other adventures on the way. Every ride taught me a lesson or two like handling a puncture in the middle of nowhere, hitch hiking with the punctured wheel to have it fixed at the nearest town, cleaning the carburetor and plugs when they would cause starting trouble and even pushing the bike when I had run out of fuel a couple of times, looking back these were the best rides of my life and probably thought me more about handling difficult situations and enjoying it as the greatest adventure ever.
Riding clubs have been getting more and more popular over the years and it's a great feeling to be in the company of likeminded motorheads, tea stops and chats about performance and adventures and everything in between is something every biker dreams of especially on lazy work days. There is nothing quite like planning a ride with a couple of friends, I say planning because the fun starts right there, the excitement you experience during the countdown to a ride date and finally setting out early morning, meeting up with the club and of course the ride itself is the icing on the cake , the destination is just another stop before the awesome ride back.
When you're riding a bike on a highway, with home behind you and an awesome destination ahead, surrounded by amazing scenery and enveloped in the beautiful beats your Royal Enfields making is a true treat for the senses not to forget the truly therapeutic effect it has on your mind, everything seems blissful almost like a meditative trance. A lot of men and women are drawn to this amazing state of mind that's possible only on a ride and all it takes is one ride, the rest will follow soon enough. This is the reason why riding has touched the hearts of millions of bikers worldwide.
Choosing a bike is a very personal experience or at least it should be, what I recommend more than reading the spec sheets or reviews is actually taking the bike in question out for a test ride to know exactly how it feels, the geometry, ergonomics and response to your input should be deciding factors on this test ride and you will know when you find the one, for a long trip I definitely recommend the Royal Enfield Himalayan, it's got the best suspension travel for our adventurous Indian roads, a comfortable seat, enough power for cruising and is built to handle roads and no roads as well, it's also super customizable and takes on a number of additions like fog lights, panniers and crash guards in its stride, but then again don't take my word for it, give it a try and find out for yourself!
Customizing a bike should start with your requirements for the perfect bike that you have in mind, for instance you have a Royal Enfield Himalayan, this means that you love the outdoors and have bought the bike to explore, so first start with stuff like fog lights for better visibility, panniers to carry everything you need for an adventure, a comfortable handle bar and seat because you are connected to the bike at these points so the better the connection the more confident and comfortable you will be, I personally like naming my ride and is the first thing I do as it creates an entity and hence gives it life, it's not a machine anymore it's a companion and you'd be surprised to see how that helps your creativity and enthusiasm overall.
The most awesome memory on a motorcycle
I have had is when Royal Enfield gave us the very first Interceptor 650 in India for us to customize for the launch at Ridermania 2018. We received the bike in a truck and it's a moment I had been dreaming off ever since I was a kid, a real living, breathing Royal Enfield Twin cylinder motorcycle, I remember starting it up and hearing that awesome twin cylinder rumble. I've always loved the signature RE thump and would defend its reputation with my life lol! but I must admit the grunt of the Interceptor 650 stole my heart away, if there was ever such a thing as love at first sight or sound for that matter, I experienced it that day, the very next morning I took it out for a spin with just my back pack and a bottle of water and a few hours later I was 450kms away from home wondering what happened, I found myself in Velankanni 570kms from Bangalore that night and in Yercaud the next night and finally reached home after two days of what I consider was the most memorable ride of my life.
In my opinion the best bike your money can buy has got to be the Royal Enfield Interceptor or GT 650, I personally recommend the Interceptor for its comfortable and versatile ergonomics compared to the GT's more racer focused riding position. Another very interesting attribute of this bike is its customizability and even though it's been around for only 2 years now you can see so many superb examples of Custom 650s throughout the country and the world, definitely the most popular bike the world over.
10 years ago the motorcycle was primarily a mode of transport but over the years India has awoken to the fact that a motorcycle is more than that, people are no longer interested in knowing what mileage a bike gives or what's the maintenance costs etc. They are busy riding about the country and experiencing the biker lifestyle and equipping themselves with riding gear and paraphernalia, chatting up with their biker buddies about the latest, fastest, coolest motorcycles available. Royal Enfield is the only motorcycle company in India embracing this aspect of motorcycling and has inspired many in India and around the world including myself to ride and experience the wonders a motorcycle has to share with those who dare to give it a try. I see this culture growing exponentially in the future like it has in the past few years and am glad to be a part of it.