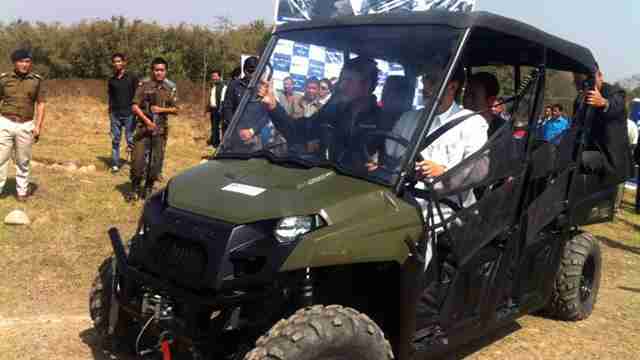 Polaris India, the world leader in off-road vehicles (ORVs) and All-Terrain vehicles (ATVs), has forayed into the North-East with the inauguration of its dealership in Dimapur, Nagaland. The Chief Minister of Nagaland Mr. Neiphiu Rio inaugurated the dealership. All products of Polaris Off road vehicles will be available in the state through 'Polaris Off Road Centre' located in Dimapur owned by Mr. Troy Motherwell & his wife Ms. Chubainla Motherwell. This is the 16th dealership that Polaris India has opened since its inception in India on 24th August 2011. Besides Dimapur, Polaris has dealerships at Ahmedabad, Bangalore, Chennai, Cochin, Dehradun, Guwahati, Hyderabad, Indore, Jaipur, Srinagar, Kolkata, Lucknow, Ludhiana, Mumbai, and New Delhi.
Mr. Pankaj Dubey, MD, Polaris India
"Nagaland is known for its natural beauty and tough terrains. The rocky and hilly paths of the region are the best to see Polaris vehicles in action. With Nagaland promoting tourism in the region, availability of Polaris Off road vehicles will help increase the tourism and the tourists will be able to enjoy unexplored areas with fun and ease. This new dealership underlines the importance we attach to Nagaland, north east, Indian market and growth prospects in the country."
Mr. Troy Motherwell – Managing Director – Polaris Off Road Centre
"All Terrain Vehicles are a niche segment in India. We are happy to be associated with the World's No. 1 brand in ATV segment. Polaris is known for its innovations in off-road vehicles. We will provide the best off-roading experience to our clients in the Nagaland and nearby states which offers tremendous potential in this region owing to its terrain."
Besides these dealerships, Polaris also has 20 Polaris Experience Zones spread across the nation that enable them to reach out to more people and in turn give the participants a chance to experience the off road racing experience within their city. There will be Polaris Experience Zone in Dimapur as well, which will be launched soon.