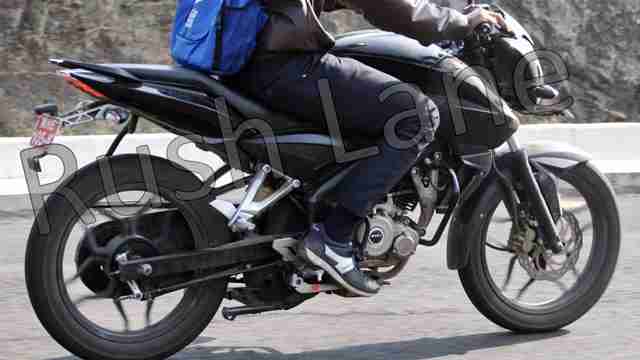 Finally we have some clear photographic confirmation of the new Pulsar 180 NS and the Pulsar 150 NS. We already knew these were coming and there have been photographs of the same popping up earlier as well. But none of them could really show in detail what exactly Bajaj has done to these bikes. Thanks to some enthusiastic photography from our friends at Rushlane we now have some pretty detailed photographs of the upcoming new Pulsars.
There are distinctly two different machines in these photographs, these especially can be noted in the different tail sections. Another thing that is clear is that these are air cooled engines thanks to the all faithful cooling fins present. The seats become a single piece one and the tail section along with the tail lamps are the same all too familiar one. The swing-arm surprisingly seems to be from the older generation Pulsars but we have a welcome change in it being attached to a mono shock suspension. The front section including the tank, forks, brake assembly, instrument console, alloys and the headlights are directly from the 200NS. Being a 150/180cc we think that the gear box will remain a 5 speed one, makes no sense in having a 6 speed one considering these are meant for commuting. The tires are obviously of a smaller profile, new rear grab rails and then the most important question when it comes to a Bajaj, how many spark plugs? Jokes apart, we think the triple spark configuration will make an entry on these machines as well. Power wise these definitely are going to be couple of horses more than the existing Pulsar 150 and 180's.
So basically a lot of mixing and matching gone into making these bikes, cost effective for Bajaj, cheaper and easier to source spares for the owner but a motorcycle that honestly looks a bit weird. So now does this mean that Bajaj will slowly phase out the older Pulsars that have been with us for more than a decade? And most importantly how will Bajaj make sure that the new Pulsar 200NS has better exclusivity? We will have to wait till the launch mostly at the Auto Expo 2014 along with that of the Pulsar 200 SS to know more about the fate of the older Pulsars, but we pretty much know for sure that the Pulsar 200NS will get fuel injection in the near future to keep itself a premium offering.