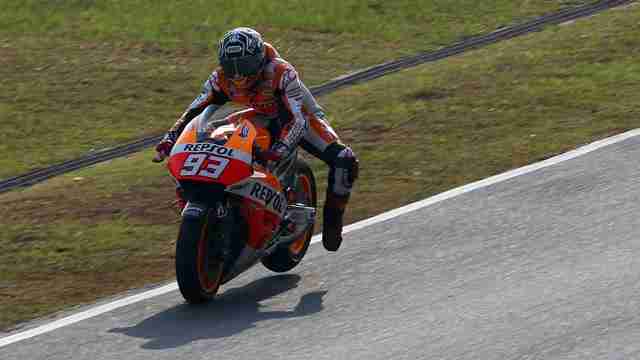 The first test of 2014 has concluded with the World Champion, Repsol Honda's Marc Marquez, remaining the quickest man on track throughout the three days. Today −the final day of the three-day test− Marc broke the Sepang lap record with a time of 1'59.533 (beating Casey Stoner's time from 2012 of 1'59.607) on lap 10 of 40. His teammate, Dani Pedrosa, finished 6th fastest overall with a best lap time of 2'00.223 on lap 29 of 55 today.
Marc spent his final day in Sepang working on electronics and running a 20 lap race simulation. In total, he completed 167 laps over the three days of this first test. Dani tested geometry settings on the bike looking to improve rear grip and found some positive solutions. He had issues with the front brakes in the morning which disrupted his chance at a time attack, nevertheless it was a productive end to a busy test in which he completed 192 laps over the three days. Valentino Rossi and Jorge Lorenzo today completed the third and final day of the first official test of the 2014 MotoGP pre-season activity at the Sepang International circuit in Malaysia.
The test proved to be a successful one for both riders, with Rossi especially happy at the end of today's riding. The nine-time world champion was able to record his best ever time at the Sepang circuit, dropping under the 2'00 minute mark to finish in second place less than two tenths from front man Marc Marquez. Rossi and Lorenzo both undertook a race simulation in the stifling Malaysian heat this afternoon to shake the 2014 M1 down over race distance. Four—time world champion Lorenzo was also happy having completed the three days. The Mallorcan made good progress during the riding sessions, managing to closely replicate the feeling of the 2013 bike whilst making the big reductions in fuel required for the 2014 season. Lorenzo completed the final day in third position, just 0.333 seconds from the front.
Marc Marquez
"I'm pretty happy with how the three days here in Sepang have gone and we have started the pre-season well. It's true that this is only the first test and we still have work to do, but we've already been able to do a race simulation and it has all gone well. We have tried many setups and we have gathered a lot of data, so we will be well prepared for the next test here. We still have some things to try out, so we must make the most of the days we have remaining here this preseason.
Physically I feel good, I haven't stopped over this past month and have had a packed schedule, but I have been able to continue training. I was a little weak here when I arrived, because I had the flu last week, but in the end I felt fine which is the most important thing. We can always improve and this test will help me to up my fitness."
Dani Pedrosa
"On this third day we focused on the chassis, looking to gain more rear grip and I feel that we have made a lot of progress here. This morning we had a problem with the brakes on both bikes and I lost a lot of time, right in the part of the day in which you can put in a fast lap. However, I am happy that we were able to improve the setup and in general today was a positive day. At the next test, I hope that we can continue from where we left off today, and continue improving before moving on to Phillip Island."
Valentino Rossi
"The test has been very good, I'm very happy, especially for the second position and more than that for the lap time which is the best of my career in Sepang. It's the first time under 2'00 for me and just one tenth from Marc and the overall record of the track. I found a good feeling with the bike, we found some good solutions and it's been very positive. We tried a simulation in the afternoon that was very good to understand any problems. We suffered a bit to keep a good pace but it wasn't so bad. For the first test the balance was good."
Jorge Lorenzo
"I think we improved a lot the lap time from yesterday but I didn't make a perfect lap. Maybe with softer tyres we could make a 1'59.5 or a 1'59.6. The goal was not to improve the one lap time but to improve the race pace which we did. When we tried a race simulation in hot conditions we found some problems where we didn't expect it, so the pace wasn't as good as we wanted. We've only practised in one track though which isn't a Yamaha track historically, so let's see what happens at the next Malaysia test and the other tracks. The evolution and the improvement is big so I'm quite satisfied. To have a similar feeling to last year with less fuel is a big thing."
MotoGP Sepang day 3 test times
1. Marc Marquez (SPA) Repsol Honda Team 1'59.533
2. 46Valentino Rossi (ITA) Yamaha Factory Racing 1'59.727
3. 99Jorge Lorenzo (SPA) Yamaha Factory Racing 1'59.866
4. Aleix Espargaro (SPA) NGM Mobile Forward Racing 1'59.998
5. Stefan Bradl (GER) LCR Honda MotoGP 2'00.112
6. Dani Pedrosa (SPA) Repsol Honda Team 2'00.223
7. Andrea Dovizioso (ITA) Ducati Team 2'00.370
8. Pol Espargarò (SPA) Monster Yamaha Tech3 2'00.655
9. Andrea Iannone (ITA) Pramac Racing 2'00.725
10. Alvaro Bautista (SPA) Go&Fun Honda Gresini 2'00.788
11. Bradley Smith (GBR) Monster Yamaha Tech3 2'00.896
12. Cal Crutchlow (GBR) Ducati Team 2'01.057
13. Nicky Hayden (USA) Drive M7 Aspar 2'01.514
14. Colin Edwards (USA) NGM Mobile Forward Racing 2'01.731
15. Michele Pirro (ITA) Ducati Test Team 2'01.782
16. Hiroshi Aoyama (JPN) Drive M7 Aspar 2'02.383
17. Randy De Puniet (FRA) Suzuki Test Team 2'02.486
18. Yonny Hernandez (COL) Energy T.I. Pramac Racing 2'02.556
19. Kosuke Akiyoshi (JPN) HRC Test Team 2'02.619
20. Katsuyuki Nakasuga (JPN) Yamaha Factory Test Team 2'02.788
21. Scott Redding (GBR) Go&Fun Honda Gresini 2'02.833
22. Michael Laverty (GBR) Paul Bird Motorsport 2'03.187
23. Hector Barbera (SPA) Avintia Racing 2'03.204
24. Brok Parkes (AUS) Paul Bird Motorsport 2'03.402
25. Mike Di Meglio (FRA) Avintia Racing 2'04.516
26. Nobuatsu Aoki (JPN) Suzuki Test Team 2'05.686
27. Karel Abraham (CZE) Cardion AB Motoracing 2'05.974