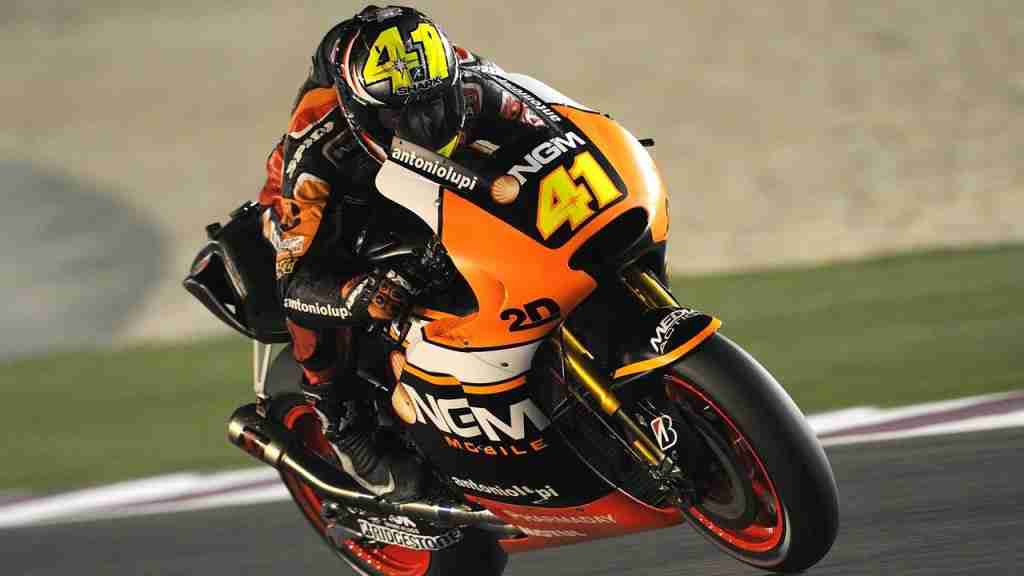 NGM Mobile Forward Racing's Aleix Espargaro continued his impressive form from the Qatar pre-season test to top the first three Free Practice sessions at Qatar's Losail International Circuit, ultimately setting a best lap time of 1'54.773 to finish 0.413 seconds clear of his closest rival. Espargaro set his time in today's Free Practice 3 session on the combination of the hard compound front slick and the soft compound rear slick – which is only available to the Ducati and Open-class entrants this weekend. Second overall in the ranked practice sessions was Pramac Racing's Andrea Iannone, who also took advantage of the extra grip of the soft compound rear to set a personal best lap time of 1'55.186. Third quickest on combined practice times was GO&FUN Honda Gresini's Alvaro Bautista with a time of 1'55.240 which the Spaniard set on the medium compound rear and hard compound front slick.
The desert setting of the Losail circuit makes it prone to wind-blown sand and this caused the usual low grip levels, with the first session of the weekend, FP1 creating particularly challenging conditions for the riders. As more sessions were run resulting in more rubber being laid down on the asphalt, grip levels improved slightly but some riders reported they were still at a poor level during FP3. Despite the typically low grip levels, the combination of the latest MotoGP machinery and the 2014 specification Bridgestone tyres yielded impressive gains in performance compared to last year's Qatar Grand Prix, with Espargaro's best time 1.3 seconds quicker than the best FP3 time last year and all riders in the top ten bettering their 2013 mark by at least half a second.
Losail circuit places a strong demand on cornering and braking stability and this was reflected in a strong preference among the riders for the hard compound front slick in the first three sessions of the weekend. Rear slick choice was more varied, although almost all riders switched to their softer rear slick option; soft compound for the Ducati and Open class, and medium compound for the remaining Factory bikes, to set a quick lap time in their effort to qualify directly for QP2. Tomorrow's FP4 session will be important for the teams as it will provide an opportunity to work on setup for qualifying and identify their optimum tyre combination for Sunday's race.
Aleix Espargaro
"I'm really happy to close the second day here in Qatar on top of the time sheets. We have a good race pace with the hard tyre and then we could make another step forward with the soft tyre. We have a good set up but we need to keep on working. Tomorrow we aim at the front row in order to fight for the podium on Sunday. We know that it won't be easy as we loose a lot in terms of top speed on the long straight, but finishing on top for two days in arrow is already a fantastic result. Together with the team we are all very excited and motivated."
Andrea Iannone
" I'm very happy with how it went today , I never expected to go so well. Surely it is also thanks to all the guys who worked at home this winter . I am happy that I was able to take advantage of almost one hundred percent of my bikes potential. We still have to continue working to improve some small things on the bike to make sure that I am able to ride better for the race. I thank the whole team for the work done so far and I want to thank again Ducati for all the support they give me. "
Alvaro Bautista
"I'm happy because at the moment I continue to be the fastest rider with the medium compound tyres, just behind the motorcycles that can use the extra soft option. In addition, my feeling with the bike has improved slightly compared to the recent tests. We need to further improve the behaviour of the bike with worn tyres, because after only 3 or 4 laps the rear tyre performance drops a lot. Tomorrow we still have one more free practice session to try to improve the situation, then we will give the maximum in qualifying to try to get a good starting position, even though it will be hard to beat the bike that can use the extra soft rear tyre, which offers an advantage of about 4 tenths of a second".
Bradley Smith
"I am happy with today's performance and I feel that I am close to where I want and need to be. Today the track conditions improved, and the Bridgestone tyres were working more effectively. It was unfortunate to have the high side, especially as we were trying a new setting with the bike at that time. I know I am very lucky to be walking away without any injury from such a big crash and am thankful that I wasn't hurt. I then went straight back out on my second bike, went faster and got into the top six which I am pleased about. However, now we need to find a balance between both of my bikes, as they have each big positives, and afterwards we see what we can do tomorrow, but I'm really confident and ready for the qualifying."
Pol Espargaro
"Today has not been our best day. We could have improved more but in the first session we had quite a big crash and I have been fortunate that I escaped unhurt and that my shoulder injury did not worsen. The session itself was a bit strange and unfortunately because of the crash we had to use an additional tyre, which makes things a bit trickier now as we have to go through QP1. I lacked grip throughout today because of the track surface, and that did not help. Moreover I was a bit confused after the crash as there were too many thoughts in my head. Nevertheless, I am pleased with how the bike felt and happy that I was able to ride some competitive lap times. There is another practice session tomorrow and I am confident of qualifying well for my first MotoGP race on Sunday, but I am in need of a good rest tonight".
Jorge Lorenzo
"We had the same feeling today with little grip on the rear with the soft tyre. We tried to adapt to the situation and the positive thing is that we are closer to the faster riders with race pace, maybe three or four tenths instead of one second so let's see if tomorrow we can improve a bit more."
Valentino Rossi
"The bigger problem for us is the new tyre from Bridgestone that provides a lot less grip on the edge of our bike so it's difficult. I'm just tenth which is the minimum target, to stay in the top ten. A lot of riders are on the same pace though; we are very, very close. Espargarò remains one step ahead and also with race pace he is very fast. I think on Sunday we will all use the same tyre, Open Class and Factory but he remains the favourite for the race. The target is to try to start more in front in the race because it's very difficult to overtake so tomorrow in the qualifying I have to go faster."
Colin Edwards
"All in All it was a positive day. I have a good race pace with the hard tyre, but we need to adjust the bike set up to use all the potential with the soft tyre. This will be very important for tomorrow in the qualifying session. I'm really happy for Aleix, he did a great job and in the team we are all very excited."
Marc Marquez
"The day went pretty well. Besides not being as high up the time sheet as I would have liked, I'm happy because my leg felt much better than yesterday. We'll see if things continue in this way tomorrow, as I had a little more strength today and less pain. We have also improved our setup, although we still have room for improvement with the bike and also myself. Tomorrow we shall continue working in the same way with a focus on the race. Qualifying is going to be difficult, because the Open class riders have a softer tyre available, but the important thing is the race."
Dani Pedrosa
"I am working on improving everything a little: my one-off lap times, my overall pace, my feeling with the tyre and also my feeling with different fuel amounts in the tank. We are focusing on many things with very little time available. At the moment we haven't taken a big step forward, so we hope to keep up our steady progress and not to get worse in any aspect. We have chances of getting a top time tomorrow, but I have to work on my fast laps in order to do so. There are riders setting very quick times so far, and I'm sure that the qualifying session will be tough!"
Yonny Hernandez
"At the beginning of the first session I didn't feel at confident with myself, I wasn't able to concentrate on my pace. Lap by lap I felt better but the in first session I just regained confidence. The second free practice session went better, but tomorrow I hope to find the feeling I had during the test here in Qatar. Tomorrow I'll try to push harder than I did today, I hope I improve. "
Nicky Hayden
"In the second session of the day we slightly improved, despite starting with used tires. It was very strange to see rain here at one point in the last outing. On our third run we made a change in geometry gave me a good feeling, similar to those found in the test week. We knew that today we would improve our times, but we also knew that the test performed here give us some initial advantage, but then the other riders would also catch up. In any case we are working the right way and trying to improve a little more each day. In the second session the grip was better and that helped us work better."
Hiroshi Aoyama
"Thanks to the work of my mechanics today we resolved the electronics problems from yesterday, and we were able to work properly in both sessions today. In the first session we worked to improve our set-up, found some things, but were not been able to find the best solution. So in the second session we worked to adjust various aspects of the bike and it seems that the changes have been productive because I improved my times and feeling on the bike. So tomorrow we will continue working in the same direction to see where we can improve."
Scott Redding
"Today was definitely better: we fixed the problems with the electronics and we were able to take advantage of these two practice sessions. I am comfortable on the bike, although I still struggle a bit going into the corner: every time I try to push more, I lose the feeling with the front end. Tomorrow, during the last free practice session, we will focus on this aspect, trying to improve the situation. Finally, we will try the harder tyre, to evaluate its behaviour".
MotoGP Qatar 2014 combined free practice timings
1. Aleix Espargaro (SPA) NGM Mobile Forward Racing 1'54.773
2. Andrea Iannone (ITA) Pramac Racing 1'55.186
3. Alvaro Bautista (SPA) Go&Fun Honda Gresini 1'55.240
4. Andrea Dovizioso (ITA) Ducati Team 1'55.250
5. Marc Marquez (SPA) Repsol Honda Team 1'55.446
6. Bradley Smith (GBR) Monster Yamaha Tech3 1'55.474
7. Jorge Lorenzo (SPA) Yamaha Factory Racing 1'55.495
8. Dani Pedrosa (SPA) Repsol Honda Team 1'55.562
9. Stefan Bradl (GER) LCR Honda MotoGP 1'55.676
10. Valentino Rossi (ITA) Yamaha Factory Racing 1'55.702
11. Pol Espargarò (SPA) Monster Yamaha Tech3 1'55.793
12. Cal Crutchlow (GBR) Ducati Team 1'56.013
13. Colin Edwards (USA) NGM Mobile Forward Racing 1'56.238
14. Nicky Hayden (USA) Drive M7 Aspar 1'56.357
15. Yonny Hernandez (COL) Energy T.I. Pramac Racing 1'56.633
16. Hiroshi Aoyama (JPN) Drive M7 Aspar 1'56.939
17. Scott Redding (GBR) Go&Fun Honda Gresini 1'56.997
18. Karel Abraham (CZE) Cardion AB Motoracing 1'57.345
19. Brok Parkes (AUS) Paul Bird Motorsport 1'57.665
20. Mike Di Meglio (FRA) Avintia Racing 1'58.204
21. Hector Barbera (SPA) Avintia Racing 1'58.219
22. Michael Laverty (GBR) Paul Bird Motorsport 1'58.378
23. Danilo Petrucci (ITA) Came Iodaracing Project 1'58.651