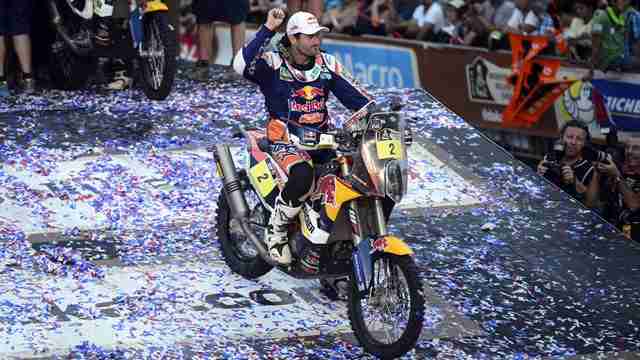 Red Bull KTM factory rider Marc Coma coasted into Valparaiso, Chile, on Saturday afternoon to pick up his fourth individual Dakar title and to secure KTM's thirteenth title in this most toughest of rallies. Factory teammate Jordi Viladoms made it a memorable day for the Austrian manufacturer by finishing second overall. Factory teammate Jordi Viladoms made it a memorable day for the Austrian manufacturer by finishing second overall. It was perhaps Coma's finest victory in his Dakar Career as he led the overall standings from Stage Five. He completed the 13-stage, near 9,000 km course in 54 hours 50.53, almost two hours ahead of second placed Viladoms.
Having to lead from the front for more than half of the rally was also a tribute to Coma's skill as a rider and tactician and is testament to his physical and mental strength. He completed the rally with three stage wins, four second-place finishes and three thirds. Coma described his Dakar experience as "an extreme and grueling Dakar" and dedicated the win to "my friend Kurt Caselli". Caselli, part of the Red Bull KTM Factory team was killed in a race accident in November.
"Without the right people behind me it would have been impossible to win," Coma said. "We have worked very well throughout the race and also before. Last year I went through a very difficult situation not being able to compete because of injury and I came back to win the race. I think this says a lot about the people I have around me. I am very proud of this victory. What was key to winning the Dakar was not to make any mistakes."
Coma, who has been a KTM factory rider since 2003, first won in Africa in 2006. He then repeated his success in 2009 and 2011 after the Dakar was relocated to South America. He did not compete in 2013 because of injury. Understandably, going into the final stage with a massive lead, Coma took it easy in the final stage, finishing in eighteenth place. However the main focus for the factory team was whether Viladoms was going to be able to finish second. Going into Stage 13 he was challenged for the podium spot by Olivier Pain and Cyril Despres but his sixth place proved more than enough to give him second place on the podium. French rider Pain joined KTM's two Spanish riders on the podium in overall third. Viladoms, who said after the race that he was "overwhelmed and over the moon" with his result was drafted back into the team after several years away and his second place finish was a personal best for the Dakar veteran.
KTM can also be well pleased with its two officially supported riders, Jakub "Kuba" Przygonski of Poland and South African Riaan van Niekerk. They finished a very strong sixth and twelfth in the final overall rankings. Eight of the top fifteen finishers were on KTM motorcycles. Victory in the Dakar 2014 and KTM's thirteenth title was, as KTM Team Manager Alex Doringer explains, very much a team effort. "The competition is getting tougher and that is a win for the sport, but basically we did what we always do. We work hard. We prepare our bikes in the best way. Our new KTM 450 RALLY bike is fantastic and it is amazing what our technicians built in the short time that we had to do it."
The 2014 Dakar also represented a return to its roots in terms of levels of toughness that saw only 78 bikes of the original field of 196 starters in the final Stage 13. Riders traveled around 8700 km during the 13 stages, including more than 5,000 in timed specials.
Dakar 2014 results
(13 stages, a total of 8734 km, including 5,228 km of timed special)
1. Marc Coma, ESP, KTM at 54 hours 50.53
2. Jordi Viladoms, ESP, KTM at 1 hour 52.27
3. Olivier Pain, FRA, Yamaha at 2:00.03
4. Cyril Despres, FRA, Yamaha, at 2:00.38
5. Paolo Rodrigues, PRT, Honda, at 2:11.09