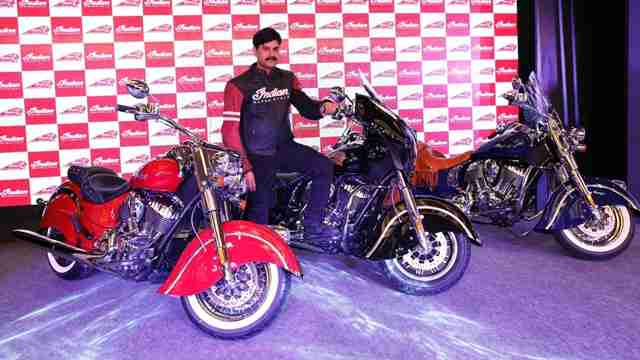 Polaris India Pvt. Ltd, a wholly owned subsidiary of Polaris Industries Inc., the world leader in off-road and All-Terrain Vehicles launched the iconic Indian Motorcycle brand in India today. This move also marks Polaris's foray into the motorcycle segment in India. Polaris India has brought in the entire Indian Motorchycle's Chief range —Indian® Chief Classic, Indian Chief Vintage and Indian Chieftain to India.
Indian Motorcycles ex-showroom prices (Delhi) are as follows
Indian Chief Class: INR 26.5 lakhs
Indian Chief Vintage: INR 29.5 lakhs
Indian Chieftain: INR 33 lakhs
With classic styling, true heritage and modern technology, the launch will excite and entice the enthusiasts in India. The Chief range is powered by Thunder Strokeâ"¢111â"¢ engine that churns out 139 Nm of torque at 2600 rpm. The range will be sold through completely-built-up (CBU) route. The Thunder Stroke 111â"¢ engine features 111â"¢ cubic inch displacement and delivers the raw power and iconic styling that have long been hallmarks of the legendary Indian Motorcycle brand. The 49-degree V-Twin engine is the new heartbeat of Indian Motorcycle and marks the first clean-sheet Indian Motorcycle engine design in seven decades. With parallel push-rod tubes, finned heads, down firing exhausts, left side air intake, and the proportions and layout familiar to Indian Motorcycle fans around the world, the Thunder Stroke 111â"¢ is sure to inspire both experienced and new riders.
Indian Motorcycle Thunder Stroke 111â"¢ Engine Specifications
Engine: Thunder Stroke 111â"¢(1,811 cc)
Torque: 139 Nm of torque at 2600 rpm
Architecture: 49-degree V-twin, air-cooled with integrated oil cooler, left-side air intake, down firing exhaust system, parallel pushrod tubes
Crankcase: Unit design featuring a high capacity semi-dry sump oil system, oversized oil radiator
Timing System: 3 camshafts, pushrods, 2 valves per cylinder acting through maintenance-free hydraulic valve lifters, forged crankshaft
Fuel System: Electronic sequential port fuel injection and Electronic Throttle Control (ETC)
Compression Ratio: 9.5: 1
Transmission: 6-speed overdrive, constant mesh, helical gearbox
Clutch: Low-effort, multi-plate wet clutch, aluminum basket, integral torsional damper.
Mr. Pankaj Dubey – Managing Director, Polaris India Pvt. Ltd.
"This launch holds great importance for us. We launched the marquee bikes in the US early last year and were appreciated immensely for reviving history. The Chief line enthralled the bikers and created an aura for itself within few days of the launch. Reviving the legend with a new heart but its same soul, Polaris India has ended the long wait for Indian Motorcycle enthusiasts with this launch. We are now giving enthusiasts a chance to own a piece of history in a modern package."
Indian Motorcycle, a wholly-owned division of Polaris Industries Inc. (NYSE: PII), is America's first motorcycle company. Founded in 1901, Indian Motorcycle has won the hearts of motorcyclists around the world and earned distinction as one of America's most legendary and iconic brands through unrivaled racing dominance, engineering prowess and countless innovations and industry firsts. Today that heritage and passion is reignited in India.