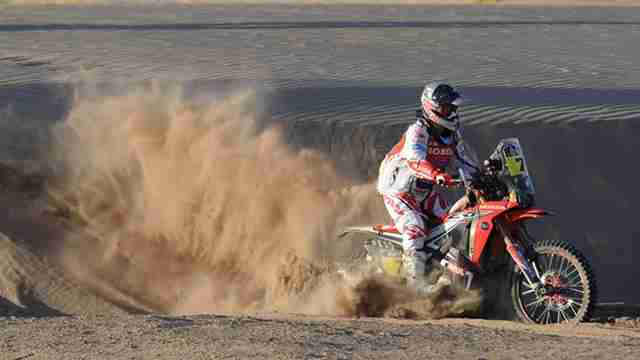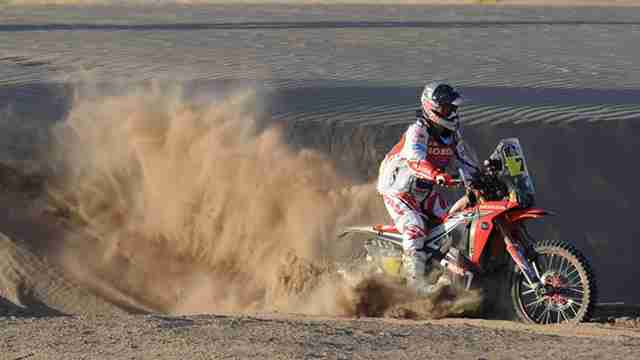 Security reasons have been cited for the cancellation of the second part of the special, which made up almost a third of the overall distance of today's stage. The first part of the special was run at a cracking place, taking in some dunes and off-route navigation, before arriving at the neutralization zone. The riders had 111 un-timed kilometers to run prior to the start of the second part of the special, but the organization decided to call it off completely.
Joan Barreda sped off from sixth place today, looking to make up for lost time and straight away started clocking up some of the best times. Nevertheless, as he caught up with the riders ahead, the group took a path which turned out to be a mistaken one, and thus the rider concedes time to his closest rivals. Barreda finished in 17th place some 44 minutes off the winner of the special. In doing so, the Spaniard drops back into second overall place behind Marc Coma. Javier Pizzolito played it safe and finished in 33rd place. This morning's stage took the riders through the dry scrubs, one of which got caught up between Paulo Gonçalves' engine and exhaust setting the area on fire, which then spread to the engine. The flames engulfed the bike of the FIM Cross-Country World Champion, who although escaping unhurt, is forced out of the competition. The riders on the new production Honda CRF450 RALLY, Pablo 'Cacha' Rodríguez and Laia Sanz, finished amongst the front-runners once again. 'Cacha' scored the 16th best time against the clock and Laia finished 26th moving up into 16th overall place in the standings.
Helder Rodrigues – 4th +25'53
Another day at a really long and really tough Dakar. It's the fifth day of the hardest Dakar yet. Even though it's only the fifth day, it's been really difficult. The Dakar is so long and you have to keep up the concentration and be really strong to make it through the day and get a result.
Joan Barreda 17th +44'20
It's been a really hard day, one of the most difficult, with very high temperatures and soft sand. Every day it just gets tougher. I had an issue with the fuel at the start of the special, but after I was able to get back into it. I caught up with Marc Coma and the fuel problems came back when I was looking for a way point. I lost a lot of time trying to repair it. The most important thing is that we finished, we are still in the race. Let's see how the next few days play out.