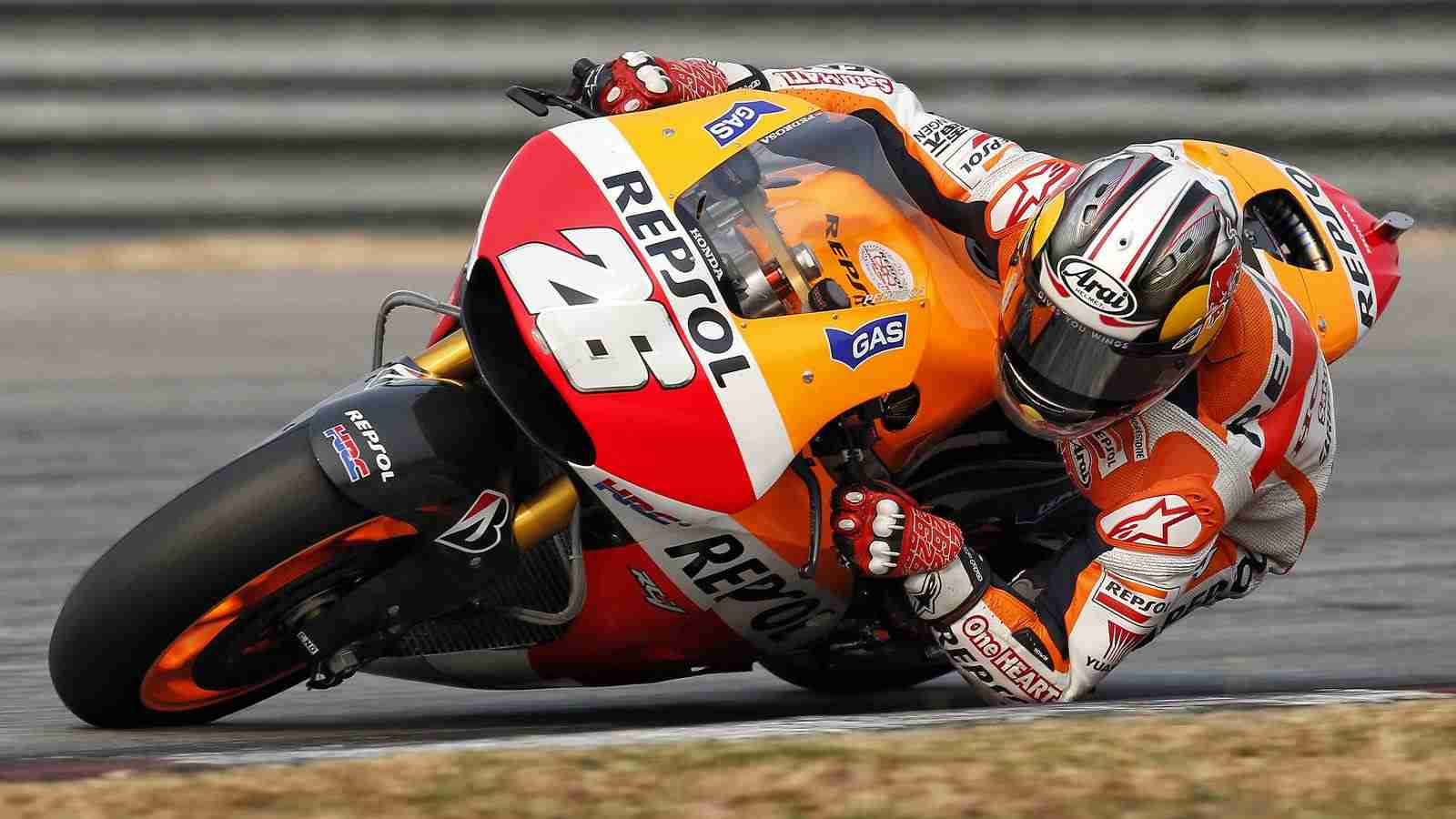 Dani, who was still suffering from some jet-lag, had a quiet morning and only completed 15 laps. In the afternoon he began to work properly, focusing on setup of the front of his RC213V and also with mappings, completing 57 laps with a fastest time of 2:00.039 on lap 55. Tomorrow, the final day in Sepang, he will switch to work on rear setup before the team heads to Australia for the final Winter three-day test.
Yamaha Factory Racing riders Valentino Rossi and Jorge Lorenzo completed the second of the three days of testing today that mark the second official test of the 2014 MotoGP pre-season schedule. The riders were again out at the Sepang International circuit in Malaysia, putting their 2014 YZR-M1 machines to the test as they continue to look for the optimum set up using the new 2014 Bridgestone tyres. Valentino Rossi was able to improve on his time of yesterday, taking nearly seven tenths of a second off to move up to fourth place in the overall timesheets for the day. Jorge Lorenzo continues to find the 2014 tyres challenging in the hunt for the perfect set up. The Mallorcan was unable to make a big step forward today and completed the second day in ninth, just over a second from the front man Dani Pedrosa.
Alvaro Bautista and Scott Redding made further improvements on day two of the second official MotoGP test at Sepang International Circuit. Today in the afternoon Bautista was able to try a first race simulation, focusing on tyre durability putting in 20 consecutive laps. In the latter part of the day, Alvaro was also improved his lap time from yesterday, setting a good 2'00"500, which puts him third overall in today's session, as well in the combined times. Scott Redding spent time making some adjustments to the chassis geometry of his Honda RCV1000R in order to find more braking stability, getting positive feedback and closing the gap to the other 'Open' Hondas with a fastest lap of 2'02"652, which lowers his yesterday's lap time by almost a second.
Pol Espargaro furthered his encouraging pre-season testing by completing 47 laps around the 5.543 km track, whilst continuing to learn his new MotoGP machine. Having sampled the seamless shift gearbox yesterday, and with a positive feeling for the Yamaha YZR-M1, the young Spaniard pushed on. Espargaro made as much use of the testing time as possible, and increased his experience and knowledge with his Monster Yamaha Tech3 team. He finished today's session in 8th position with a best lap time of 2:01.027. Young British rider Bradley Smith completed another solid day today with undertaking an abundance of laps and continuing with his testing programme. Having spent the preceding test day accustoming himself with the newly acquired seamless shift gearbox, today he continued to refine set up options on the Yamaha YZR-M1. Smith worked on the feeling of the bike with a full fuel load, and some front end and rear end settings. Once satisfied with the progress, the British rider expertly completed 60 laps in today's session alone and finished the session in 10th place with a best time of 2:01.098.
Dovizioso began the second day well, immediately recording — on his eighth lap of the morning — a best time of 2m00.787s, a result that took him up to third in the provisional standings. In the afternoon he was not able to improve his time, but in any case he was satisfied with a fifth place overall in the combined two-day standings. Crutchlow on the other hand is continuing his learning phase with the GP14, and even though he has not yet managed to find the right feeling with the bike, in the afternoon he improved by almost half-a-second to finish the day seventh overall. Once again solid support was provided by Ducati's official test-rider Michele Pirro to the development programme on the Test Team's Desmosedici GP14.
Dani Pedrosa
"Things went well this afternoon, even though this morning we were still having some issues and I wasn't able to ride comfortably. I had to stop early in order to make some big changes to the bike, and when we restarted after lunch I felt more comfortable and put in better laps. We focused on the front end and were able to find a good setup. Tomorrow we will focus on making progress with the rear, because we have to get the new tyre working better and increase grip. If all goes well, then perhaps tomorrow we will be able to do a race simulation."
Valentino Rossi
"The main issue for this test is to try and improve our M1 with the new 2014 tyre. We tried some things but at the end of the day we are not very happy. I am in fourth place, the lap time is quite good but we are half a second behind the other guys. We are suffering with this tyre; our bike becomes difficult to manage. Tomorrow we will try again but we have not so many options. Every track has a different story but we are quite worried because it looks like we are in trouble with this tyre. We hope that in other tracks we will have less problems but here in Sepang, especially compared to the first test, it is more difficult."
Jorge Lorenzo
"Today I am very disappointed, especially in the tyre behaviour. Nothing has changed compared to yesterday. I still don't have the confidence to ride as I want to. Tomorrow is another day, we still have eight hours to find the right way so we will work hard and hopefully by the end of tomorrow we will have solutions."
Pol Espargaro
"Today was the day I have struggled the most since riding the Yamaha, and unfortunately it was the first time I did not improve my lap time. Plus the track did not improve a lot from yesterday. In the morning it took me a bit of time to find the rhythm. I had a small crash this afternoon, but it was nothing serious and I am not hurt. However, we lost a lot of track time because of this. After that, we changed a few details on the bike to improve the handling, but when I tried to improve my time this afternoon, I did not feel comfortable. However, all the Yamaha's struggled a little bit so I am not too worried."
Bradley Smith
"It was another positive day, we tested many things and tried to learn as much as possible. We worked on the front end and found a few small details, before moving to the back of the bike. Unfortunately we couldn't find a rear setting which worked without affecting something else, but it's about trying to find the right compromise. I am really pleased that I did many 2.01 lap times. I felt confident and the bike is feeling good on the full fuel load, which is what we always targeted on improving. Track conditions today weren't too bad, I know there is more potential but unless I make it happen, it won't make any difference to the lap times. I'm still a bit off from where I would like to be. Looking at the factory riders, I would like to reduce the gap to them and become more consistent. I am really pleased with the work we have been doing. The team have worked extremely hard, so I want to say a big thanks to them. Hopefully, we can do a race simulation tomorrow and see how much we have improved since the first test."
Aleix Espargaro
"Today we worked on the set up of the two machines and I'm very confident because last year I never succeeded to have the same confidence on both bikes. Here in less than 2 days I have found a good feeling and I'm very satisfied. In the afternoon I tested the new Magneti Marelli software, which is a step forward especially when the tyres start to drop. I hope we can do a long run tomorrow and check how the bike work on the race distance."
Colin Edwards
"I'm satisfied of the work done today. I could improve my feeling with the front and I could make the bike turn better, but there is still a lot of work to do. I think I need to adapt my riding style to the new bike and also to get closer to the style used nowadays by the youngest riders in order to enter and exit the corners as I like. Anyway in the middle of today's test session I could do my best lap time and I want to thank the team for the great job."
Nicky Hayden
"The track is still pretty dirty but the conditions today were slightly better than yesterday, when it was particularly slippery – especially in turn one. It was still really hot but we were able to get plenty of work done, mainly on the suspension and general set-up. We also worked a bit on the gearbox although at the moment there is not much for us to try in this area and it is quite time consuming work. The feeling today was pretty good, we improved the lap times and hopefully we can continue to do that tomorrow through a combination of improving the bike and also my riding. We have a couple of things still to try tomorrow as part of a long run."
Hiroshi Aoyama
"We continued adjusting the suspension today and managed to improve the feeling quite a lot. This wasn't really reflected in the lap time but we are satisfied with the work we did today. The track conditions were still quite bad but we managed to get a lot of work done and now we have a lot of data to go through and see where we can improve. Maybe we are losing too much time in the fast corners because I don't have the confidence to get on the gas so tomorrow we will need to try and put that right. At the moment though we are concentrating on getting the bike turning better so we can pick up the corner speed."
Alavaro Bautista
"Today we completed a good race simulation: having done it in the afternoon, the track was not in the best condition, but all in all we are pleased with how it went. We have gathered important data and we have seen an improvement with regard to the durability of the rear tyre. Compared to what happened in last year's race, especially thanks to the new Showa rear suspension items, the bike moves less when the tyre starts to wear out. The front tyre instead starts to slip a little bit after about 15 laps, and this leads to lose the ideal line, therefore we will work to improve this aspect. At the end of the day I also set a very good lap time, the best ever for me on this track, but I'm especially happy for the good work we were able to do: tomorrow we will continue to work on chassis set-up and refining the electronics, but we are definitely in a good shape".
Scott Redding
"I'm happy with today's outcome: we worked a lot on braking stability and now the situation is better than yesterday, therefore I was able to improve my lap times. Tomorrow we will continue to work in this direction, trying other chassis geometry solutions and I hope we can make a further step ahead. In the last day we will also try to refine the electronics".
Andrea Dovizioso
"Today was again positive, the track is not as quick as the Sepang 1 tests so the times are a reference only to a certain point, but it's always important to make comparisons with the others. We can say that we closed the gap to the front-runners and I am very pleased with the improvement over these two days. We're refining the set-up of the bike, at this moment there isn't much new material to try but we've managed to find something interesting. I really didn't expect that and it's a positive thing to experience this sensation. Today we also tried out the ECU with the Open software, there are a few different controls with it and it obviously doesn't work as well as our Factory software, but tomorrow we'll do some more tests."
Cal Crutchlow
"We made some progress this afternoon as well, we were on similar settings to yesterday. I never felt comfortable until lunchtime really, then we started to make some changes to the bike and it felt a lot better at the end of the day. Things are coming better, again me and Dovi have gone quicker, me quicker than at the last test, even though the track conditions are not so good. We're making progress, but we've still got a lot to do."
MotoGP Sepang 2nd testing day 2 timings
1. Dani Pedrosa (SPA) Repsol Honda Team 2'00.039
2. Aleix Espargaro (SPA) NGM Mobile Forward Racing 2'00.320
3. Alvaro Bautista (SPA) Go&Fun Honda Gresini 2'00.500
4. Valentino Rossi (ITA) Yamaha Factory Racing 2'00.605
5. Andrea Dovizioso (ITA) Ducati Team 2'00.787
6. Stefan Bradl (GER) LCR Honda MotoGP 2'00.902
7. Cal Crutchlow (GBR) Ducati Team 2'00.952
8. Pol Espargarò (SPA) Monster Yamaha Tech3 2'01.027
9. Jorge Lorenzo (SPA) Yamaha Factory Racing 2'01.049
10. Bradley Smith (GBR) Monster Yamaha Tech3 2'01.098
11. Andrea Iannone (ITA) Pramac Racing 2'01.173
12. Yonny Hernandez (COL) Energy T.I. Pramac Racing 2'01.658
13. Colin Edwards (USA) NGM Mobile Forward Racing 2'01.996
14. Nicky Hayden (USA) Drive M7 Aspar 2'02.088
15. Randy De Puniet (FRA) Suzuki Test Team 2'02.139
16. Hector Barbera (SPA) Avintia Racing 2'02.149
17. Scott Redding (GBR) Go&Fun Honda Gresini 2'02.652
18. Hiroshi Aoyama (JPN) Drive M7 Aspar 2'02.786
19. Michele Pirro (ITA) Ducati Test Team 2'02.799
20. Katsuyuki Nakasuga (JPN) Yamaha Factory Test Team 2'02.802
21. Mike Di Meglio (FRA) Avintia Racing 2'03.946
22. Karel Abraham (CZE) Cardion AB Motoracing 2'05.198
23. Nobuatsu Aoki (JPN) Suzuki Test Team 2'07.462