The 2014 Honda NM4 Vultus represents a leap of faith from Honda, one intended to appeal to and attract a new kind of rider. And those that want it will want it now. They may well be aware of the great engine and chassis it's built on, but what will really captivate them is the way it looks and how it makes them feel. The NM4 Vultus is real, like nothing else, and it is here.
Mr Keita Mikura, Large Project Leader (LPL) NM4 Vultus
"Honda is a big company. We make every kind of motorcycle. It's great that sometimes we make a certain machine simply because we can and because we want to, not because we "should". The NM4 Vultus exists because of a passion from deep within our company. We wanted to create something special, not just in the two-wheeled world, but truly unique in the whole world – a machine that engages a human soul like no other. Our intention was to make something that makes every moment feel cinematic, and we want riding it to be an event – guaranteed — every single time."
The young social media-engaged urbanite lives a digital existence in a fast moving world. And they're totally engaged by the new. Without question, the NM4 Vultus is just that. It is avant-garde in both the way it looks but also, and perhaps more importantly, in the detail work that has gone into creating a unique riding experience. The reactive dashboard — with colours that change depending on driving mode — and flip-up pillion seat that acts as rider backrest are just two examples. Vultus is Latin for appearance, expression — or face. The NM4 Vultus, with its LED lights, future-shock style and stealth bomber silhouette presents a look that will not have been seen in any city scape this side of an anime movie.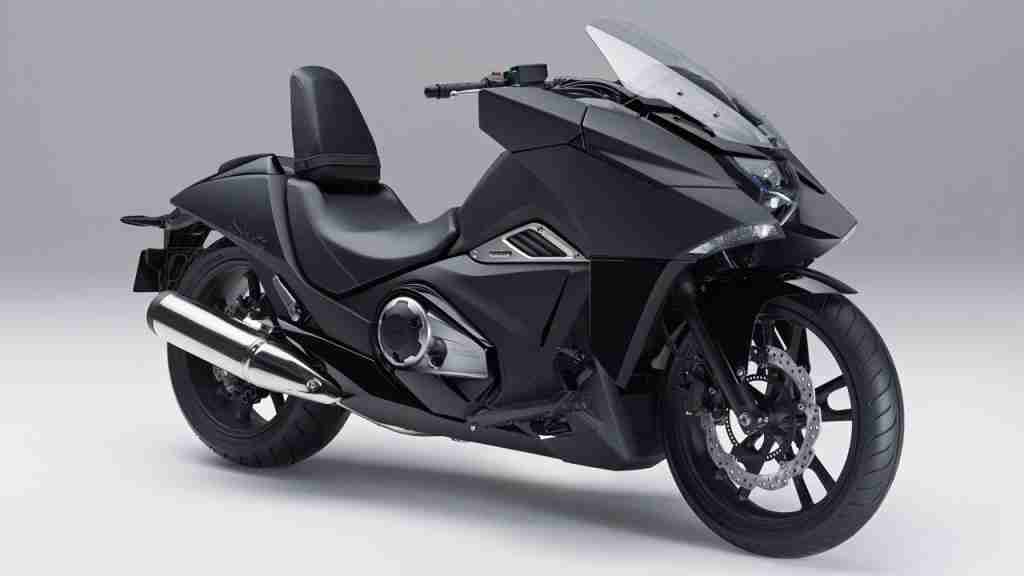 Underneath the brooding menace is a rock-solid chassis and engine package. Packed with low-friction technology, its 745cc twin-cylinder engine is canted forward, creating space and a low centre of gravity. Delivering strong low and mid-range power and torque for smooth acceleration coupled with excellent fuel economy, it's also equipped as standard with Dual Clutch Transmission (DCT), giving the rider options between automatic twist-and-go D and S mode — plus trigger-operated computer game-style manual MT mode. Intuitive and easy to use, it adds to the futuristic appeal of the NM4 Vultus and is the perfect complement to the engine's gutsy, usable performance. Matching the engine's strength is a rigid steel frame, 43mm telescopic forks, rear monoshock with Pro-Link, large diameter disc brakes, 18 inch front and 17 inch rear aluminium wheels — with a fat, 200-section rear tyre — for street-bike levels of handling, feedback and stability.
It's wide — 810mm up front, 933mm measured across the mirrors — low, and long; with seat height of 650mm. Drawn from all the overtones and billions of bytes that shaped its creators' imagination, the manga andanime influences throughout the NM4 Vultus are obvious in every chiseled angle and evocative curve, especially from head on: its broad, angular 'face' will never go unnoticed. Behind it, the rider sits enveloped in a cockpit-like surrounding, with the digital instrument panel always in view. Lighting is full LED with front indicators and mirrors integrated into the bodywork while the shaped headlight is framed with a blue LED definition line. Everything is blacked-out to the max — with carefully-placed glimpses of burnished stainless steel here and there — and only one paint option will be available: matt black.
The obvious question every NM4 Vultus rider will face is "what film was THAT in?". Its looks are that bold. And as a machine that comes straight from the rapidly beating heart of Japanese manga culture, it was always going to be different. Having absorbed its striking presence, the thought that's gone into the design becomes more apparent. Storage spaces abound, concealed in the front bodywork. The lockable left compartment opens with the ignition key and features 1-litre of storage space plus a 12V DC adaptor to recharge what matters while on the move. The right compartment has 3-litres of storage and opens with a push of a recessed, triangulated button. Optional rear panniers integrate fluidly adding even more convenient carrying capacity. And in one of those "how come this hasn't been done before?" moments, the rear pillion seat flips upright when not in use, locking to provide the rider with a secure backrest and almost fighter pilot riding position. Its angle can be adjusted through 3 positions and it slides back/forward 25mm through four settings, to fine-tune cockpit comfort. The digital dash changes mood depending on the drive mode selected, with subtle colour changes from Neutral (white) through D (blue) to S (pink), ultimately to MT (red). Alternatively, the rider can choose one colour from five other tonal ranges of colour — 25 individual colours altogether — they want to live with on a day-to-day basis.
In keeping with its avant-garde appeal, the NM4 Vultus is equipped as standard with Honda's unique DCT, specially tuned for a smooth acceleration feeling. DCT delivers consistent, seamless gear changes, and very quickly becomes second nature in use. It uses two clutches: one for start-up and 1st, 3rd and 5th gears: the other for 2nd, 4th and 6th, with the mainshaft for each clutch located inside the other for compact packaging. Each clutch is independently controlled by its own electro-hydraulic circuit. When a gear change occurs, the system pre-selects the target gear using the clutch not currently in use. The first clutch is then electronically disengaged as, simultaneously, the second clutch engages. The result is a consistent, fast and seamless gear change. Furthermore, as the twin clutches transfer drive from one gear to the next with minimal interruption of the drive to the rear wheel, any gear change shock and pitching of the machine is minimised, making the change feel direct as well as smooth. With extra benefits such as durability (as the gears cannot be damaged by missing a gear) impossibility of stalling, low stress urban riding and reduced rider fatigue, DCT's acceptance and popularity is fast expanding. Three modes of operation are available. MT mode gives full manual control, allowing the rider to shift with the handlebar trigger control buttons. Automatic D mode is ideal for city and highway riding, and achieves optimum fuel efficiency. Automatic S mode is sportier and the ECU lets the engine rev a little higher before shifting up, giving greater performance. It also shifts down sooner when decelerating for extra engine braking. In either D or S mode, DCT offers immediate manual intervention if required — the rider simply selects the required gear using the up and down shift triggers on the left handlebar. At an appropriate time DCT seamlessly reverts back to automatic mode, depending on throttle angle, vehicle speed and gear position. Furthermore, in D mode, the DCT system detects variations in rider input typical to certain environments, from busy urban streets to mountain switchbacks, and adapts its gear change schedule accordingly to create an extra level of riding compatibility. "Kickdown" gear changes are natural and intuitive.
The compact 745cc liquid-cooled, SOHC 8-valve parallel twin-cylinder engine driving the NM4 Vultus is a usable, fuel-efficient and clean powerplant. The fundamental design ensures a punchy low-to-mid range performance: relatively long-stroke architecture and specially shaped combustion chambers combine with the high-inertial mass crankshaft to produce large amounts of effortless torque from very low down in the rev range. Peak power of 40.3kW arrives at 6,250 rpm, with a meaty 68Nm of torque at just 4,750 rpm. Bore is set at 77mm with 80mm stroke, plus compression ratio of 10.7:1. The engine features twin balance shafts, the effect of which counteracts vibration from high rpm inertia. So it manages to feel refined, yet retain the characterful 'throb' delivered by its 270° firing order. Where possible, components are made to do more than one job: the camshaft drives the water pump, while one of the balancer shafts drives the oil pump.
There's a single 36mm throttle body and PGM-FI fuel injection system supplies the optimum amount of fuel/air mixture thanks to an oxygen sensor in the exhaust. Fuel consumption of 28,4km/l (WMTC mode) is particularly impressive, enabling a 300km plus range from the 11.6 litre fuel tank. A high-absorption catalyser is located close to the engine — as a result the catalyst reaches operating temperature quickly after a cold start, further reducing emissions.
The rugged steel diamond frame at the NM4 Vultus's core delivers the high levels of rigidity required for agile, responsive handling in a variety of conditions from busy urban to open road. Rake is set at 33° with trail of 110mm, wheelbase of 1,645mm and front/rear weight balance of 49/51. Kerb weight is 245kg. 43mm telescopic forks feature 125mm stroke. The rear monoshock has 100mm travel and operates through Pro-Link for a soft initial stroke that deals with low-speed bumps. A lightweight aluminium swingarm improves suspension reaction and control. The front 320mm wavy disc and two-piston brake caliper offer plenty of easy to modulate stopping power, matched by the rear 240mm wavy disc and single-piston caliper. Two-channel ABS helps greatly reduce the chance of wheel lock-ups on slippery or wet road surfaces. Unique 10-spoke cast aluminium front and rear wheels — sizes 18 x 3.50-inch and 17 x 6.25 inch — and finished in black and wear 120/70 ZR18 and 200/50 ZR17 tyres. Accessories available for NM4 Vultus will include high screen, heated grips, panniers and alarm.
2014 Honda NM4 Vultus specifications
Engine type: Liquid-cooled 4-stroke 8-valve, SOHC parallel 2-cylinder
Displacement: 745cc
Bore*Stroke: 77mm x 80mm
Compression Ratio: 10.7 : 1
Max. Power Output: 40.3 kW @ 6,250 rpm (95/1/EC)
Max. Torque: 68 Nm @ 4,750 rpm (95/1/EC)
Oil Capacity: 3.9 litres
PGM-FI electronic fuel injection
Fuel Tank Capacity: 11.6 litres
Fuel Consumption: 28.4km/l (WMTC mode-Tested in D-Mode)
Starter: Electric
Battery Capacity: 12V/11.2AH
ACG Output: 450W/5000rpm
Clutch Type: Wet multiplate hydraulic 2-clutch
Transmission Type: 6-speed Dual Clutch Transmission
Final Drive: Chain
Frame Type: Diamond; steel pipe
Dimensions (L´W´H): 2380mm x 933mm x 1170mm
Wheelbase: 1645mm
Caster Angle: 33°
Trail: 110mm
Seat Height: 650mm
Ground Clearance: 130mm
Kerb Weight: 245kg
Suspension Type Front: 43mm telescopic fork, 125mm stroke
Suspension Type Rear: Monoshock damper, Pro-Link swingarm, 100mm travel
Wheels Type Front: Multi-spoke cast aluminium
Wheels Type Rear: Multi-spoke cast aluminium
Rim Size Front: 18M/C x MT3.50
Rim Size Rear: 17M/C x MT6.25
Tyre front: 120/70 ZR18
Tyre rear: 200/50 ZR17
ABS System Type: 2 channel ABS
Type Front: 320mm single wavy hydraulic disc with 2-piston caliper and sintered metal pads
Type Rear: 240mm single wavy hydraulic disc with single-piston caliper and resin mold pads
Digital speedometer, digital bar-type tachometer, clock, bar-type fuel meter, two trip meters, gear position indicator, outside air temperature gauge and coolant temperature warning lights.
Security System: HISS
Headlight: LED
Taillight: LED