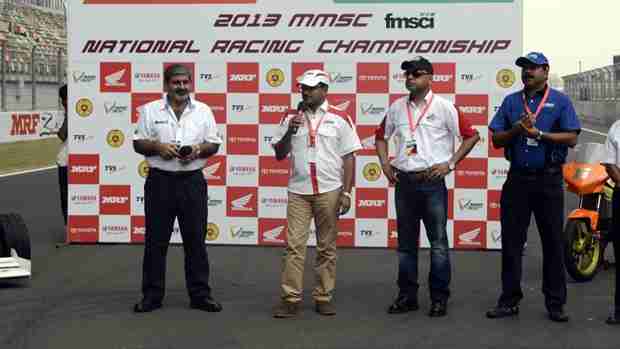 After successfully completing 2 rounds of the 4th season of YZF-R15 One Make Race Championship 2013, the 3rd round of the championship will commence tomorrow at the Buddha International Circuit, Greater Noida. This championship will be followed by 2 more rounds and will conclude on 15th December 2013. The racing event is being organized in association with the Madras Motor Sports Club (MMSC) and the Federation of Motor Sports Clubs of India (FMSCI) and is a part of the Indian National Racing Championship 2013.
The race will be held in the Expert Category starting tomorrow, the qualifying rounds for which took place today with a participation from over 30 riders from across India. The top performing racers in the qualifying rounds will be participating in the two races that will follow on 14th and 15th Sept, 2013. The winners of the R15 One make Race championship 2013 will be representing Yamaha Motor India at the Yamaha ASEAN Cup 2013 to be held later this year.
Mr. Ravinder Singh – VP- Sales Strategy Planning, Yamaha India
"Motorsports has always been an integral part of our corporate philosophy. We've always given special importance to motorcycle racing in India as we consider it a way of expressing the 'Spirit of Challenge' that we value so highly. We've really come a long way since 2010 when we first started the R15 One Make Race Championships in India. Through the R15 One Make race Championship, which is one of our key initiatives to connect with our customers, we aspire to take the motorcycle racing culture to newer heights in the country. This is the first time the race involving national level riders is being hosted in Delhi NCR at the Buddh International Circuit, a step which will help increase awareness on the Indian racing culture in this part of the country as well. We are very happy with this development as it is very much in line with our endeavor to take the racing culture to newer heights in the country."
The contestants will hit the track on Yamaha's Super Sports YZF- R15 version 2.0 and experience the breathtaking acceleration of the bike on the race circuit. Loaded with true Yamaha racing DNA, YZF- R15 will provide a complete racing experience to the biking aficionados and hands on feel of its power, stability, cornering and braking. Yamaha will make their experience more exciting by fitting Daytona Racing Kits in the bikes. These kits are developed using valuable experience gained from MotoGP & World Superbike racing and are designed exclusively for racing purposes in a closed circuit.