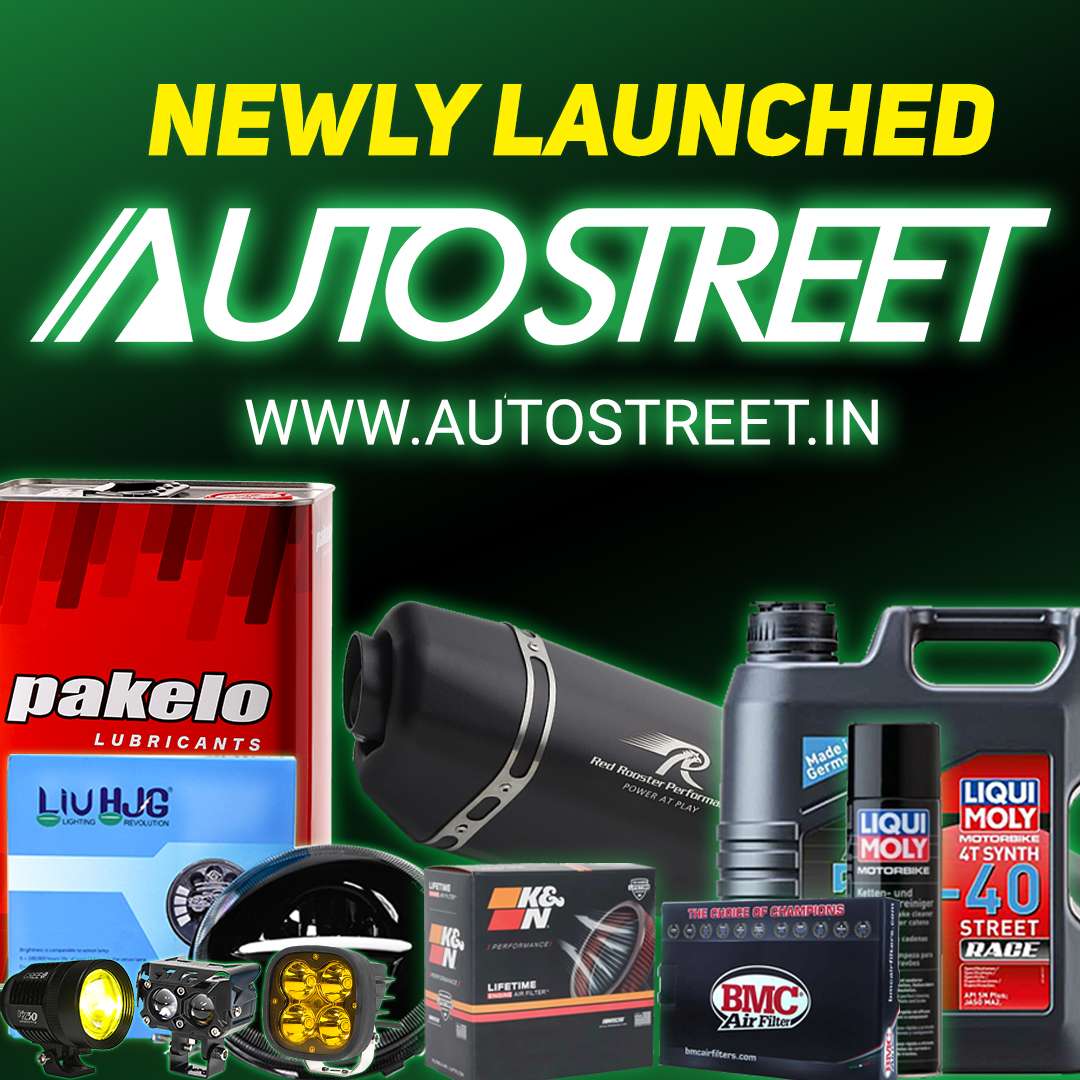 The Yamaha Ray is a very important product for Yamaha. It is its first scooter for India and with the scooter segment booming, Yamaha want to make sure that they capitalize on the massive growth seen in this segment. Interestingly though Yamaha have targeted the Ray at the women folk and this strategy is kind of risky when it comes to this segment as there are a lot of potential male buyers as well, but Yamaha seems to have a strong plan and recent news of a male oriented scooter, would be the company's offering to the male buyers. So then being a scooter for the women by the women, does the Yamaha Ray fit well into the buying criteria of its target crowd? Read on for a detailed Yamaha Ray review.
Engine and Performance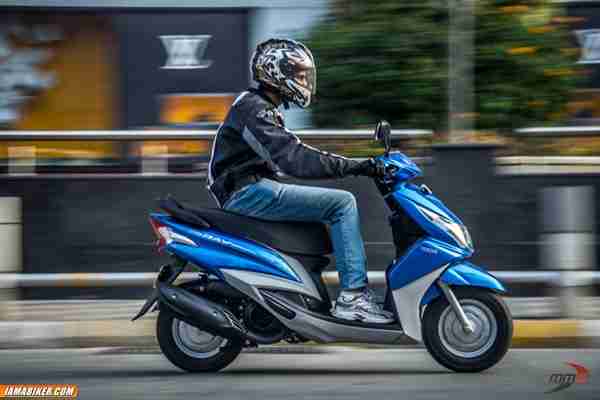 The Yamaha Ray is powered by an 113cc engine that produces 7 HP of power and 8.1 Nm of torque, what that basically translates to is a scooter that is quick on its feet. The light weight of 104 kg also adds in making this scooter pick up pace easily especially when riding alone. Quite an advantage when riding around in the city, especially when you want to get going in between the traffic in a jiffy. Even after a day's continuous city riding the engine was still smooth, energetic and the pleasant sounding exhaust kept to its note. The only place where we found it a little slow is when there was a pillion, but then again it was two grown up men on it. The fuel efficiency/mileage of the Yamaha Ray stood at around 42 kmpl after mostly city riding and with a controlled right hand we saw the Yamaha Ray's mileage climb till 47 kmpl. Throttle wide open it topped out at a speedometer indicated 80 kmph.
Look and Feel and Build Quality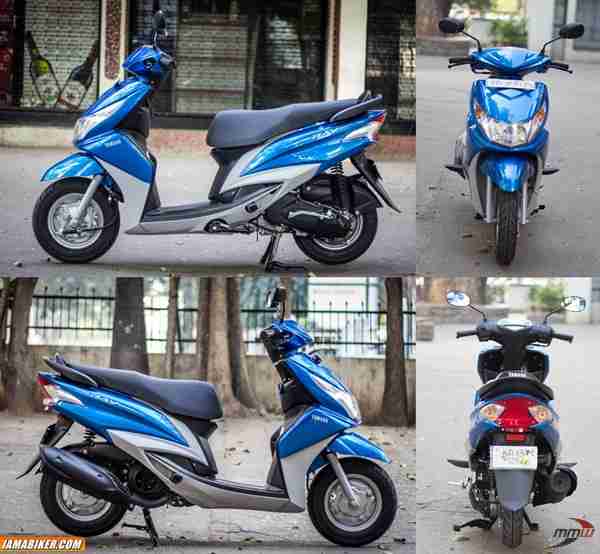 The Yamaha Ray has kind of a deceptive look, deceptive in a good way, why because it looks much bigger than it is. The moment you sit on it, you instantly realize how light and compact this scooter is. But the surprise was that even our taller test riders were comfortable on it. Yamaha have chosen to keep the design all sharp with the Ray and although some of us felt that at first look it resembles a certain other scooter, most of us on the team agree that the scooter is a delight to look at. All of us were in fact quite impressed by its exhaust design.
Yamaha Ray has a lot of plastic thrown around and that basically adds up to its light weight. Plastic quality all over is at par with its competitors and switch gear in-fact will seem quite familiar if you have ridden other scooters. The mirrors could have been a little more functional, but does a decent job. Another key thing we noted was that it was very easy to put the scooter on its centre stand.
Handling and Braking
When it comes to handling the Ray definitely shows its true Yamaha DNA, it's such an easy scooter to ride around the city. Its light weight and small dimensions help you zip through traffic ever so easily. The telescopic forks at the front definitely made an impression on us, as it made the ride quite comfortable and even with some spirited riding the suspension kept up. The version we tested came with MRF tyres and they held up pretty well in all the different riding styles and terrains. The Ray has a pretty small turning radius making it a boon in daily commuting. The braking duty is done by drum brakes at both ends and they held up quite well and did not lock up until we went really hard on it.
Accessories and Key features
In this department Yamaha have chosen to stick to the basics, everything that you need is present but misses on some extra features that competition provide to add that extra value. The speedo console is a standard one with all the basic must have's. The seat is pretty comfortable and spacious even with a pillion and speaking about pillion; the pillion foot pegs are really comfortable. The under seat storage will hold a half faced helmet easily but not a standard size full faced one. Yamaha have provided some space below the handle bar where you can keep small items along with a hook at the front and one right below the seat. The pillion rear grab bar is quite nicely built and provides a good strong place to hold on to. We liked the headlights and they did their job pretty well and while we wish it had a better spread it had an above average throw.
Value for Money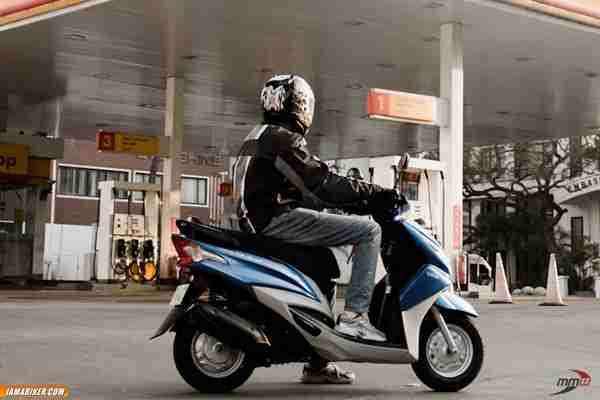 We feel the biggest advantage the Yamaha Ray has over its other similar segment targeted scooters competitors is that it looks a much more substantial and a serious buy, while it still is as light and easy to handle. But the fact remains that it misses on some 'accessories' that other manufactures provide, then again these are not exactly the must haves. Coming to the pricing it is up there with the rest. Feedback from new Ray customers indicates decent maintenance costs.
Final Verdict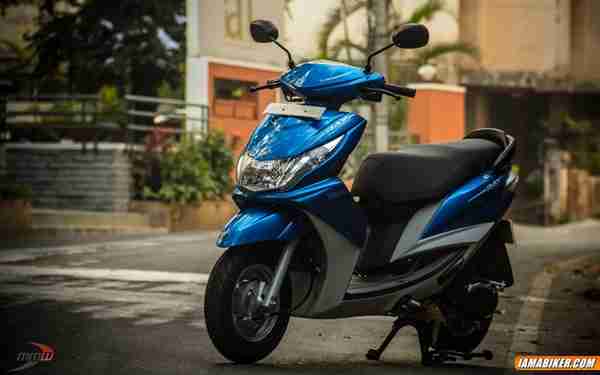 So time for a verdict then? The Yamaha Ray we feel meets pretty much all the basic requirements of its target customer base. It is easy to handle, light to move around and powerful enough to have fun on, at the same time returning a pretty decent mileage, all this with a cost that is competitive. This maybe Yamaha's first scooter for India but we feel Yamaha have a winner here.
Specifications Sheet
ENGINE
| | |
| --- | --- |
| Design | 4-stroke, Air cooled |
| Displacement | 113 cm³ |
| Torque | 8.1 Nm @ 5000 RPM |
| Power | 7 HP @ 7,500 RPM |
| Starting aid | Kick / Electric |
| Transmission | Automatic |
CHASSIS
| | |
| --- | --- |
| Frame | Under-bone Type |
| Front Suspension | Telescopic |
| Rear Shock absorber | Unit Swing |
| Brake system Front | Drum brake |
| Brake system Rear | Drum brake |
| Brake drum – diameter front | 130 mm |
| Brake drum – diameter rear | 130 mm |
| Front tyre | 90/100- 10 inch |
| Rear tyre | 90/100- 10 inch |
| Fuel tank capacity | 5 L |
| Ground clearance | 128 mm |
| Wheelbase | 1270 mm |
| Length | 1835 mm |
| Kerb Weight | 104 kg |
| Battery | 12 Volt 5 Amp |
| Head lights | 12V 35/35 W X1 |
Motorcycle Courtesy:
Test Riders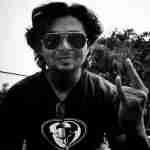 Nijish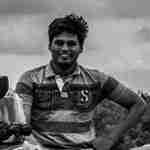 Avin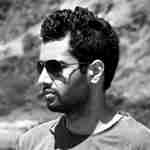 Rohan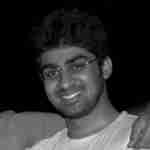 Ashwin