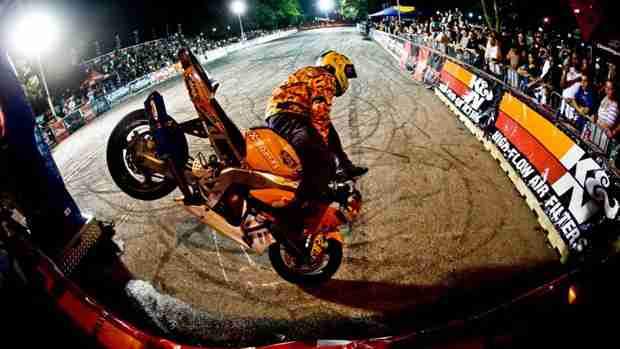 The XDL Championship is one that needs no introduction, but with it soon making its entry into this part of the world there are a lot of questions that need answering. We got talking to Ashish Ranjan, who is a man on a mission to spread the word about XDL in India and got him to answer couple of questions that we think would shed a lot more light on the whole series and its viability in India.
1. What is the XDL? How long has it been around and how did it all begin? 
The XDL Championship Series represents the top and the only official sports league for "street freestyle" in the whole world. It all started in December of 2005 when the pre-cursor to XDL took place at Irwindale Speedway in California. It was where Randy Grube and Thomas Evans, the two people that would eventually start XDL, met for the first time.
In May '06, the XDL Sportbike Freestyle Championship made its début. Kane Friesen won at the first XDL Championship. By executing well, keeping its promises and treating athletes like professionals, XDL gained instant credibility. It was in 2007 that XDL turned from a stunt riding competition into a legitimate sport. The sport is now accepted and followed in the industry. It has a solid fan base, a clear direction for the future and a place among action sports. XDL iss here to stay and the best years are still to come.
2. What are the key features of the XDL that separate it from the other stunt championships.
XDL is the only official sports league for street freestyle stunting in the whole world. The competitions generally take place inside cities, as compared to traditional road racing, which takes place on a race track, far removed from a population centre. As an example, XDL runs an event with MotoGP at Indy where they block off a street down-town. XDL has now been approved by the Fédération Internationale de Motocyclisme (International Motorcycling Federation) board of directors and from the year 2014 the FIM XDL WORLD CHAMPIONSHIP shall be launched .
3. How has the XDL changed the lives of stunter's abroad?
Street freestyle has officially gone mainstream. XDL has helped transform the image of stunter's from illicit outlaws to professional athletes.
4. What are the requirements to participate in the XDL championship?
You just need to show up at an event and show what you've got.
5. XDL India campaign has begun, so when do see a full fledged presence?
At present XDL run's a championship in the US and in 2014 will be launching the FIM XDL World Championship, which will be the only official world championship. By 2015 it's expected to have an official stop in India. Currently work is on to have the XDL qualifiers done at the India Bike Week, Goa, early next year.
6. How do you think XDL can affect or change the stunting scene India?
The XDL CHAMPIONSHIP SERIES plans to introduce and promote the culture of adventure sports in India by hopefully next year, it is sure to draw in more and more people towards this sport. It shall give an official platform to Indian freestyle athletes to showcase their talents globally. In short, if in the future "street freestyle" gets mainstream, XDL will be responsible for it.
7. What are current activities that XDL India is doing?
Currently XDL is working on spreading the word about the series in India. A XDL India Ambassador page on Facebook  has been started to give it a more local flavour and it has gained over 9,000 fans in less than 4 weeks.
8. Will XDL India have separate categories due to the massive difference in motorcycles between their international counterparts?
It depends on the challenge. Some competitions such as Circle Challenge can be done small bike versus big bike. The main disadvantage with the smaller bikes is the lack of power. Less power means less speed and acceleration. A run looks less aggressive and feels slower. The audience and the judges don't like that.
9. How does a stunter or a team participate and take advantage of the presence of XDL in India?
One thing we focused early on was to refer to our sport as "street freestyle," and to call our competitors "athletes." If your goal is to become an athlete and to be part of a sport, then that is where you will end up. XDL competitors are getting sponsorships from major brands such as BMW, KTM, Triumph, Yamaha and ICON, not because they are riders, but because XDL gave them a platform to be athletes. Even when they are not competing, they are still considered XDL athletes.