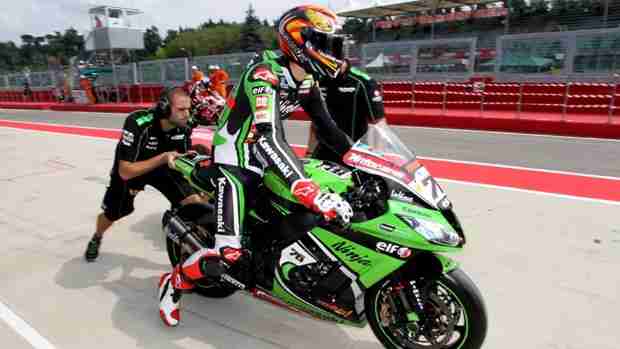 After a sombre end to the recent Moscow Raceway round and the cancellation of the second Russian SBK race as a mark of respect to the late Andrea Antonelli, Silverstone is the venue for the entire SBK paddock to reconvene at between 2 and 4 August. There will be one but two races for each Superstock class at this event, in addition to the usual two SBK races and single WSS event. Silverstone is the second British round of the year for Yorkshireman Tom Sykes to compete at. His first home round at Donington in late May delivered him a virtually perfect race weekend, which was topped off by a double race win.
For Sykes two more race victories would be the perfect way to finish the first part of the season, before the long summer break which will run almost all the way to the end of August. Tom is currently second in the championship by only four points and with a win total of five races, more than any other rider in 2013.
Loris Baz had his first career SBK race win at Silverstone last year, riding his Kawasaki Racing Team machine to the top spot in a rain-affected first race and then taking second spot in race two to underline his true talent. Loris, now 20, has reached the podium again in 2013, taking third at Assen and aiming to be in a position to fight for another top three by qualifying well at Silverstone.
Federico Sandi (Kawasaki Team Pedercini) goes for more points in his rookie SBK season but he will have a new riding partner at Silverstone, as Alex Lundh (Kawasaki Team Pedercini) continues his recuperation from a wrist injury. Mark Aitchison, who used to ride for Team Pedercini in SBK, is scheduled to rejoin the squad for this SBK round. Leandro Mercado and Lorenzo Savadori will ride as usual for the Kawasaki Pedercini Team in the Superstock 1000 FIM Cup class, while Jeremy Guarnoni and Romain Lanusse lead the MRS Kawasaki charge in England.
Tom Sykes
"At the previous round we had an issue in the race but we had been fastest in most of the practice sessions and had great race pace. So in that respect I am happy. When you are pushing at the front of races sometimes mistakes or issues come along. Last year at Silverstone in normal conditions the Ninja ZX-10R was good but in the wet conditions of raceday we struggled a bit. I think many people understand that we have made a big step with the set-up since then. I am looking forward to racing again in front of my home crowd and hopefully we can have a similar kind of result as we did at Donington, but we will see. I am going to Silverstone relaxed and motivated and we can look to hopefully get ourselves back on track. There is a long summer break afterwards with three weeks off; then in September the calendar gets really busy again. So a good result at Silverstone would be ideal to enjoy the summer break all the more."
Loris Baz
"I had a short holiday in Spain after Moscow and now I am ready for the Silverstone weekend. After everything that happened in Moscow it will be good to be back racing. I really like Silverstone and after I won a race there last year I had a really good weekend. We are at a moment in the season when I need a strong weekend. I think we can make a good weekend and we need it again. I am not sure why I like Silverstone but I always enjoyed it when I rode it in Superstock and in BSB. It is a really nice track and to go England is always cool because I know the British spectators and I have some good fans there so I am always happy to go to race in the UK."