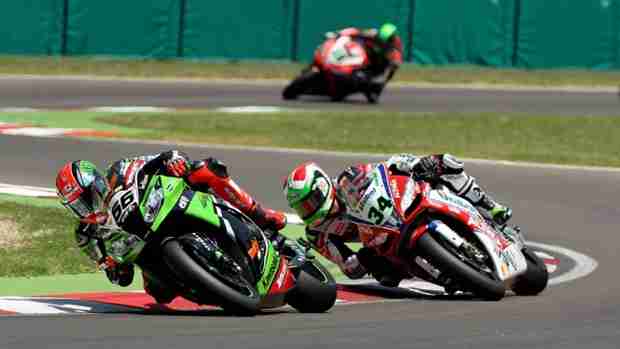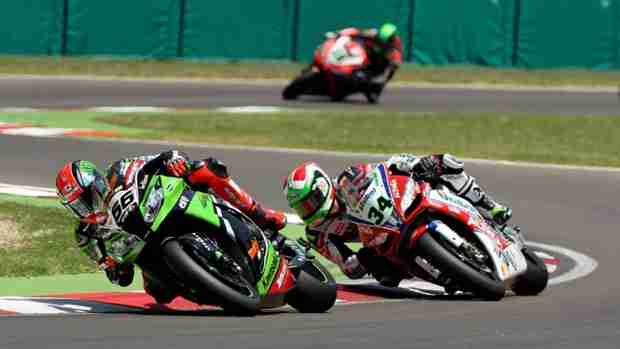 Tom Sykes (Kawasaki Racing Team) continued his untouchable form from qualifying into both 21-lap SBK races at Imola and in taking his second 'double' of the year also he took the championship lead. This was Tom's second such double win in three rounds and with previous championship leader Sylvain Guintoli finally finding bad luck with a DNF in race one, and finishing third behind Tom in race two, Sykes now leads by six points after 7 of 15 rounds have been completed.
Sykes once more put in a perfect weekend, as he took both race wins, his sixth Superpole of the year, a new fastest lap in qualifying and a new lap record of 1'47.274 in race one. He has now scored five wins in 2013, more than any other individual rider. He also took his career total of SBK wins into double digits, with ten in total. In the championship table Tom leads Guintoli by 235 points to 229.
Loris Baz (Kawasaki Racing Team) was in poor physical shape after a very fast fall on Saturday in Superpole and fought hard to be ninth in race one, unable to push hard because of the pain. After more effective treatment in time for race two, Loris was more like his competitive self and made good use of the improvements his crew and Kawasaki had found with him in recent Aragon tests. He finished race two sixth and is still sixth in the championship, with 126 points.
At the end of a difficult and more than a bit unlucky weekend the Aprilia Racing Team leaves the Imola round with two podiums (Laverty third in Race 1 and Guintoli third in Race 2) as well as the leadership in the world Manufacturer championship.
In Race 1, won by Tom Sykes, Eugene Laverty took third place, beating Marco Melandri out in the battle for the podium. In the first race the excellent overall performance of the Aprilia bikes was confirmed by Davide Giugliano's second place, astride the Team Althea RSV4, and by Michel Fabrizio's fifth place on his Red Devils Roma RSV4. Sylvain Guintoli, on the other hand, was forced to retire early in the sixth lap, just as he was battling Sykes for second place. His withdrawal was forced by a technical problem with the engine that brought the French rider's race to an early end.
The second race followed the same script as the first with Englishman Tom Sykes immediately taking the lead. This time it was Eugene Laverty's turn to raise the white flag due to a crash without consequences for the rider in the fifth lap while he was in third place and trying not to fall behind Sykes and Rea. Guintoli, who was behind him, had no trouble holding Marco Melandri and Chaz Davies at bay, holding onto third place until the end.
Leading the World Championship Rider standings from the first round of the 2013 WSBK season, after the Imola round Sylvain Guintoli slips to second place due to Tom Sykes' double win. The Frenchman is now 6 points from the English rider's lead, while Laverty is lying in third place behind by 45 points.
Marco Melandri (ITA) finished both of today's races in fourth on his BMW S1000RR. His team-mate Chaz Davies (GBR) claimed sixth and fifth respectively. After seven rounds of the 2013 FIM Superbike World Championship, Marco is fourth in the riders' championship with 182 points, directly followed by Chaz with 154 points.
Tom Sykes
"I have had two perfect weekends out of the last three events and for this I am truly happy. I enjoy this circuit so we have made the most of it. A perfect weekend so it could not have been any better. It is a special weekend for many reasons and also the incident last year with my 2012 team-mate Joan Lascorz. There was not one time on any lap when I have exited turn six and not thought about his accident. We are all thinking of Joan and I hope that this is a small, small tribute to him. Both the ZX-10R and myself have been working well. I have every single individual member of the Kawasaki staff and teams to thank, and our great technical sponsors. Without their help I would not be able to showcase myself so I truly am grateful. Hopefully now this is a beginning of a challenge but we will see how we go."
Sylvain Guintoli
"Race 1 was disappointing. Unfortunately at these levels these things can happen. In Race 2 I really pushed as hard as I could. When Eugene crashed I even tried to catch Rea who was in front of me, but I wasn't able to. I'm not really happy with third place, but it was really the most we could get today. The season is still far from over. There are tracks like this one and Donington where we're weaker, but there are others where we will definitely be key players. The important thing is never to fall too far behind the leaders".
Eugene Laverty
"The result in Race 1 was definitely encouraging. We managed to improve the bike a lot between yesterday and today, even during the warm-up session. For Race 2 I expected a second step forward, but unfortunately from the beginning I had some problems with the bike that cost me a lot at some points of the track. To stay in the race I had to take some risks and that led to my crash. It was a mistake on my part. I'm disappointed because I know that we're stronger than what we demonstrated today".
Loris Baz
"The main problem for me in race one was the pain in my left shoulder after my big crash in Superpole but to be honest it was sore everywhere so I could not stay with the guys in front. I had great pain in my ankles so I cannot change direction fast and I cannot brake well with the rear brake. In race two it was better and I had some more effective painkillers. From the beginning I tried to stay with them and fight with them really hard behind Leon, then pushed hard in the middle of the race even though it was very tiring. I had good confidence with the bike and I am sure if I was 100% I would have been even closer to the front. But saving a top six position in these conditions was not too bad. I felt like I had done 80 laps at the end, I was just destroyed!"
Marco Melandri
"On this track unfortunately our bike struggled. I don't think that we had a chance to win today, so this result is the best possible. Race one has been very hard. I struggled a lot to change direction by shortly opening the gas which I normally do and, unfortunately, I couldn't do better. While in the previous races I had issues with new tyres, here in Imola we struggled a lot with used tyres instead. The race was physically very demanding and at the end of the race I was really tired.
In race two we tried to solve the issue with some changes to the front suspension but the situation did not improve. The bike remained nervous and when I tried to push harder the bike moved more and more. In the last part of the race Chaz passed me and it was very difficult to get the fourth place back. If he had not made ​​a mistake he probably would have been in front in the end. The positive point is that as a result of today I have reduced the gap to the Aprilia riders."
Chaz Davies
"Race one was difficult. I was not able to exit the corners as I wanted to. Everywhere else the bike seemed to be working okay but I could not get the bike under control as much as I would like on the corner exit. I either slided and then found grip what upset the bike or the acceleration was just not good enough. That cost me one bike length each time and I always had to push on the straights to catch that up again — until the next corner. In the end, the bike was easier to ride than in the middle of the race, the grip level was more consistent. It seemed as with the longer the race went on, the bike became better.
We used that knowledge to improve the bike for the second race. The bike was better and I was able to at least fight in a good group with Marco and at the end of the race I still had the guys on the podium positions in sight. The battle with Marco in the closing stages was fun. I passed him with two laps to go and held him off for one lap but then racing up the hill he got a really good drive and he passed back at the top of 'Piratella'. Then in the last corner he went in a little bit too deep and I tried to cut back on the inside but I lost the rear unfortunately when I tried to pass him which was a bit of a shame but it was fun anyway. The only thing I am disappointed about is that I still lost too much time on the exit of slow corners. For some reason, I lost the grip earlier and could not open the gas as hard as I would have liked. It cost me some time on the straights so we really need to work on that tomorrow. At the test we will focus on that and I am confident that we will find something."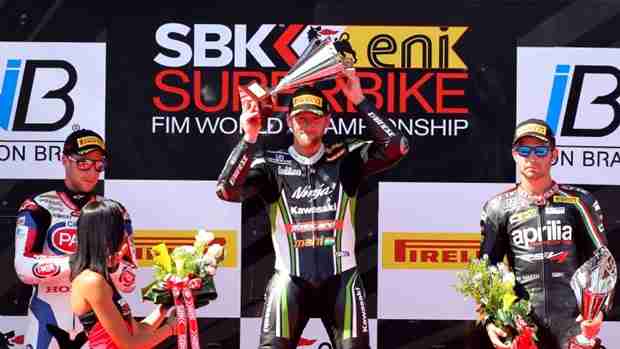 WSBK results of Imola
Race 1
1. Tom Sykes-Kawasaki ZX-10R
2. Davide Giugliano-Aprilia RSV4
3. Eugene Laverty-Aprilia RSV4
4. Marco Melandri-BMW S1000 RR
5. Michel Fabrizio-Aprilia RSV4
6. Chaz Davies-BMW S1000 RR
7. Leon Camier-Suzuki GSX-R1000
8. Ayrton Badovini-Ducati 1199
9. Loris Baz-Kawasaki ZX-10R
10. Leon Haslam-Honda CBR1000RR
13. Federico Sandi-Kawasaki ZX-10R
DNS Alex Lundh-Kawasaki ZX-10R
Race 2
1. Tom Sykes-Kawasaki ZX-10R
2. Jonathan Rea-Honda CBR1000RR
3. Sylvain Guintoli-Aprilia RSV4
4. Marco Melandri-BMW S1000 RR
5. Chaz Davies-BMW S1000 RR
6. Loris Baz-Kawasaki ZX-10R
7. Leon Camier-Suzuki GSX-R1000
8. Michel Fabrizio-Aprilia RSV4
9. Leon Haslam-Honda CBR1000RR
10. Ayrton Badovini-Ducati 1199
14. Federico Sandi-Kawasaki ZX-10R
DNS Alex Lundh-Kawasaki ZX-10R