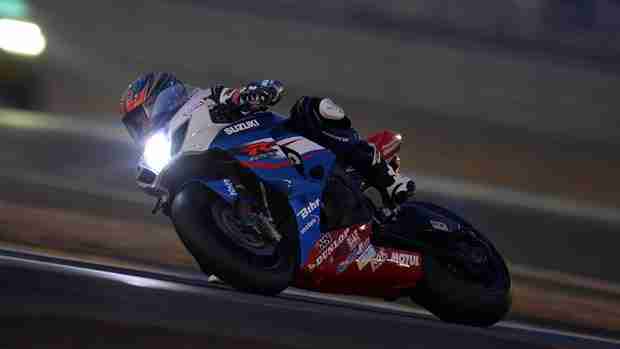 Suzuki Endurance Racing Team has won the 2013 FIM World Endurance Championship after a drama-packed final round at Le Mans in France today that saw the Suzuki GSX-R1000-mounted team charge from last position after a small crash and subsequent cooling problem forced a complete engine rebuild on Saturday evening. SERT riders Vincent Philippe, Julien Da Costa and Alex Cudlin clinched the French team's 13th World Endurance Championship title by five points from Yamaha GMT 94 after 24 hours of racing – almost two of them spent in the pits – finishing 26th overall and 12th in class.
Suzuki's GSX-R1000 machine also dominated the Superstock Class; Team Motors Events April Moto winning the race from Junior Team LMS, with both near standard production Suzuki GSX-R machines claiming fifth and sixth places respectively overall at the Circuit Bugatti. Team Motors Events also captured the FIM Superstock Cup title. To add even more Suzuki GSX-R1000 success to the podium, Team R2CL – who fielded Tyco Suzuki's TT rider Guy Martin to its Le Mans squad – captured second overall in the event; narrowly missing third position in the World Endurance Championship standings.
SERT, who clinched its fourth-consecutive World Endurance Championship title and eighth aboard the Suzuki GSX-R1000 – four being won on Suzuki GSX-R750 machines and its first title in 1983 on a Suzuki GS1000 – topped the timesheets in both Thursday and Friday qualifying sessions; despite the loss of regular team member Anthony Delhalle, who broke his leg and collarbone in a mid-week practice crash. And, despite setting the pace in the early stages of the race, the Le Mans-based squad began a war of attrition when a gentle slide-off by Philippe after just 15 minutes, due to suspected fluid leakage on the Dunlop Chicane, started a chain-reaction of issues inside the Suzuki GSX-R engine that required a further eight quick-fire pit-stops from Philippe; and Team Manager Dominique Meliand's subsequent decision for his crew to completely strip and rebuild the engine in less than an hour, to repair the damage done by the crash-damaged cooling system.
It was a bold but well-timed move; and although SERT slipped back to 54th position, the defending World Champions got back into the race with Da Costa taking his first session and tasked with running-in the newly-rebuilt machine. From that point, the Suzuki trio forged consistent lap-times, cut everything down to minimal pit-stops; and also took advantage of other teams suffering similar drama: Race winners SRC Kawasaki were knocked-off before clawing-back through the pack, Monster YART – who were in a championship-winning position at one point, – were forced to retire along with mid-race leaders BMW Motorrad France; and also GMT 94, who were the first leading team within grasp of the title to crash-out on the problem corner; team leader David Checa remounting from a similarly-unusual slip-off to Philippe's.
The most serious race incident involved Honda TT Legends' Michael Rutter, Michael Dunlop and Simon Andrews, (regular team rider John McGuiness handing-over his race slot to Dunlop), which was running in a strong third position in the race. The team was caught-up in a high-speed five-rider incident as the event progressed into the night and Andrews suffered two broken legs, broken ribs, a punctured lung and several fractured vertebrae, but was stable and undergoing surgery earlier today. However, the machine was destroyed and the team withdrew.
Drama also surrounded the Superstock class with series leaders Penz13.com Franks Autowelt BMW being one of the large amount of 20 race retirements and being forced-out after 192 laps; which gave Team Motors Events April Moto's Gregory Fastre, Michael Savary and Claude Lucas a chance to claw-back the team's 11-point deficit and take the title ahead of Suzuki's Junior Team LMS riders Baptiste Guittet, Etienne Masson and Guillaume Deitrich.
Long-standing SERT rider Philippe, who handed his normal 'race-finish' slot over to team stand-in Cudlin, said: "That was such a crazy race; it's very good for the team though. I'm just sorry that I made that mistake so early-on, but the team was brilliant in sorting the problem and I'm happy for everyone involved. I made a mistake braking but that little crash had enormous consequences: a cracked crankcase, a radiator leak, an overheating motor and a broken cylinder head seal. The mechanics went at it hammer and tongs for over an hour. We had to keep believing but it's hard to ride without the fight out front."
SERT Team Manager Dominique Méliand said: "We are disappointed because I wanted it all. I wanted to win the title and the race! I started out in Endurance in 1969 and I have learned that you must never give up. The crew were just great. When I said we would have to take the engine out to fix a cylinder head seal, no one said a thing even though we weren't sure it would work. But it held for over 20 hours!"
Team R2CL's Guy Martin, who joined regulars Dylan Buisson and Gwen Giabbani added: "I'm over the moon; that was mega! It's not about me though – it's about the team, as I was just a passenger. It's all about these boys and they are legend!"