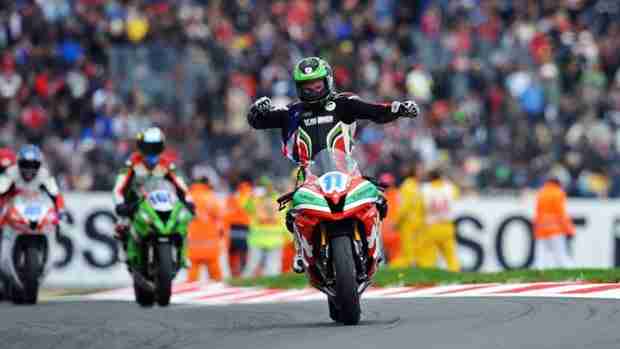 Yakhnich Yamaha rider Sam Lowes has this afternoon taken the World Supersport Championship title with Yamaha aboard the YZF-R6 at the penultimate round of the 2013 championship in Magny Cours, France. Lowes had come into the weekend 49 points ahead of rival Kenan Sofuoglu and enjoyed a typical battle between the two that saw him secure second on the podium after a red flag brought the race to an early close. The result put the 23 year old British rider on 225 points, 44 clear of Sofuoglu with one race to go.
Lowes has enjoyed a dominant season on the R6, taking an impressive five race wins and a total of ten podiums on his way to his maiden title. The win is also Yamaha's third World Supersport title in the last five years.
Sam Lowes
"I'm very happy and want to say a massive thank you to Yamaha and to everybody involved in getting me here. From when I first rode the R6 in Jerez and joined the team I felt a great feeling and I knew we could fight for the championship. To feel it and do it are two different things so I'm very happy to be world champion. Today's race was great fun, sometimes its nice to be in a battle and take your mind off the bigger picture. I enjoyed that race a lot. I'd like to say a massive thank you to Kenan; he's a great rider, I classify him as a friend and I respect him a lot for this season. Thank you for the fight! I also want to thank everyone who has got me into the position I am in today."
Laurens Kleinkoerkamp – Racing Manager, Yamaha Motor Europe
"After two great World Supersport titles in 2009 and 2011 with Cal Crutchlow and Chaz Davies its great to see the strong points of our supersport machine are still making it the best 600. We've put a lot of effort in this season and as a result we're back on top and we've got another championship. Yamaha would like to say a big thank you to Sam who has been doing an amazing job and also the team who worked hard all year. I also need to say big thank you to Yamaha Motor Europe Technical Coordinator Torleif Hartelman who worked tremendously hard with Sam and the team for this fantastic result. It's clear to see the Yamaha YZF-R6 is once again the best Supersport bike on the world stage."
The Yamaha supersport machine continues to prove to be the bike to beat in both national and international classes. Mathieu Gines has wrapped up the 2013 French Supersport Championship on his Yamaha Supersport machine and Cameron Beaubier has secured the AMA Daytona Sportbike Championship on his and fellow AMA rider Tomas Puerta has scored the 2013 AMA National Supersport Championship title. As the last rounds are played out in a number of national series, the R6 is closing in on numerous other titles to add to 2013's already significant silverware collection.
WSS Magny Cours Race Result 2013
1. Kenan Sofuoglu TUR Mahi India Kawasaki ZX-6R 34m 07.601s
2. Sam Lowes GBR Yakhnich Yamaha YZF-R6 +0.299s
3. Christian Iddon GBR ParkinGO MV Agusta F3 +0.622s
4. Fabien Foret FRA Mahi India Kawasaki ZX-6R +13.168s
5. Sheridan Morais ITA Go Eleven Kawasaki ZX-6R +13.483s
6. Michael van der Mark NED Pata Honda CBR600RR +13.900s
7. Lorenzo Zanetti ITA Pata Honda CBR600RR +14.363s
8. Roberto Tamburini ITA Lorini Honda CBR600RR +14.748s
9. Vladimir Leonov RUS Yakhnich Yamaha YZF-R6 +24.989s
10. Alex Baldolini ITA Suriano Suzuki GSX-R600 +27.754s
11. Jack Kennedy IRL RivaMoto Honda CBR600RR +32.396s
12. Raffaele de Rosa ITA Lorini Honda CBR600RR +32.977s
13. Massimo Roccoli ITA Pata by Martini Yamaha YZF-R6 +37.785s
14. Kev Coghlan RUS DMC Lorenzini Kawasaki ZX-6R +38.295s
15. Luca Scassa ITA Intermoto PonyExpres Kawasaki ZX-6R +39.159s
2013 World Supersport Championship Standings
1. Sam Lowes Yakhnich Yamaha 225
2. Kenan Sofuoglu Mahi Kawasaki 181
3. Fabien Foret Mahi Kawasaki 134
4. Michael van der Mark Pata Honda 117
5. Lorenzo Zanetti Pata Honda 108
6. Jack Kennedy RivaMoto Honda 76
7. Luca Scassa Intermoto Kawasaki 75
8. Roberto Rolfo ParkinGO MV Agusta 62
9. Kev Coghlan DMC Lorenzini Kawasaki 62
10. Vladimir Leonov Yakhnich Yamaha 56