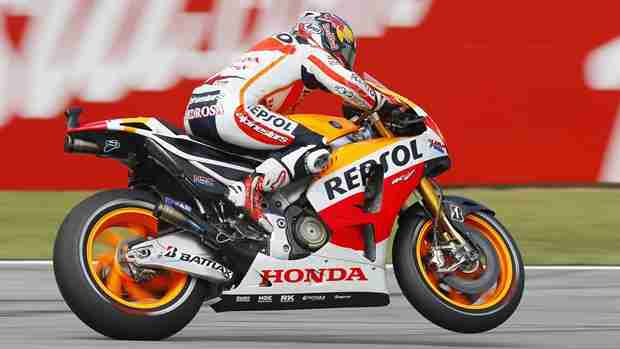 Repsol Honda's Dani Pedrosa set a sizzling time of 2'00.554 in this afternoon's Free Practice 2 session to finish half a second clear of his closest rival in the first day of practice at the Malaysian Grand Prix in Sepang. Pedrosa's time was just two-tenths of a second off the qualifying lap record, the Spaniard topping the opening day ahead of team-mate Marc Marquez who was second quickest with a personal best time of 2'01.087. Monster Yamaha Tech3's Cal Crutchlow was the closest rider to the Honda duo, his lap time of 2'01.423 slotting him in at third in the overall classification. Power Electronics Aspar's Aleix Espargaro was the quickest of the CRT today, setting a time 2.056 seconds off Pedrosa's benchmark to finish eleventh on the time-sheets.
Dry track conditions greeted riders in both sessions today despite a heavy downpour around midday, with a peak track temperature of 44°C recorded during FP2. At the start of Free Practice One all riders headed out on soft slick options front and rear to gauge the track condition, with two riders assessing the hard compound front slick later on in the morning session. In the second session of the day tyre choice was more varied, with five riders trying the harder rear slick options, while both the soft and hard front slicks were also used. The softer front and rear slick options were preferred by riders today, with almost every rider setting their quickest time on this tyre combination. Similar weather conditions to today with the chance of rain are forecast for tomorrow. The final ranked practice session, FP3, starts at 0955 local time (GMT +8) before qualifying gets under-way from 1410.
Dani Pedrosa
"Today went well; we had two good practice sessions and were able to ride in dry conditions in both the morning and afternoon. In the second session it looked like the track was going to be wet after a brief rain shower in-between FP1 and FP2, but it dried out quickly and we were able to continue working on our setups. When sitting on the bike I have quite a lot of pain, as the seat is very hard, so we shall see if a few more anti-inflammatories can help to alleviate the issue. We might also add a small cushion underneath my leathers, in order to absorb the bumps that we get when riding."
Marc Marquez
"We came here before in pre-season, when I had barely ridden a MotoGP bike so it was interesting to compare things again so many laps and miles later! I felt comfortable and this is important when trying to be more consistent every lap. On the single lap we are half a second off Dani who was very fast, as he always is at Sepang, but our pace in general isn't too far off. We have to push hard because if he can do it, that means that the Honda is capable of those times. I was hoping to be more consistent but I had some problems with braking, which we were able to solve in the opening practice session. We still need to improve a few things, but I have realised that we are already fast, straight out of the box."
Valentino Rossi
"For me personally, especially this afternoon, it was a good practice because we improved the setting of the bike a lot. We improved with the new tyre and with the old tyre I can stay with a good pace so I feel better on the bike. For sure we have to improve, but this afternoon I feel good. It seems our competitors are a little faster than us but I will try 100% because in the last races Jorge is always there fighting at the front. It will be hard but we have to concentrate on the bike. We are not very far but we have a small gap to recover."
Jorge Lorenzo
"We are investigating what happened today because I didn't have confidence in the middle of the corners and also with acceleration. I had a lot of spinning and the bike is very aggressive so we have to see what we can change for tomorrow to try to get back a good feeling with the bike again."
Stefan Bradl
"Today it was a tough first day for us because we have struggled too much on braking. We arrived here with a completely different set-up compared to the one that we experienced in February. But this how it works and you improve the bike during the season but now we are suffering too much on braking and I went wide a few times so far. The grip itself is okay and we mainly have to focus on our braking stability and braking areas but the rest seems to be okay. The gap to the front guys is still recoverable so this will be our main target for tomorrow".
Nicky Hayden
"Things went pretty well this morning, but we fell further behind as the day went on. The biggest problem is that I have a lot of chatter, especially from the front and in the fast corners, which makes it very difficult to carry corner speed. That's a normal problem we had here during testing, so it's not something we didn't expect, but we need to try to do something to improve it."
Andrea Dovizioso
"It was important to make it into the top ten, and it's good that I managed it while doing an entire session with one tyre, unlike most of the others. The gap to the front is bigger, but that's normal; there isn't much grip here and the tyre wears a lot, which hurts us a bit more. The Sepang track is very particular. When it dries, even if there are some wet patches, you can set good times, like Pedrosa did. Sure, the tyres don't work so well and they wear a bit more, but you can still go fast."
Alvaro Bautista
"We have worked well from this morning through to the afternoon to improve the grip, which initially wasn't allowing me to push as hard as I wanted. We have made constant progress and I am sure we could have dropped the lap time even more if I didn't crash midway through the session. Unfortunately we didn't have time to put the same setting into the second bike so the feeling wasn't the same, but anyway I am sure we can take another step tomorrow and be even more competitive."
Bryan Staring
"A day to forget. I have struggled a lot here and never managed to get a good feeling. We have problems and we need to sit down and analyse the data to see if we can what is causing them so that we can try to turn the situation around tomorrow."
Cal Crutchlow
"It was very difficult this morning to ride at my maximum level because I had some problems with the right arm I first injured during the recent British Grand Prix. I already know I need surgery at the end of the season but until now the big impact my arm took at Silverstone has only given me bad swelling but no pain. This morning instead it hurt me a lot and couldn't use the arm that well. Fortunately the afternoon session was much better and on my final run of the day we made a positive step and I am pleased to finish inside the top three. I was immediately faster the first time I put in a new tyre because for most of FP2 we worked on the set-up of the bike with worn tyres I'd also used this morning."
Bradley Smith
"After testing twice at Sepang in the winter I was looking forward to coming back here to understand how much progress I have made in my rookie season. It is nice to be riding on a track where I've got previous experience of riding the YZR-M1 and although I wasn't able to lap as fast as I did in February, my consistency has improved a lot and that is a positive point. I did a lot of 2.02 laps and I am happy with my pace, but we will look at making some more drastic changes tomorrow to take another step into the 2.01s. I did some good times on old tyres and that gives me confidence that I will be strong in the race on Sunday."