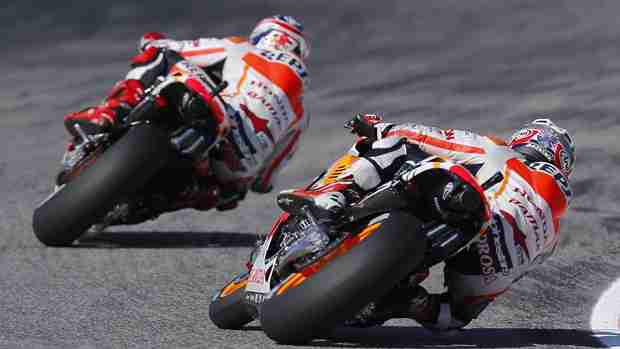 Repsol Honda's Marc Marquez continues to impress after posting the fastest time in practice for the San Marino Grand Prix today, the young Spaniard setting a time of 1'34.200 under sunny skies at Misano. Marquez led a Repsol Honda 1-2 in Friday practice as Dani Pedrosa was second fastest today with a personal best lap time just 0.033 seconds behind his rookie team mate. Third quickest today was home town hero Valentino Rossi, the Italian rider setting a lap time of 1'34.458 on his Yamaha Factory Racing M1. Aleix Espargaro showed formidable pace on his Power Electronics Aspar ART machine, taking fifth overall with a time of 1'34.732 to be the highest placed CRT rider on the first day of practice.
Weather conditions throughout the day were dry and warm with the track temperature reaching a maximum of 39°C in the afternoon Free Practice 2 session. The fine conditions resulted in all slick options being utilised today and at this stage of the race weekend, the most widely used combination is the harder front slick paired with the softer rear slick option. Track conditions today for the first day of the race weekend were satisfactory with lap times already getting within a few tenths of the current race lap record.
Marc Marquez
"I am happy with how things went today, and how we worked. I felt pretty good from the start and found some good reference points; there's only a few places, like on the fast corner, where I still need to make some improvements in order to go faster. I'm running slightly wide onto the astroturf at that point. I hope that we can rectify this tomorrow, keep working well and get in even better shape for the race."
Dani Pedrosa
"In general, today we managed to have two good practice sessions. The only problem is that we are lacking some grip in the rear. It was hard to find the necessary traction during the sessions and we hope to be able to improve this tomorrow. The track condition didn't help us today either, as the asphalt wasn't very grippy. Despite all this, tomorrow we will be looking for a good qualifying session ‒which is the important thing."
Valentino Rossi
"It's always special and a great feeling to ride here. Today was a good Friday for me, my performance was not so bad. This morning I was already quite fast but especially this afternoon my pace was very good. I was fast from the beginning to the end of the practice and we are very close to the front. Yamaha has made a fantastic job with the gearbox; it is a great help for the riders. It's not a big advantage with lap time but the bike becomes a lot easier to ride, more stable in acceleration and less wheelie. You can concentrate more on riding, it is less demanding so I think for the race it will be a big help."
Jorge Lorenzo
"We are having some problems to find the best set up on the bike because I felt a little bit worse than the last years here but we are trying to improve it. The new gearbox is working well and I really like it. I'm confident we can go a little faster tomorrow."
Alvaro Bautista
"We have had a positive first day here at the team's home race and found a good base setting to work from tomorrow. The track is a bit slippery and we don't have the perfect grip just yet so I don't have the same confidence with the bike that we have enjoyed in recent races. We know what we need to work on though in order to make improvements tomorrow."
Michele Pirro
"It was a good day, and at the end we almost confirmed the times we recorded during the tests. Of course we must improve, but I'm happy. Riding my bike again put me definitely in the condition to be more competitive, I do not say with the top 4 times but definitely within the top ten. I really believe in the project we are working on, I am living 'first-hand' the work and commitment that is being made every day, but unfortunately we have not reached the performance at this moment that many people expected, and we still more need time. Today, however, is a small demonstration that something good has been done, the feeling with the front is much better than with the other bike. Now we have to work for a good qualifying session. It is very important."
Andrea Dovizioso
"We're all quite close but the feeling is a bit worse than when we had our test here. It's a few degrees cooler and my Desmosedici works a little differently. This track is pretty tight and slow, and we must work to improve by a couple tenths in order to get our pace below 1'35". That will be very important in order to have a chance to fight for positions further up in the field."
Nicky Hayden
"I obviously wasn't thrilled with the day, but I do think we can improve quite a bit for tomorrow. There are a couple of sections where I'm losing the most, mainly on change of direction, but I'm going quite well in other places. It was a bit bumpy, but that's nothing we didn't expect for Misano. I wasn't happy with my last exit of the afternoon as I made some mistakes. My ideal time is half a second faster, so I'm confident we can do a good step forward tomorrow."
Stefan Bradl
"It's not a special first day for us and I am a bit disappointed because I like this race track. Basically I can not turn like I would like because I am not sure about the reaction of the front tyre. In these conditions I can not be sharp and it's almost impossible to carry the speed along the corner. I have to slow down and I have to break too much and this is the reason why I crashed in turn six. We have to analyse the data and try another bike set up if we wish to improve".
Cal Crutchlow
"Today was a really difficult day and I am not very happy at all with my pace or my position. My right arm is not 100% after Silverstone but the main problem is I don't have any feeling with the bike at all. We need to improve because all I can say is that today was bad and disappointing. Those in front of me can just run a much better pace and there is not one single area that is holding me back. I am struggling everywhere but I won't give up and I will work hard with my crew tonight to try and find some solutions to be more competitive tomorrow."
Bradley Smith
"Unfortunately today wasn't very positive. Misano is a track I like, so to have a result like today is not nice, but it is clear with the final position there is a bigger problem than just the setting. The bad feeling I had in Silverstone is the same here. The good thing is we understand what the issues are now and we know which direction we have to go in. It is frustrating to have the crash but I am pushing to try and get the same feeling back that I had in Brno where I was strong. I believe with all the info we have that we can take a big step forward tomorrow and be faster. Qualifying is very important here with the first section so tight and the run to the first corner quite short, so it is vital to give yourself the best chance to get away with the leading group."
Bryan Staring
"I am quite satisfied. Unfortunately we had some chatter problems today so I couldn't push as hard as I wanted but I think we have a good platform to work from tomorrow. The hard tyre didn't quite work for us at the end so maybe if we had stuck with the soft we could have ended the day with a better lap time."
MotoGP Misano combined Free Practice times
1. Marc Marquez (SPA) Repsol Honda Team 1'34.200
2. Dani Pedrosa (SPA) Repsol Honda Team 1'34.233
3. Valentino Rossi (ITA) Yamaha Factory Racing 1'34.458
4. Jorge Lorenzo (SPA) Yamaha Factory Racing 1'34.495
5. Aleix Espargaro (SPA) Power Electronics Aspar 1'34.732
6. Alvaro Bautista (SPA) Go&Fun Honda Gresini 1'34.858
7. Michele Pirro (ITA) Ignite Pramac Racing 1'34.889
8. Andrea Dovizioso (ITA) Ducati Team 1'34.901
9. Stefan Bradl (GER) LCR Honda MotoGP 1'35.107
10. Cal Crutchlow (GBR) Monster Yamaha Tech3 1'35.208
11. Andrea Iannone (ITA) Pramac Racing Team 1'35.218
12. Nicky Hayden (USA) Ducati Team 1'35.392
13. Danilo Petrucci (ITA) Came Iodaracing Project 1'35.933
14. Bradley Smith (GBR) Monster Yamaha Tech3 1'36.004
15. Claudio Corti (ITA) NGM Mobile Forward Racing 1'36.122
16. Colin Edwards (USA) NGM Mobile Forward Racing 1'36.181
17. Hector Barbera (SPA) Avintia Blusens 1'36.198
18. Randy De Puniet (FRA) Power Electronics Aspar 1'36.283
19. Hiroshi Aoyama (JPN) Avintia Blusens 1'36.646
20. Karel Abraham (CZE) Cardion AB Motoracing 1'37.310
21. Yonny Hernandez (COL) Paul Bird Motorsport 1'37.329
22. Michael Laverty (GBR) Paul Bird Motorsport 1'37.334
23. Bryan Staring (AUS) Go&Fun Honda Gresini 1'37.722
24. Lukas Pesek (CZE) Came IodaRacing Project 1'38.962