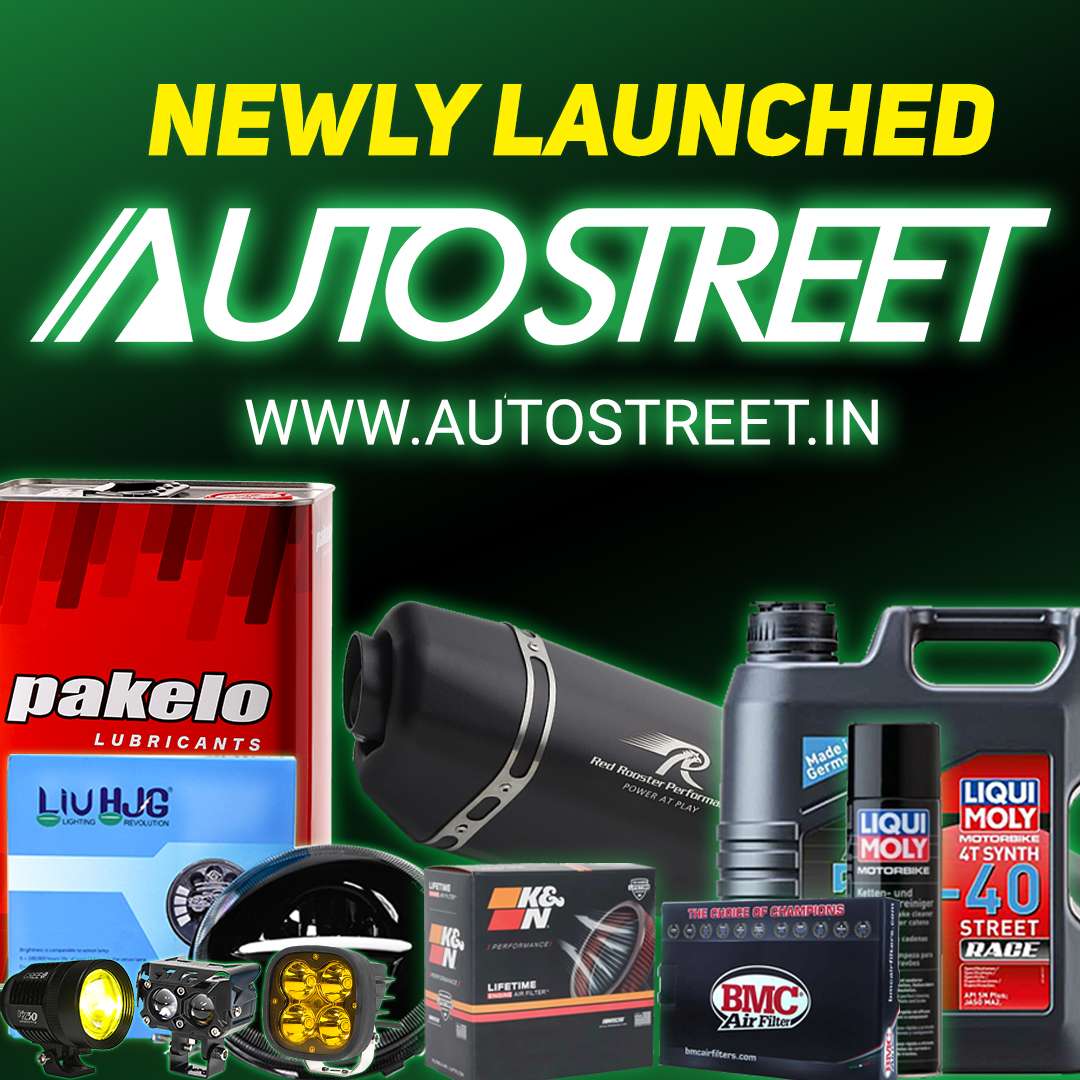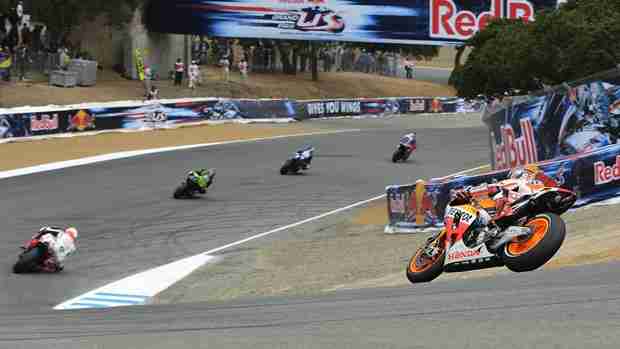 Repsol Honda's Marc Marquez wasted no time learning the lines of the Laguna Seca circuit as the rookie clocked a time of 1'22.040 around the California circuit in Free Practice 2 to lead the field on the first day of action.
Marquez's time put him marginally ahead of LCR Honda's Stefan Bradl who ended the day 0.229 seconds off the top in P2, while a late charge from Ducati's Andrea Dovizioso saw the Italian rider finish third overall and a further 0.015 seconds behind Bradl. The top three riders all set their best lap time on the soft compound rear slick in conjunction with the harder option, medium compound front slick. Power Electronics Aspar's Aleix Espargaro was just 0.427 seconds off the pace, ending the day in seventh overall to set the pace for the CRT riders.
In what is a typical occurrence at Laguna Seca, morning mist kept ambient and track temperatures low for Free Practice 1 before the sun broke through in the afternoon to send track temperatures soaring to reach a peak of 46°C in the afternoon. The softer option front and rear slicks were used exclusively in the cool Free Practice 1 session to give the riders the best grip and warm-up performance and in the warmer afternoon session, tyre choice became more varied with many riders trying out the harder front slick and the harder rear slicks also being evaluated.
Dani Pedrosa
"It was difficult to ride in my condition, but I had expected that. Now I have to try to rest up as much as possible for tomorrow and regain some energy, so that I can endure the pain once again. Being realistic, obviously winning the race this weekend is not a feasible goal —perhaps even getting a podium is out of the equation— but I will be trying to finish the race as high up the order as possible. I will look to minimise the advantage that my rivals will have in terms of points. Finally, I want to thank everyone who has sent their support to me in recent days for their messages."
Marc Marquez
"In the first free practice the most important thing was to remain calm and take it slowly, and that is what we did. Also, the track conditions and the mist made things tricky. During the first few minutes I was a little stressed on the bike, because I had a lot of work to do. It's a brand new track for me, but it is fun. It is very narrow and short, with many bumps so it took a bit of adapting on my behalf. In the second session I found things much more comfortable, I started to enjoy myself and found a pace that was not bad at all. We were fastest, but the time we clocked is still a little off the track record. I'm happy with this first day, so we'll see if tomorrow we can continue in the same way and continue to learn the circuit."
Valentino Rossi
"I'm quite happy with the first day, it was not so bad and we stayed with the top guys in the two practices. It's a very difficult racetrack to find the right settings. It is very physical for sure and Sunday will be a very long race. I feel quite confident with the bike, it's not so bad but we have to try to do better and improve the balance, braking and acceleration. We are working to improve our performance as we are not so far from the top but we are not yet there. We hope to improve tomorrow to find a better balance for going faster and to get a good rhythm."
Jorge Lorenzo
"It was much better this afternoon. I tried to improve step by step like I did in my first time in MotoGP here to try to minimize the risk and understand the limit of the track. Every lap it got better and better, but obviously the pain is there. I felt a little better than this morning but not so much, after seven laps it started to be difficult to brake. I struggled a lot in braking but still we were able to practice without painkillers, this is very positive because with the painkiller we will get some benefits. The bike is working really well, we are just losing some tenths in some braking points where we cannot push too hard. The balance of the day is pretty good considering my physical condition."
Cal Crutchlow
"I was happy to be fastest this morning although I knew the conditions were not ideal and that the lap times would be faster in the second session. Unfortunately I didn't make the step I was looking for and the issues are in the first and third timed sectors. I am fastest in the second and fourth splits so if we can improve the weak points I am confident I can be much closer to the front. The problem is stopping the bike and I don't have much grip but at least in T2 and T4 I am very strong. The good thing is I know where we need to improve and I am sure that my Monster Yamaha Tech3 crew will give me an improved package tomorrow and I am confident I will be battling for the front row again in qualifying. We know we can improve but today's performance was very impressive from Marc. He has come here and been fastest after a couple of hours so hopefully we can get closer to him."
Andrea Dovizioso
"It's always nice to see your name up high on the monitors! I had Marquez as a distant reference point, but the lap was really good. Anyway, I have the sensation that we're closer than at the other tracks, and although Laguna is quite unusual, our GP13 is working a bit better here. Our pace isn't bad, but that's the case for many of the riders, so we'll have to see tomorrow. It's too early to make predictions, but I'm pleased with how we started today. I only rode with the new frame, and the difference is really minimal, although I can't say exactly because I didn't do a comparison. I don't think there are any downsides, so we'll continue with it."
Nicky Hayden
"It's awesome to be at Laguna with all the support from the fans here, but of course I wish I were going a bit better. I'm pushing the front a lot, especially over the bumpy parts. I can't finish the corner well and I'm hurting on acceleration. The gap to the front isn't too big, but the position isn't very good. I need to improve the rhythm. This track's tight and the times are close, so it's tough. Dovi seems to have had some positive results with the updated frame. If it's better on steering, that's important here because of the flat corners. Anyway, if we can improve the turning a bit, I think we should be able to be a lot more competitive tomorrow."
Bradley Smith
"Obviously the first day on track in Laguna Seca is exciting and actually it has been a quite positive one for us, especially this afternoon when the track conditions improved a lot. We were able to try several settings, both front and rear, and I believe that we found the right way for tomorrow. I think a gap of 0.7 sec is a good step for the first day, although we have to consider that this is a very short track and it might be one or 1,2 seconds on a normal one, but it's been a good start. I'm pleased to say that I like the track, the Corkscrew and the Rainey corner are probably my favourites but I still have to be very careful on the right hand side here, as it seems very tricky. At the moment I'm still building confidence, particularly in Turn 3 and 4. But all in all a really good start to the weekend and I'm looking forward to continuing like this."
Alvaro Bautista
" We have made a positive start to the weekend here in America. We had a strong first session and I found a good feeling with the bike and the circuit. In the afternoon we tried to solve a little problem we had with the front under braking and also tried to find some more grip on the rear when I first open the gas but we didn't really come up with a solution. Anyway, I still managed to set a good, consistent pace and was only missing the lap time that I know we were capable of. In any case I am happy. Tomorrow we need to work on those little problems and try to find some more stability under braking but we have made a positive start and I am confident about tomorrow."
Bryan Staring
"Today has gone better than I expected and I was able to adapt quickly to the layout of this track. The Corkscrew is pretty intimidating when you go through it for the first time but it's a great corner. I think we have quite a big margin to improve but I have a decent feeling for the bike already and I think we can take a big step forward tomorrow. I ran into a bit of traffic on my best lap so I know we could have ended up in a higher position today but it is tomorrow and most importantly Sunday that counts."
MotoGP Laguna Seca combined Free Practice Times
1. Marc Marquez (SPA) Repsol Honda Team 1'22.040
2. Stefan Bradl (GER) LCR Honda MotoGP 1'22.269
3. Andrea Dovizioso (ITA) Ducati Team 1'22.284
4. 46Valentino Rossi (ITA) Yamaha Factory Racing 1'22.346
5. Cal Crutchlow (GBR) Monster Yamaha Tech3 1'22.457
6. 99Jorge Lorenzo (SPA) Yamaha Factory Racing 1'22.467
7. Aleix Espargaro (SPA) Power Electronics Aspar 1'22.531
8. Alvaro Bautista (SPA) Go&Fun Honda Gresini 1'22.539
9. Nicky Hayden (USA) Ducati Team 1'22.733
10. Bradley Smith (GBR) Monster Yamaha Tech3 1'22.767
11. Dani Pedrosa (SPA) Repsol Honda Team 1'23.129
12. Hector Barbera (SPA) Avintia Blusens 1'23.158
13. Randy De Puniet (FRA) Power Electronics Aspar 1'23.437
14. Alex De Angelis (RSM) Ignite Pramac Racing 1'23.973
15. Danilo Petrucci (ITA) Came Iodaracing Project 1'24.047
16. Claudio Corti (ITA) NGM Mobile Forward Racing 1'24.180
17. Colin Edwards (USA) NGM Mobile Forward Racing 1'24.410
18. Karel Abraham (CZE) Cardion AB Motoracing 1'24.421
19. Hiroshi Aoyama (JPN) Avintia Blusens 1'24.473
20. Yonny Hernandez (COL) Paul Bird Motorsport 1'24.555
21. Michael Laverty (GBR) Paul Bird Motorsport 1'24.727
22. Bryan Staring (AUS) Go&Fun Honda Gresini 1'25.345
23. Blake Young (USA) Attack Performance Racing 1'25.764
24. Lukas Pesek (CZE) Came IodaRacing Project 1'27.173