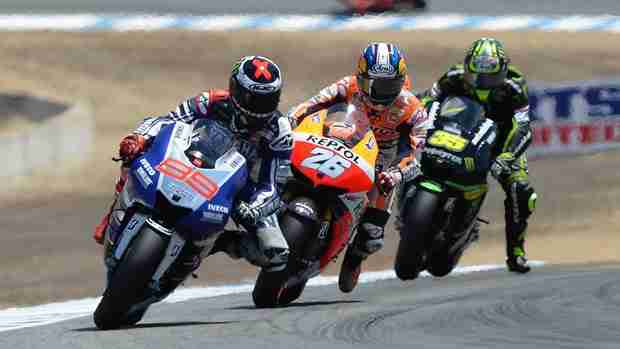 With nine key races ahead, this weekend marks the start of the second half of the MotoGP season. It does so at the historic Indianapolis circuit in the USA. The Indianapolis Grand Prix is a relative newcomer to the MotoGP calendar with the first race in 2008. With the MotoGP teams and riders having enjoyed a well-deserved summer break, the 2013 season is set to embark on its second half. The event will mark MotoGP's third and final visit this year to American soil.
Indiana's capital city enjoys mythical status in the motorsports world, due in large part to its annual hosting of the legendary Indianapolis 500 auto race. Since 2008, the massive facility has welcomed MotoGP to its unique road race track, which comprises a portion of the car circuit's oval along with an infield section.
The break has been a short one for the Yamaha team with an early return to work for a private test at the Brno circuit last week. The test was a successful one with another step being made in the set up of the YZR-M1 that should help both Jorge Lorenzo and Valentino Rossi as they challenge the remainder of the season. The Indianapolis GP is an important race for Nicky Hayden, whose home is just a three-and-a-half-hour drive south in Owensboro, Kentucky. Hayden, who celebrated his 32nd birthday during the summer pause, earned his first podium with Ducati at Indy in 2009, one year after finishing runner-up at the track aboard a Honda. Meanwhile, Andrea Dovizioso finished third at the Indianapolis round last season, and he hopes to have a solid showing there in this, his début season with the Ducati Team. The track is a strong one for both Marquez and Pedrosa, who have two wins each and are in excellent form onboard their RC213V bikes. World Championship leader Marquez has to adapt to Indianapolis on a MotoGP bike and his Repsol Honda teammate must assess the recovery made from his left collarbone injury over recent weeks of rest. Team GO&FUN Honda Gresini's hard work alongside technical partners Showa and Nissin is finally starting to bear fruit and the high performance level of the Honda RC213V is giving Alvaro Bautista the opportunity to battle at the sharp end of the field. The Spaniard now faces another weekend of hard work as he looks to adapt his machine setting to the demands of Indianapolis and mount another serious challenge for the rostrum champagne. It is another new circuit for rookie Bryan Staring to try and learn after an encouraging weekend at Laguna Seca. It has not been an easy process of adaptation to MotoGP for the Australian but he continues to work with courage and determination, which will again be the key to progress at Indianapolis.
Dani Pedrosa
"It's been a good Summer break and I'm feeling much stronger physically. I've had time to relax with some friends and also have lots of physiotherapy on my shoulder to prepare myself for this second part of the season. I've had a medical check in the last days and we can see the bone getting stronger. It still needs a few more weeks to recover completely but my feeling is already much better than in Laguna. It's important to remain focused, especially now as we have three races in a row. I've had good results at Indy in the past few years, I enjoy riding there and now I am eager to get back on the bike and ride at my best!"
Marc Marquez
"After a good break, where I've managed to relax a little and also do some training, I'm looking forward to getting back on track! It's been good to have this time off to think about my first few months in MotoGP and reflect on my performances and what I've learnt but now I'm ready to get back on the bike! I like the Indianapolis track and I'm interested to see how the grip is on the Bridgestone tyres because it seems this has been an issue in the past. As usual, we will take our time in FP1 and try to find our feeling on the bike at this track and also after this Summer break, and hope for a good weekend!"
Jorge Lorenzo
"We are returning to the USA and beginning the second half of the year, which may be the toughest. I was able to rest for some days after Laguna Seca and then we went to Brno to make a private test with Yamaha. Those two days gave me an opportunity to check my physical condition. I'm a bit tired, especially because after two crashes in Assen and Sachsenring I couldn't recover so much and now we have to manage a long period with three races in a row. I feel better obviously than in Laguna but still need time to recover to 100% and it is not going to be easy because the calendar is so busy and also we have to fight not to lose points. In any case, we go to Indy to give everything despite the circumstances."
Valentino Rossi
"I have great memories of Indianapolis and I'm happy to be back there on my M1, although that's not one of my favourite tracks. I needed these holidays to recharge my batteries, even if we had two days of testing right in the middle. Indianapolis will be the first one of three consecutive races and it will be very important to do good results everywhere. My Team and I still have much work to do on the M1 therefore they will be three very demanding weeks but we feel ready for the challenge."
Andrea Dovizioso
"The Indianapolis track is a bit strange, with asphalt that changes from corner to corner, and it's difficult for all of the riders. In fact, there were a lot of crashes there last year. I'm not sure how it will be with the Ducati, not having ridden it there. I've never had good luck there in the past, although I did make the podium last year."
Nicky Hayden
"It was nice to get rested up for a couple weeks, but I'm looking forward to the second half of the season, which I hope will bring us some better results than the first half did. I'll be happy to be back in the garage with my bike and my team. I don't have to tell anyone how special Indy is to me, as that should be pretty obvious with it being my true home race. The support I had from the Laguna crowd was incredible, and I'm expecting nothing less at Indy. I think the track might be a little better for us than the last couple were. It's a tricky little circuit with a couple of technical corners. We'll try to come out of the gate strong on Friday, have a solid weekend, and have some fun."
Alvaro Bautista
"I feel sure that we are in our best form of the season so far after a good result at Laguna Seca. We were competitive there and in terms of my feeling with the bike over the course of the weekend it was probably the best I have ever had in MotoGP. Thanks to the hard work of the team we had a great bike that I was able to really enjoy riding and even though we had the chance to finish on the podium at the end I was still very happy with the result. After Laguna Seca we were able to get a few days off and I took the opportunity to head for the beach with some friends and switch my mind off racing. After a few days I got back into training hard for the second half of the championship and spent a few days at my friend Colin Edwards' boot camp and had great fun riding with him and working on my riding. Now I am ready and looking forward to three races in as many weekends. Indianapolis is a strange circuit and it's different to most of the places we go to because amongst other things it runs anticlockwise. There are three different kinds of track surface and that also makes it hard but we fought for the podium there last year and after such a good weekend at Laguna last time out I am hoping for better this year. Me and the team are feeling very confident that we can fight for a top result."
Bryan Staring
"I was quite happy after Laguna Seca, which went better than we expected. Overall it was a good weekend for us, especially after coming off the back of a disastrous German Grand Prix. Now I am convinced we can take another step forward at Indy. It looks like a strange track but I am curious to see it for myself and I am certainly highly motivated. The break was definitely a welcome one and it was a good chance to recharge the batteries. I spent a bit of time in the USA after Laguna Seca with my girlfriend Emma, which was great fun. Now I am ready to get back on track and have a good second half to the championship. I am determined to take another big step forward and I am sure that with the help of my team I can do it."