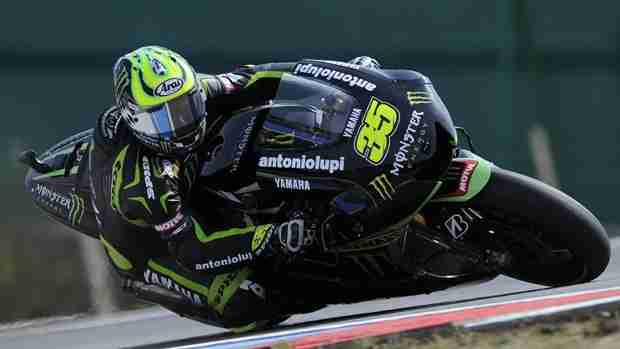 Monster Yamaha Tech 3 rider Cal Crutchlow claimed his second pole position of the season after the British rider recorded a new Circuit Best Lap time of 1'55.527 in qualifying at the Czech Republic Grand Prix.
Crutchlow set the pole-winning time on his penultimate lap to finish 0.227 seconds ahead of GO&FUN Gresini Honda's Alvaro Bautista who qualified in second place. Bautista's personal best lap time was also under the existing qualifying lap record, the Spaniard narrowly beating compatriot Marc Marquez who will line up on the grid in P3 after the Repsol Honda rider set a qualifying time of 1'55.863. NGM Mobile Forward Racing's Colin Edwards was the top CRT qualifier for the second race in a row, the American rider qualifying for QP2 and finishing twelfth overall with a time of 1'58.392. All riders in QP2 set their best lap time on the combination of the softer rear and harder front slicks.
Today's weather conditions were fine but slightly cooler than yesterday with track temperatures peaking at 34°C. Riders took advantage of the good conditions to perform race simulations in FP4, with both the softer and harder rear slick options tested in the final practice session. Rear tyre choice for the race could be influenced by tomorrow's weather as some riders may use the harder rear slicks if warmer conditions are present for the race, although the majority of riders seem to favour the softer rear slick at this stage. Front tyre choice for the race is likely to be largely in favour of the hard compound front slick.
Cal Crutchlow
"I am really happy to be on pole position again and I have to say a massive thanks to my Monster Yamaha Tech 3 Team. It has not been an easy weekend while we have been working on improving the bike, but in every session we have progressed and got faster. I felt really good on that lap and to set the circuit best lap is a great achievement for the whole team to be proud of. I just pushed as hard as I could and it is nice to take another pole position because I feel this is more of a true pole after Assen. Jorge wasn't in Assen but this time it feels great to be fastest with everybody on track. I am looking forward to the race and the objective is to finish on the podium like last year. It would be great to have a strong result tomorrow so I can go to my home race in Silverstone with some big confidence."
Alvaro Bautista
"I am really happy with our performance today. Already this morning I could feel an improvement with the set-up of the bike and we had better grip on the rear. My pace was good on used rubber and then when we put the fresh tyres on in qualifying I was able to take advantage. It was good fun and now I am just hoping to get a good start and run at the front for as long as possible. I felt great on the bike today so hopefully we can have a similar feeling with it tomorrow and keep the pace up when the tyres drop off. I want to thank the team for the great job they have done, as well as Honda, Showa, Nissin and our main sponsor because they have had to wait a while for a moment like this."
Marc Marquez
"I'm not entirely happy because I had the confidence and determination to fight for pole! I could not take advantage of the second tyre because there was a lot of traffic and some riders were waiting for a tow. But it is what it is —one day I will look to follow them, another day it will be the opposite! With regards to the race, I feel confident as I'm comfortable on the bike and have a good foundation and good pace. If the race is dry, then I feel ready to challenge for the win."
Dani Pedrosa
"The sessions were pretty difficult today, because we had trouble finding a setup that I was happy with. In the last minute we were able to improve the setup, coming up with something that is more suited to my riding and which allowed me to ride more comfortably. Still, the times for everyone have been very close throughout the weekend, so we will have to fight hard. The important thing will be holding up physically, getting a good start and having a good race —whatever the conditions."
Jorge Lorenzo
"I waited for much more because I wanted to improve seven tenths or a second from the pace to make a fast lap but I couldn't take profit from the power of the new tyre. We had so much spinning and we went slow. The pace from all the top riders is quite similar so it's going to be important to get a good start and try to overtake some riders at the beginning of the race and then we will see how we are."
Bradley Smith
"Today was another great day for the Monster Yamaha Tech 3 Team. It is very exciting to have Cal on pole position again and from my side of the garage it is a brilliant achievement to be in the top six. The atmosphere in the team is great and both of us are really looking forward to the race tomorrow. I am less than 0.5s away from pole position and very close to the top three and it shows the progress I am making. We've made some changes to the front-end of the bike and it is really working. Now my main focus will be to remain smooth at the start of the race and not make mistakes like I did in Indianapolis. It is going to be a hard race over 22 laps because this track is very physical and it is very important to keep on a good line. I will try and get a good rest tonight and be ready for tomorrow. Getting a good start like in Indianapolis will be important and then I will try and learn as much as possible."
Valentino Rossi
"At the end I'm not so happy because seventh position is my worst position of the weekend and it was qualifying. I improved my lap time but the other guys were faster. My target was to start in the first five but unfortunately I have to start from seventh on the third row. Anyway, I have a good pace and was always with the front guys in the free practices. Now we have to make some changes to the bike, we have been competitive all weekend so I think and I hope we can be competitive during the race. Yesterday the harder tyre we used was good but today it was no good, maybe because it was ten degrees less, so I think we will use the soft tomorrow."
Stefan Bradl
"Definitely it's a frustrating day for me and the Team. I am not happy with the bike; actually I am missing edge grip and can not carry the corner speed I would like. Our qualifying session was very tough because I was not able to take advantage of a new rear tyre because I was pushing the front too much into the corner trying to make the lap time. As I opened the throttle I could not use the rear tyre because we had too much spinning. I am not able to make a good exit out of the corners and for this reason we are losing too much time. We are working hard to find a solution but, so far, we are struggling to find a good setting."
MotoGP Brno Qualifying Times
FRONT ROW
1. Cal Crutchlow (GBR) Monster Yamaha Tech3 1'55.527
2. Alvaro Bautista (SPA) Go&Fun Honda Gresini 1'55.754
3. Marc Marquez (SPA) Repsol Honda Team 1'55.863
SECOND ROW
4. Dani Pedrosa (SPA) Repsol Honda Team 1'55.868
5. Jorge Lorenzo (SPA) Yamaha Factory Racing 1'55.949
6. Bradley Smith (GBR) Monster Yamaha Tech3 1'56.014
THIRD ROW
7. Valentino Rossi (ITA) Yamaha Factory Racing 1'56.186
8. Stefan Bradl (GER) LCR Honda MotoGP 1'56.477
9. Andrea Dovizioso (ITA) Ducati Team 1'56.825
FOURTH ROW
10. Nicky Hayden (USA) Ducati Team 1'56.979
11. Andrea Iannone (ITA) Pramac Racing Team 1'57.455
12. Colin Edwards (USA) NGM Mobile Forward Racing 1'58.392
FIFTH ROW
13. Aleix Espargaro (SPA) Power Electronics Aspar 1'58.378
14. Michele Pirro (ITA) Ignite Pramac Racing 1'58.812
15. Randy De Puniet (FRA) Power Electronics Aspar 1'58.953
SIXTH ROW
16. Yonny Hernandez (COL) Paul Bird Motorsport 1'58.983
17. Danilo Petrucci (ITA) Came Iodaracing Project 1'59.057
18. Claudio Corti (ITA) NGM Mobile Forward Racing 1'59.062
SEVENTH ROW
19. Hector Barbera (SPA) Avintia Blusens 1'59.128
20. Lukas Pesek (CZE) Came IodaRacing Project 2'00.522
21. Michael Laverty (GBR) Paul Bird Motorsport 2'00.584
EIGHTH ROW
22. Hiroshi Aoyama (JPN) Avintia Blusens 2'00.653
23. Karel Abraham (CZE) Cardion AB Motoracing 2'00.792
24. Bryan Staring (AUS) Go&Fun Honda Gresini 2'00.827
NINTH ROW
25. Martin Bauer (AUT) Remus Racing Team 2'01.135