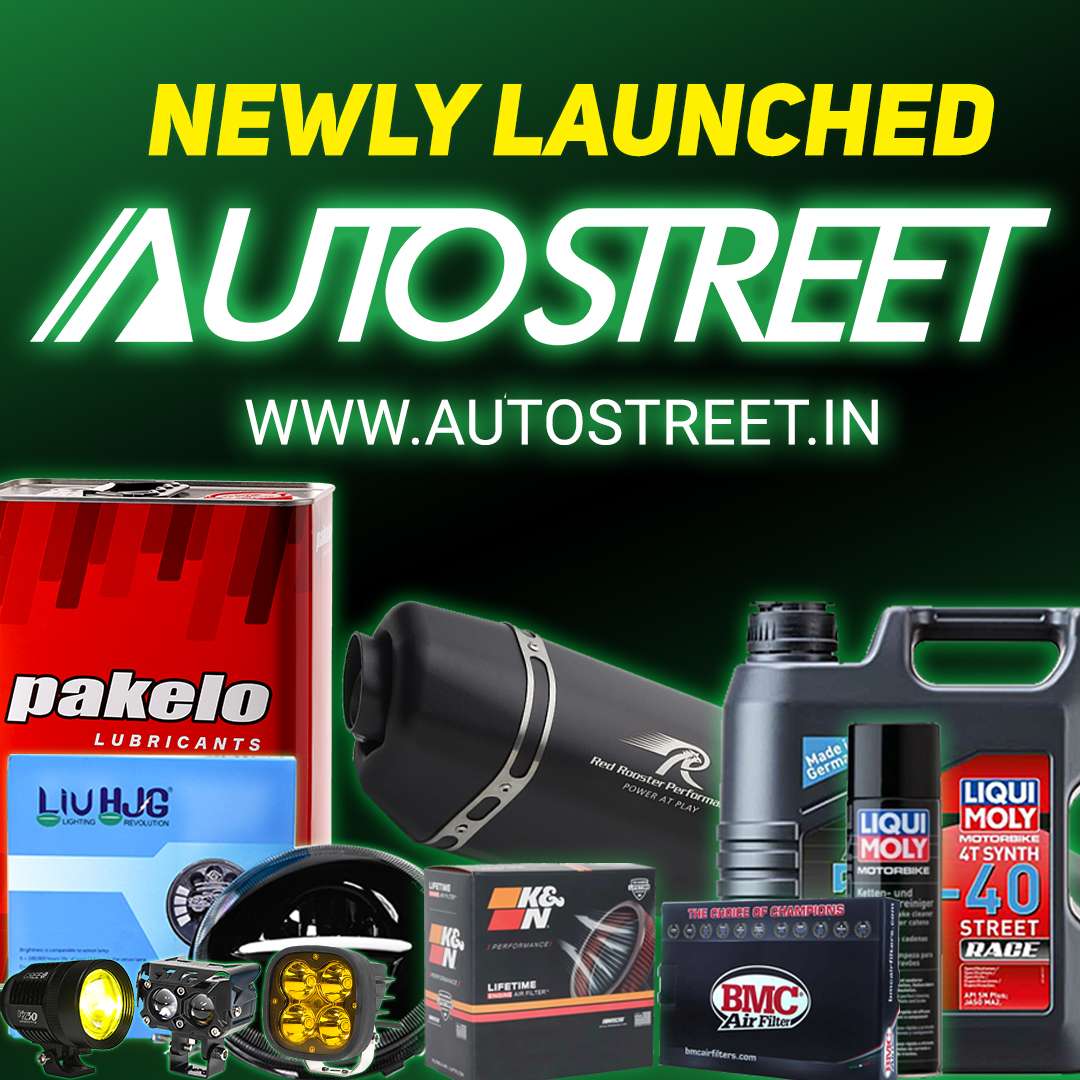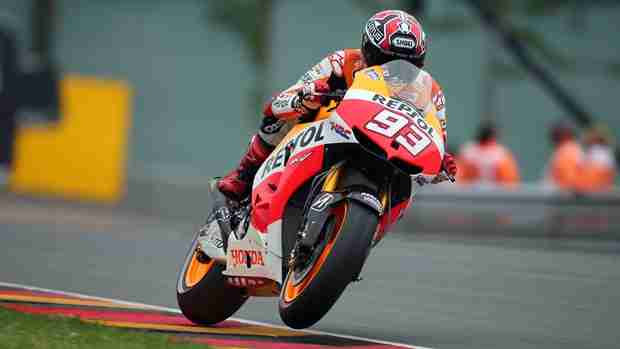 Repsol Honda's Marc Marquez grabbed his third pole position of the year courtesy of a blazing lap time of 1'21.311 in an action-packed qualifying session at Sachsenring. Marquez's time was a shade off the all-time pole position record set in 2008 on qualifying tyres and rounded out an impressive day for the MotoGP rookie. Second quickest today was Monster Yamaha Tech3's Cal Crutchlow who narrowly beat Yamaha Factory Racing's Valentino Rossi to P2 by less than a tenth of a second. Power Electronics Aspar's Aleix Espargaro put in an amazing qualifying performance, his lap time of 1'21.887 qualifying him in fifth position — the best ever qualifying result for a CRT rider.
Dani Pedrosa, who suffered a heavy blow to the head and a small fracture to his left collarbone, did not participate in the qualifying session and will decide whether to compete in the race tomorrow morning. Jorge Lorenzo following his crash yesterday in the second free practice at the Sachsenring circuit for Sunday's German Grand Prix race returned immediately to Barcelona. Today he underwent surgery at the Hospital General de Catalunya in Barcelona to repair further injuries to his collarbone.
The warm track temperature in the afternoon allowed riders to perform race simulations on slick tyres. The softer rear slick options emerged as the most popular choice among both the works and CRT riders, while front tyre preference was split among the riders between softer and harder front slick. The soft compound front slick gives extra edge grip — especially important through the infrequent right-hand turns, while the hard compound front slick gives greater stability through the faster sections. As the Sachsenring circuit is such a severe circuit on tyres, Bridgestone engineers will analyse tyre wear on the CRT-specific soft compound rear slick to see if some riders would be better suited to using the harder, medium compound rear slick for tomorrow's race.
Dani Pedrosa
"It was definitely a scary moment and I'm still not totally sure what happened. I hit my head hard and immediately felt a lot of pain in my shoulder and I checked to see if I could feel anything. Thankfully in the medical centre they saw it wasn't broken but maybe a small fracture, and I was also feeling very dizzy but never lost consciousness. Just to be safe, we flew to Chemnitz Hospital for a CAT scan and then returned to Clinica Mobile at the circuit. They confirmed I had a small fracture in my left collar bone but I am thankful it wasn't a complete break. Now I will rest tonight and see how I feel in the morning. If I feel strong enough I will have the medical check to clear me for the race."
Marc Marquez
"I'm very happy with this pole position. It's important to start from the front row at this circuit, since it's quite difficult to overtake! I felt very comfortable, especially after the pace I had in FP4. In qualifying I struggled a little to get the most out of the bike, but things went better on our second exit. I think we have done a great job and we will try to do our best, have a good race and fight for the podium, and with a little luck for the victory. After I saw Dani's [Pedrosa] crash this morning I was definitely a little more cautious going through turn one. I really hope he recovers quickly and can race tomorrow. It will be a difficult race, because Valentino will be fighting also Stefan [Bradl] and Cal [Crutchlow], if he's okay physically, will be up there as well."
Valentino Rossi
"I'm very happy, from one side not a lot because the first position was very close but the target was to come back to the front row and I was able to. I was able to do it in a good way because I did a good lap riding well and also my gap to pole position is very close which is very important. I feel good with the bike, I have a good setting and I have quite a good pace also. Now we have to put everything together for tomorrow and try to slide the rear a bit less. I am a bit worried about the second part of the race; that will be very hard for everybody. If we want to stay with Marc we have to make a small improvement for tomorrow. Anyway, I am so happy, the last front row for me was in 2010 in Le Mans, a long, long time ago. Tomorrow it will be a strange feeling to have nobody in front!
For Jorge it is a great pity because he made a small mistake and unfortunately landed on the wrong shoulder. After what he did in Assen he was very close to a superhero. It's a pity also for his championship but now I think he's made the right choice to take some quiet time to recover. For him the Championship will be hard but still not impossible before the end."
Cal Crutchlow
"I am really pleased to be back on the front row after all the drama of yesterday. They were two really big crashes in practice and my body took a bit of beating to be honest. The first crash was completely my fault because I made a mistake on the brakes but the second was because the front tyre was cold. It was definitely my worst day of the season, so to put all that behind me and get a front row when I am not close to my physical best is a great achievement. When I woke up this morning I didn't feel that great because my body took a big impact in a few places. I wasn't even sure if I was going to be able to ride and just to be out there is great. It is going to be a very difficult race in my condition but I will be giving it my all to get another podium. Today was a great result for my Monster Yamaha Tech 3 crew. I gave them plenty of work to do yesterday but they did a great job and as always I am grateful for their efforts."
Bradley Smith
"Seventh position is a great result and to do a 1.22.2 was a bit of surprise. We still need to work a bit more on my confidence and understand the Bridgestone tyres a bit better. They work really well at this track and it is a case of understanding how much you can push them. For the race tomorrow the start will be so important. The track is so tight and twisty that the first three laps will be vital to achieving a good result. Hopefully we can improve the bike but I feel for the full race distance we are in a good position and I am happy with the set-up. I just need to make sure we can put in a consistent pace because it will be a very long race."
Nicky Hayden
"With the rain-interrupted session this morning, we didn't get a chance to try a couple little things we had planned to. This afternoon we made a few things better, but some other areas were a bit worse. The guys here are working really hard, and the bike is okay in some places, but in the downhill corners, it's impossible to put enough load on the front to get feedback and make the bike turn. We got on the second row, although the fact that a couple guys were missing makes that look better than it really is. We're .8 off pole, which is too much at a little track, but we'll have a good think tonight and try to do something in the morning. It'll be a long race, but we'll do our best to have a good result."
Andrea Dovizioso
"Honestly, I expected this position, as our pace is eight tenths of a second off. I lowered my times from yesterday, but the others were also able to improve. I'm a bit disappointed with my qualifying time because I made a mistake in turn eight, where I went off-line and lost a couple tenths. I was ready to fight for sixth place with Nicky; it's a shame because at this track, the grid position is pretty important, so it'll be essential to get a good start. The race will be long tomorrow–30 laps–and I think if we grit our teeth, it could be possible to fight for fifth or sixth place. There are five of us on a similar pace. Unfortunately, it's a long way from the top guys, but we'll do everything possible to get a good result."
Andrea Iannone
"I'm sorry for how it went because I felt good and we were doing a good job with the team. It might be the first weekend when every change we made has led to a small step forward that I could immediately notice. The bike has consistently responded pretty well, so I was happy. I started FP4 while I was trying a little change. I was having a good lap, even though I wasn't really pushing too hard, and although the tyre already had 14 laps on it, I was close to my best time. Then I fell, and I'm really disappointed; I thought I could do a good race tomorrow because we've focused a lot on the pace, also during the test at Misano. We were getting interesting results, but unfortunately I wasn't able to finish the work we'd planned. I'll try to be there tomorrow, but I don't want to compromise the work we've done and that we still have to do. I want to thank the team and all the Clinica Mobile because they're always helping me during these difficult moments."
Stefan Bradl
"We did a good job in FP4 and our consistency is very good. Actually, we have just missed one maximum fast lap in qualifying but I am still very pleased with my fourth place on the grid. Unfortunately I had a little crash on my first run because I hit a little bump. At least I was able to start the bike and get back to the garage. After that I jumped on bike two and pushed more than 100 per cent but I could not set the perfect lap time to make the front row. I really wanted a front-row start at my home race but we are quite happy anyway because we are doing a good job. It's difficult to set any target because the race is very long, but I sternly want to perform well for my home crowd."
Alvaro Bautista
"We have made a slight improvement yesterday and found a bit more grip and confidence with the rear of the bike. We worked hard with the electronics and found some benefits that allowed me to improve my lap time. Unfortunately I made a mistake in qualifying and let the tyres get too cool before pushing for a fast lap. My race pace isn't so bad but it will be important to get a good start if we are going to stay in touch with the lead group."
Bryan Staring
"Unfortunately when I came into turn four the rear came round on me and threw me into the air. It was a big crash and we didn't need it. We went back out on the second bike but the set-up as different and I didn't have the same confidence with it. Now I have to get over the pain in my left foot and try to get ready for the race."
MotoGP Sachsenring 2013 Qualifying Times
FRONT ROW
1. Marc Marquez (SPA) Repsol Honda Team 1'21.311
2. Cal Crutchlow (GBR) Monster Yamaha Tech3 1'21.434
3. Valentino Rossi (ITA) Yamaha Factory Racing 1'21.493
SECOND ROW
4. Stefan Bradl (GER) LCR Honda MotoGP 1'21.862
5. Aleix Espargaro (SPA) Power Electronics Aspar 1'21.887
6. Nicky Hayden (USA) Ducati Team 1'22.157
THIRD ROW
7. Bradley Smith (GBR) Monster Yamaha Tech3 1'22.297
8. Alvaro Bautista (SPA) Go&Fun Honda Gresini 1'22.484
9. Andrea Dovizioso (ITA) Ducati Team 1'22.561
FOURTH ROW
10. Claudio Corti (ITA) NGM Mobile Forward Racing 1'23.059
11. Danilo Petrucci (ITA) Came Iodaracing Project 1'23.361
12. Dani Pedrosa (SPA) Repsol Honda Team 1'22.221
FIFTH ROW
13. Randy De Puniet (FRA) Power Electronics Aspar 1'23.152
14. Hector Barbera (SPA) Avintia Blusens 1'23.333
15. Michele Pirro (ITA) Ignite Pramac Racing 1'23.349
SIXTH ROW
16. Michael Laverty (GBR) Paul Bird Motorsport 1'23.549
17. Yonny Hernandez (COL) Paul Bird Motorsport 1'23.565
18. Colin Edwards (USA) NGM Mobile Forward Racing 1'23.631
SEVENTH ROW
19. Karel Abraham (CZE) Cardion AB Motoracing 1'23.752
20. Hiroshi Aoyama (JPN) Avintia Blusens 1'23.820
21. Lukas Pesek (CZE) Came IodaRacing Project 1'24.395
EIGHTH ROW
22. Bryan Staring (AUS) Go&Fun Honda Gresini 1'27.273
23. Andrea Iannone (ITA) Pramac Racing Team 1'23.008