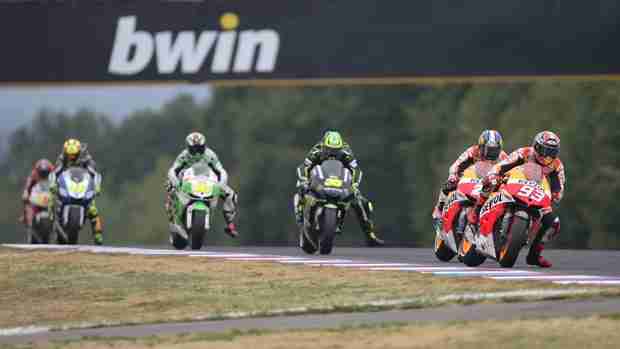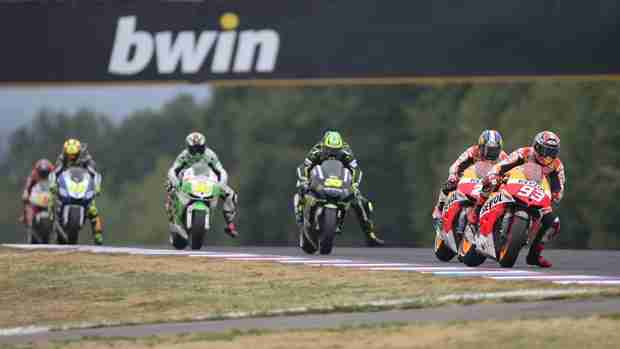 With barely time to catch their breath, the MotoGP riders head to Silverstone this weekend for round twelve of the 2013 MotoGP World Championship. This year's British Grand Prix holds special significance for Bridgestone as it marks the 200th MotoGP start for the Japanese tyre manufacturer. Rookie Marc Marquez has been dominating the premier class as of late, with four wins in a row and a total of five this season —new records in the World Championship. Dani Pedrosa performed well in the Czech Republic, and has a few more days of rest before the British round in which to recover from his left collarbone injury. Pedrosa will be in even better shape this weekend and should be fit to fight for the win again at Silverstone. Lorenzo has taken two wins in the premier class, the first in 2010 and the second last year in 2012. The reigning world champion scored one 250cc win in Donington in 2006. Rossi has yet to take a win at the Silverstone circuit but is a favourite with the British crowd having taken numerous wins at the Donington track including three premier class MotoGP wins in 2002, 2004 and 2005, two 500cc wins in 2000 and 2001, a 250cc win in 1999 and a 125cc win in 1997. Andrea Dovizioso, who is scheduled to make his 100th career MotoGP race start this weekend, enjoyed past success at the circuit, having finished runner-up in each of his first two visits, though he suffered a crash last year and was credited with nineteenth place. This will be the Italian's first time at Silverstone aboard the Ducati Desmosedici GP13. Teammate Nicky Hayden has twice finished in fourth place, and he was seventh last year.
Silverstone is the longest circuit on the MotoGP at 5.9 kilometres in length and features ten right-handed corners compared to eight left-handers, making the circuit slightly harsher on the right shoulder of the rear tyres than the left. However, the circuit's susceptibility to cool weather means the main development focus for the asymmetric rear slicks at this circuit is to ensure good temperature retention in the lesser used, left shoulder of the rear tyres. The rear slick options at Silverstone feature Bridgestone's extra-soft or soft rubber compounds on the left shoulder for maximum warm-up performance and grip. The right shoulders of the rear tyres use either the soft or medium compound rubber to strike the best balance between warm-up, grip and durability.
The high corner speeds of the Silverstone circuit also put a premium on good cornering stability from the front end, so the front tyre options provided at this circuit — the soft and medium compounds are selected to give the best balance of warm-up performance, braking and cornering stability. The main wet tyre for Silverstone is the soft compound option which offers the best grip in cold and wet conditions.
Dani Pedrosa
"After Brno I'm feeling pretty good and my physical condition is improving all the time, so I hope we can take another step this weekend in Silverstone. It is a tough and fast track with many changes of direction and we need a good set to suit both the fast and slow corners. Last year was a hard race so I hope to be strong again this year! In the UK you never know what the weather will do so let's hope for good conditions from the start."
Marc Marquez
"We will see how Silverstone is with MotoGP, in 125cc I enjoyed it a lot but in Moto2 I struggled a little. I think a key factor will be the weather there as it can change quite a lot! Last year Lorenzo had a very good race so I am sure he will be strong. But we are coming off four victories in a row, we have good momentum and I feel really comfortable and confident on the bike. Let's see how the situation is when we get there and as always work hard from Friday morning!"
Jorge Lorenzo
"In Brno maybe I expected a little bit more but at least I feel quite happy with my performance. I gave all to win the race but my competitors were in a better shape there. Now we have to finish this first triple of races at Silverstone. It is a place I like and where I used to be comfortable. The track I think is really nice, very flowing and also suits our bike. The problem in Great Britain is always the weather; it is a very challenging grand prix because of that! Despite the conditions we will try everything as usual to try to fight for the victory and cut off the distance to our rivals."
Valentino Rossi
"In Brno I was hoping to go a little better and I'm glad that there is immediately the Grand Prix at Silverstone to get back on track. My team and I want to improve the bike to be able to keep the pace of the leaders. We are not far away and the Grand Prix at Silverstone will help us to understand something more. Silverstone is a very fast track and the Yamaha should be fine. We are ready to do our best. We want to move forward as soon as possible."
Andrea Dovizioso
"Silverstone is a very strange and unusual track, but it's also quite nice. We know that the English weather can be a bit difficult for everyone, and when it rains, those really aren't the perfect conditions for riding a bike! Still, I'm happy that we're going to race at Silverstone right away, just one week after Brno. Once again, we don't expect to have many updates, but we'll try to do our best anyway."
Nicky Hayden
"Silverstone is a track that I've really enjoyed on the Ducati's. I had a good pace there last year, but I was just too hard on the tyres in the race. We're going there at a different time in the season, so we'll see if we get a warmer surface than we've had the last couple years. I like the track. It's very long and very fast. Although Silverstone is normally a great GP, we know it won't be easy for us, as we can't expect a lot to change since we're arriving directly from Brno. We certainly hope to be able to fight closer to the front than we've been able to in these last couple races. I'm looking forward to getting there, getting on the track, and going back to work."
Alvaro Bautista
"I am feeling very happy after such a positive weekend at Brno. We managed to do a good job and overcome the problems we found on Friday. On Saturday we took a big step forward and qualified on the front row in second place and then in Sunday I was able to pick my race pace up from practice. Overall it was a positive weekend and my feeling with the bike improved a lot, which gives me and the team confidence going to the next race. We have good memories of Silverstone from last season when I set my first ever pole position in MotoGP and had a good race. It is a track I like a lot and now we have to make the most f the good form we have hit since Laguna Seca. Silverstone is a long and fast track which I enjoy riding but we need to find a set-up quickly because you never know what the weather will be like. It can turn cold and rainy very quickly so we need to make the most of every session. "
Bryan Staring
"I went to Brno feeling confident because I already knew the track but it was a difficult weekend for us. We had chatter problems that made life very difficult although luckily we improved the situation for the race. Unfortunately the tyres dropped off at the end and I couldn't keep my pace up but now we head to another track I know at Silverstone and hopefully we don't have the same problems. I am determined to show my true potential, which has not been reflected in recent results."