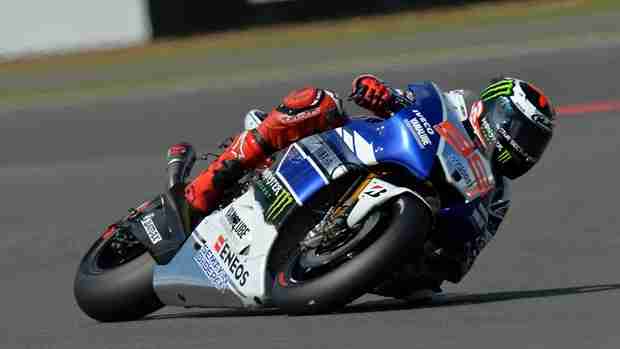 Yamaha Factory Racing's Jorge Lorenzo was the quickest rider in today's practice sessions at Silverstone as the reigning MotoGP champion sets out to score a second consecutive victory at the British Grand Prix. Lorenzo's set his benchmark lap time of 2'02.734 on this third lap in Free Practice 2 to head the Repsol Honda duo of Marc Marquez and Dani Pedrosa who were second and third quickest today, setting times of 2'02.958 and 2'03.192 respectively. Power Electronics Aspar's Aleix Espargaro was the quickest CRT rider on the first day of action at Silverstone, his best lap time of 2'04.145 placing him in eleventh place on the time-sheets.
Conditions this morning for FP1 were changeable, with alternating sunny and cloudy conditions resulting in the riders mainly using the softer slick options while getting to terms with the grip level of the circuit. The sunshine in the afternoon was more persistent, resulting in warmer track temperatures up to a top of 36°C in FP2. The warmer afternoon temperatures brought with it greater variation in tyre choice with all specification of slick tyre being used in FP2. Most riders were able to set their personal best lap times using the softer rear slick in conjunction with the harder front slick, though the more consistent performance and durability of the harder rear slick resulted in approximately half the riders evaluating this option in FP2. Weather conditions for tomorrow are predicted to be dry, yet slightly cooler than today with the next MotoGP session being FP3.
Jorge Lorenzo
"I started very fast because I improved almost one second and a half in the beginning; I was surprised with the improvement. At this track, when the rear tyre starts to drop it's very difficult to keep the same pace so we have to work hard to make a constant bike that works over long distance. I'm satisfied because I think we have the possibility to fight for the victory this time."
Dani Pedrosa
"Today the weather was good and we were able to test the tyre range out in the early laps. Normally here at Silverstone it's quite cold and we don't get a chance to try the hard compound, but today we were able to do that. There wasn't much in the way of a positive feel with that compound, because we lacked rear grip, but nevertheless we got some fairly good times with it. The goal for tomorrow is to improve grip and clock some faster laps."
Marc Marquez
"I'm happy, because right from the start I felt pretty good. I was feeling a little uneasy about this circuit when I arrived, because last year I struggled a bit here and didn't know what was in store for me on the MotoGP bike. I tried to stay calm and take it slowly and, in the end, I felt very comfortable on the bike. Jorge [Lorenzo] might be a little stronger than us so far, but we are closer to his times than we had expected. Tomorrow we will continue working in the same way to further improve the setup."
Valentino Rossi
"I enjoyed today a lot, this track is great. If you are able to ride at the limit and have a good feeling with the bike, it's very funny because it's very fast, the track is so wide you go a lot of time at full throttle. I'm quite happy with the first day, especially because in the last two years I suffered a lot here in Silverstone. We made a good step, but we still have to work to find the right setting to have a good balance form the beginning to the end of the race. I'm not so bad in braking and entry but I have some problems in other areas so we have to work. We modified the setting from Brno because in the last two races I wasn't strong enough."
Cal Crutchlow
"Firstly it was fantastic to see such a big crowd here at Silverstone today. The support from the British fans always gives you a boost and it was a special feeling to see so many here on the first day. It hasn't been an easy start to my home race but I am sure we can make some big improvements. This morning wasn't too bad and I was satisfied to be in the top three but it was a bit more a struggle in FP2. We were trying the bike with different settings and at the moment I've not made a decision on which is the direction to go. I need to improve in two sectors to be faster and more competitive and one area we need to work on is front-end grip because I had too much wheelie. We will have a good look at the data tonight to make sure I'm stronger tomorrow."
Bradley Smith
"It was great to ride in front of my home crowd today and the amount of people here was amazing. The British fans have always given me great support and today was no exception. It was a positive day because I found a good setting this morning and then it was a case of tweaking it to suit this track. For the first time all season I have tried all the tyre options for the front and rear in one day, so we have evaluated a lot and got a clear way to follow for the rest of the weekend. This track is certainly designed for MotoGP. It is so fast and open that you really get to explore the bike's full potential. I will enjoy riding the YZR-M1 this weekend and as I get faster I am sure it will be even more fun."
Andrea Dovizioso
"Riding this track is really nice–very difficult to find the right rhythm, but quite thrilling nonetheless. Doing good times is a challenge for us, as we have to be quite physical, which really isn't the best way to ride in the race. Still, we were able to improve since this morning and I'm happy with the time we did. I managed to find a decent feeling during the session and to do a good time at the end. It's certainly not fast enough for the race but we started well today."
Nicky Hayden
"The conditions are very different from what we've had here in the past, and the track seems a lot faster. Silverstone is a really good track and I enjoyed it today. I also think we might be better off than we have been at the last few races, as the bike is working pretty well in some spots, even if the lap time doesn't necessarily show that completely. The biggest thing holding me back at the moment is that it's very harsh over the bumps, so we've still got to sort some stuff out."
Stefan Bradl
"Actually our performance does not look so good on the paper but it's not that bad. Today we worked a lot on the bike to find some more rear grip and we found a small improvement in the afternoon session gaining some more traction control out of the corners. But, on the other side, we lose a bit in the entry of the curves because I struggle to get the bikes stopped in the right place. It's not the best way to start the weekend but we are working hard with the data and we will try to be faster tomorrow".
Alvaro Bautista
"We did a very good job today and I am fairly satisfied. This morning we started well, despite some rear grip issues, and in the afternoon we tried two solutions in order to perform better. However, we didn't find anything to give significant improvement. Now we have the data to look over, and we believe that we could have found the right solution in order to exit the corners more quickly —avoiding the bike sliding or stopping due to the traction control kicking in. We are convinced that tomorrow we can realise all the potential that this bike has."
Bryan Staring
"Unfortunately we had a crash that was very unwanted. I struggled to find a feel for the track, and this was demonstrated with the bike throwing me off and me hitting the ground hard. It could have been worse, however, and luckily I only have bruising to my arm."
Andrea Iannone
"Unfortunately, not being able to rest doesn't help, but I'm pleased because I'm better than in Brno. My shoulder didn't hurt too much, and I haven't taken any medicine today. We'll keep evaluating the situation over the next two days, and maybe I'll take some painkillers on Sunday, but if so, only in very low doses. As for the bike, we're not going too badly. This track is very long and wide, and knowing how to interpret the lines is essential in order to better be fast. It's so easy to lose a second, so being a little more than a second behind the other Ducati riders doesn't demoralized me too much. Now I have to figure out how much is the bike and where have I to improve my riding, as it's possible that I still have to learn the ideal lines for this track. I was slower this morning than in the afternoon, when I improved by about one second without making too many changes to the bike. I'm okay for tomorrow. We'll look at the data, and I hope that the few things we plan on changing will help me."
Michele Pirro
"I'm still struggling with the feeling with the front, and I can't brake as I'd like. I used a new tyre on the second bike, and the lap time improved just a little, so I'm sure we can do more for tomorrow. Unfortunately I can't feel the bike in changes of direction, and I'm not confident on corner entry. The front doesn't seem to be planted on the ground and I don't feel like I can brake as I'd like, as I don't have the grip that I need. Looking at the data, it's strange to see that at Misano, I brake where the others do, whereas here I start about 50 meters earlier. I'm not fast because I don't want to take risks, but of course I lose time. It will be another tough race but, as always, I'll do everything possible in order to get satisfactory results."
MotoGP Silverstone combined Free Practice Times
1. Jorge Lorenzo (SPA) Yamaha Factory Racing 2'02.734
2. Marc Marquez (SPA) Repsol Honda Team 2'02.958
3. Dani Pedrosa (SPA) Repsol Honda Team 2'03.192
4. Alvaro Bautista (SPA) Go&Fun Honda Gresini 2'03.463
5. Valentino Rossi (ITA) Yamaha Factory Racing 2'03.480
6. Cal Crutchlow (GBR) Monster Yamaha Tech3 2'03.505
7. Andrea Dovizioso (ITA) Ducati Team 2'03.658
8. Bradley Smith (GBR) Monster Yamaha Tech3 2'03.750
9. Stefan Bradl (GER) LCR Honda MotoGP 2'03.784
10. Nicky Hayden (USA) Ducati Team 2'04.089
11. Aleix Espargaro (SPA) Power Electronics Aspar 2'04.145
12. Yonny Hernandez (COL) Paul Bird Motorsport 2'04.476
13. Andrea Iannone (ITA) Pramac Racing Team 2'05.052
14. Randy De Puniet (FRA) Power Electronics Aspar 2'05.069
15. Hector Barbera (SPA) Avintia Blusens 2'05.266
16. Michele Pirro (ITA) Ignite Pramac Racing 2'05.438
17. Colin Edwards (USA) NGM Mobile Forward Racing 2'05.484
18. Claudio Corti (ITA) NGM Mobile Forward Racing 2'05.506
19. Danilo Petrucci (ITA) Came Iodaracing Project 2'05.657
20. Michael Laverty (GBR) Paul Bird Motorsport 2'05.977
21. Hiroshi Aoyama (JPN) Avintia Blusens 2'06.038
22. Bryan Staring (AUS) Go&Fun Honda Gresini 2'07.854
23. Lukas Pesek (CZE) Came IodaRacing Project 2'09.209