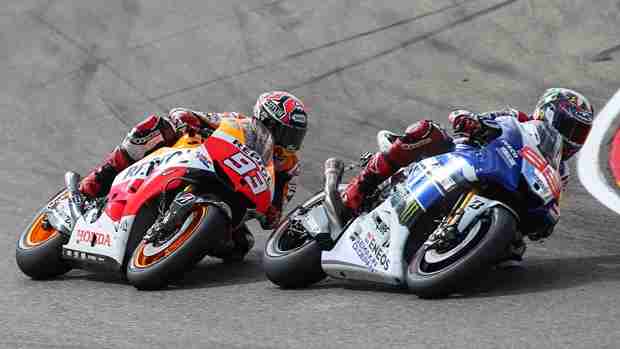 Round fifteen of the 2013 MotoGP season takes place at Malaysia's Sepang International Circuit, a real test of man and machine with its high ambient temperatures and technical layout. Measuring approximately 5.5 kilometres in length, Sepang is characterised by two long straights that end in extreme braking zones which demand high levels of stability from the front tyre. The rest of the circuit is a mix of high and low speed corners that combine to generate significant loads, with this circuit being one of the more demanding for tyres.
Although Sepang is hard on tyres, the stresses placed on the left and right shoulders of the tyre are similar hence two of the three rear tyre specifications offered at this circuit, the soft and medium rear slicks are symmetric. Only the hard compound rear slick which is offered just to the works riders is asymmetric in construction, with the right shoulder featuring harder rubber than the left shoulder.
Owing to its hard braking zones and high ambient temperatures, the front tyre allocation for Sepang includes the two hardest front slick tyres in Bridgestone's range, the medium and hard compound front slicks. As the need for warm-up performance is not a major factor in the hot Malaysian climate, the main wet tyre at Sepang will be the hard compound wet tyre. Each rider will also be able to select up to two front and rear wet tyres in the alternative soft compound.
Dani Pedrosa
"I felt good in the last race riding at the front, and I look forward to finding the same feelings on the bike again in Sepang. The track has a little of everything, fast and slow corners, hard braking and long straights and the weather conditions make it hard work. Physically it's been a hard week, I couldn't walk for three days due to the pain in my hip, but it's getting better every day so I'm hoping to be in perfect condition for the weekend."
Marc Marquez
"Now we head to Malaysia for the first of the fly away races and I'm ready to get there! Sepang is a circuit I like, it's the first track we were really able to test the Honda bike at so it will be nice to go back there and regain the feeling, and to see what we have learned over the season! I know there is a hearing set for Thursday with race direction to discuss the incident with Dani in Aragón, there is not much we can do, we need to wait and see what they say."
Jorge Lorenzo
"Now we start the big trip with three races in a row and face the last part of the championship, the crucial part. After Aragon where we fought so hard we now visit a special circuit. Sepang is a track everybody knows really well. I guess all the riders will be strong there because we made a couple of pre-season tests. Sepang is a long and technical circuit with two great straights but also some nice corners. The worst thing is it's always stormy and you never know when it is going to rain. I have some good memories there but we need to keep focus now on the race and try to recover a little bit to Marquez. The championship is difficult but we want to fight until the end. Let's see what happens!"
Valentino Rossi
"The Sepang circuit is a track that I like a lot, I have had many great victories there. I think it suits the Yamaha quite well. It's very demanding physically because it's very hot but it's also a great track and challenge because of this. I want to try to make a good weekend and work hard on the set up to arrive competitively for the race on Sunday."
Andrea Dovizioso
"Sepang is one of my favourite tracks, but the tests in February weren't so good. It looks like our bike didn't work very well on that track, especially because the grip is very low, but maybe the conditions now are different and we can show some improvement. Anyway we're going there always to push 100% and try to have fun with the bike."
Nicky Hayden
"It was nice to get home for a week and attend my little sister's wedding, but I'm very excited to get to Malaysia and move on from Aragon. This race will kick off three important weeks for me, and I really want to dig in and try to do whatever we can to get a good result somewhere along the way. We know it'll be very difficult, starting in Malaysia, but it's a good track that has everything–fast corners, slow corners, long straights. We'll go there with the intention of doing better than we did in Aragon. I'm looking forward to getting back on track."