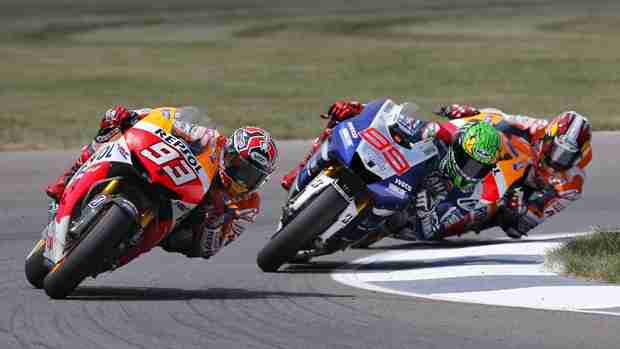 There was no stopping Marc Marquez at Indianapolis MotorSpeedway this weekend, the Repsol Honda rounding out a relentless performance by taking the chequered flag today for his third consecutive MotoGP victory to sweep all races held in the United States of America this season.
Starting from pole position, Marquez lost out to team mate Dani Pedrosa and Yamaha Factory Racing's Jorge Lorenzo at the start of the race to trail his two rivals for the opening laps. Marquez overtook Pedrosa on lap nine and seized the race lead from Lorenzo on lap thirteen, before streaking away to win by 3.495 seconds. Pedrosa fended off the challenge of Lorenzo to finish in second place, with the reigning MotoGP champion Lorenzo placing third. Power Electronics Aspar's Aleix Espargaro rode valiantly with an injured hand to finish as the top CRT entry in twelfth place. Race report coming up soon.
Marc Marquez
"I am very happy to have taken another 25 points! I knew before we came here that this would be a good opportunity and I was able to take advantage of it. I felt very good throughout the weekend, and I think this has been my best GP overall since coming into the premier class. I was first in every session, so I couldn't ask for more. In the race I decided to follow Lorenzo and Pedrosa, trying to save my tyres at the start. When I saw that I was feeling good and had less fuel in the tank, I tried to attack. In the end I was able to break away and have some fun sliding the bike around and enjoying how good the ride was! Now we head back to Europe, where we will try to continue working in the same way and see how many points we can pick up."
Dani Pedrosa
"Today I gave all I had. I struggled to keep my energy up and I was forced to ride in a different way because of the pain I was suffering. It was a difficult race, because I was fighting a lot against the bike but in the end I was able to keep up my pace and take a good second place! In other conditions I'm sure we would have done better, but we did all that we could under the circumstances today and should draw that positive from the day."
Jorge Lorenzo
"I made a very good start and I had half a second advantage in the beginning of the race. I had a lot of hope because I knew I had a good pace but suddenly in the middle of the race Marc started to go faster and faster so it was impossible to win. I'm disappointed to not finish second, because in normal conditions without the drop in rear tyre this would have been possible. I'm happy to be back on the podium at a track that's not normally a good one for us. I don't feel perfect, I feel more tired than normal because I haven't trained so much in the last two months because of the injuries. I felt tired at the end of the race and had some pain in the braking areas but I feel much better and in Brno and Silverstone I will be ok. I think from this moment we can only be better and better."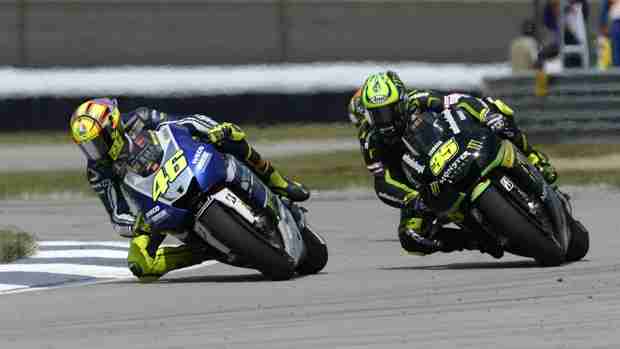 Valentino Rossi
"At the end the race was not so bad, especially compared with yesterday and especially the second half. I could ride the bike in a good way and I could enjoy it. I did a very good lap time in the second half and had great battles with Bradl and Bautista, but especially with Cal on the last lap, that was very funny. Fourth place here is good considering this track is one of the worst for me and considering I started from ninth I am quite happy. We still have to work and understand why in the first laps I can't ride the bike and use the extra grip of the tyre. In the second part when the tyre slides I can enter the corner faster, I can go faster and I can make good lap times so we have to improve because the first three riders are very strong."
Cal Crutchlow
"I'm really pleased to finish the race in the top five and it means I am still the leading satellite bike in the Championship, which is an achievement to be proud of. It was a really good battle out there and I enjoyed it a lot. All of us were pushing at our absolute maximum and Alvaro rode fantastic. Credit to Valentino as well because he recovered quite a lot of time and it is not easy to do that towards the end of the race. I knew it was going to come down to the last lap and probably the last corner and I did my best to keep fourth. But unfortunately Valentino made a good move up the inside of the right before the last corner and I couldn't get him back. I had a lot of fun though I think the three of us gave the American fans something to cheer. I've only lost two points to Valentino in the Championship on a track I don't like at all. I was strong all weekend, so that gives me a lot of confidence for the next races in Brno and Silverstone where I was very competitive at last season."
Alvaro Bautista
"I am really happy and I think we had a great race today. Obviously I would have preferred to finish fourth but sixth place and the way we got it is not a bad result. Unfortunately I had to push the front harder than I would have liked in the first part of the race and we paid the price at the end, when I was unable to defend my position from Crutchlow. It's a shame but I am happy anyway, we have a fantastic feeling with the bike right now and we are doing a good job so I want to say a special thanks to the team and the guys at Show, Nissin and of course at Honda. Now we can look to the future with even more confidence."
Stefan Bradl
"Honestly I am a bit disappointed about this result and I had mixed feelings in this weekend. At the beginning we were very strong but after 3 crashes in the practices I lost a bit of confidence. We have tried to adjust the bike but, during the race, those changes made the bike too heavy to ride for me. I could not keep the same speed for the whole race because I was too tired so I lost the guys in front of me. Now I just want to move on to Brno and try to be back in the pack".
Bradley Smith
"I think eighth position was more or less what we had predicted for the race, but we did not expect to be so far behind the winner. The race was very exciting and I got an amazing start but pretty much right from the first lap I felt we had an issue with the rear end of the bike. I tried to maintain my pace but unfortunately I ran off in at Turn 6 and a few guys passed me. I tried to recover again but the rear problem was getting worse and at the end of the race I could only try to pass the Ducati's. I was a bit lucky that they ran wide in the last corner, so I could pass both on the final straight. Eighth is not a bad result but I'm a little bit disappointed because we did a really good job during the whole weekend and I was very confident for the race. Now I just hope I can carry the good performances from practice and qualifying into Brno."
Bryan Staring
"I am not happy because unfortunately compared to yesterday we didn't have the same feeling with the bike. We tried every possible way to improve our confidence but didn't manage it and I am sorry to the team."
Ben Spies
"I didn't get too much sleep last night, as my shoulder's a little painful since I didn't take much pain medicine yesterday. Now I'll rest up for the next couple days. I fly back to Dallas on Monday, and on Tuesday I'll see with my doctor if I need surgery or not, and also make sure my wrist is okay. I'll try to come back as soon as possible, but I also want to come back at 100%. There's no reason for me to rush back just to fill the grid, but definitely this injury is nothing like the right shoulder; the pain is very bad right now, but the healing process won't be anything near the other one–I know that for sure. We just need to do the right things, follow the doctors' orders again, and rehab. This injury won't even affect me in a few months, but I need to do the right things the right way."
Andrea Iannone
"All in all, I'm happy because I managed to do the whole race. The first few laps I was behind Dovizioso and Nicky, and I was quite fast. Then I started to suffer physically. My shoulder hurts a lot, and on braking, I couldn't keep the brake on for too long, as I lacked the strength. I was squeezing the tank with my legs, and I stressed my back to the point that it started to hurt. It's been one of the best races of the year, as we worked well during the whole weekend, so I'm happy. We should certainly improve the result; we must get closer to the fellow Ducati riders, and that's our focus for the next grand prix."
MotoGP Indianapolis results
1. Marc Marquez (SPA) Repsol Honda Team 44'52.463
2. Dani Pedrosa (SPA) Repsol Honda Team + 3.495
3. Jorge Lorenzo (SPA) Yamaha Factory Racing + 5.704
4. Valentino Rossi (ITA) Yamaha Factory Racing + 19.895
5. Cal Crutchlow (GBR) Monster Yamaha Tech3 + 19.955
6. Alvaro Bautista (SPA) Go&Fun Honda Gresini + 20.061
7. Stefan Bradl (GER) LCR Honda MotoGP + 24.842
8. Bradley Smith (GBR) Monster Yamaha Tech3 + 40.690
9. Nicky Hayden (USA) Ducati Team + 40.701
10. Andrea Dovizioso (ITA) Ducati Team + 40.823
11. Andrea Iannone (ITA) Pramac Racing Team + 59.668
12. Aleix Espargaro (SPA) Power Electronics Aspar + 1'06.650
13. Colin Edwards (USA) NGM Mobile Forward Racing + 1'09.462
14. Claudio Corti (ITA) NGM Mobile Forward Racing + 1'15.207
15. Hiroshi Aoyama (JPN) Avintia Blusens + 1'20.159
16. Hector Barbera (SPA) Avintia Blusens + 1'25.879
17. Danilo Petrucci (ITA) Came Iodaracing Project + 1'29.616
18. Michael Laverty (GBR) Paul Bird Motorsport + 1'36.388
19. Bryan Staring (AUS) Go&Fun Honda Gresini After 1 laps
20. Yonny Hernandez (COL) Paul Bird Motorsport Not classified (10 laps)
21. Lukas Pesek (CZE) Came IodaRacing Project Not classified (13 laps)
22. Randy De Puniet (FRA) Power Electronics Aspar Not classified (22 laps)
23. Blake Young (USA) Attack Performance Racing – No start
Championship Standings post Indianapolis
1. Marc Marquez (SPA) Repsol Honda Team -188
2. Dani Pedrosa (SPA) Repsol Honda Team -167
3. 99Jorge Lorenzo (SPA) Yamaha Factory Racing -153
4. 46Valentino Rossi (ITA) Yamaha Factory Racing -130
5. Cal Crutchlow (GBR) Monster Yamaha Tech3 -127
6. Stefan Bradl (GER) LCR Honda MotoGP -93
7. Andrea Dovizioso (ITA) Ducati Team -87
8. Alvaro Bautista (SPA) Go&Fun Honda Gresini -81
9. Nicky Hayden (USA) Ducati Team -72
10. Bradley Smith (GBR) Monster Yamaha Tech3 -59
11. Aleix Espargaro (SPA) Power Electronics Aspar -56
12. Michele Pirro (ITA) Ignite Pramac Racing -36
13. Andrea Iannone (ITA) Pramac Racing Team -29
14. Hector Barbera (SPA) Avintia Blusens -24
15. Colin Edwards (USA) NGM Mobile Forward Racing -20
16. Randy De Puniet (FRA) Power Electronics Aspar -19
17. Danilo Petrucci (ITA) Came Iodaracing Project -18
18. Ben Spies (USA) Pramac Racing Team -9
19. Claudio Corti (ITA) NGM Mobile Forward Racing -7
20. Yonny Hernandez (COL) Paul Bird Motorsport -7
21. Karel Abraham (CZE) Cardion AB Motoracing -5
22. Alex De Angelis (RSM) Ignite Pramac Racing -5
23. Michael Laverty (GBR) Paul Bird Motorsport -3
24. Bryan Staring (AUS) Go&Fun Honda Gresini -2
25. Hiroshi Aoyama (JPN) Avintia Blusens -2
26. Javier Del Amor (SPA) Avintia Blusens -1