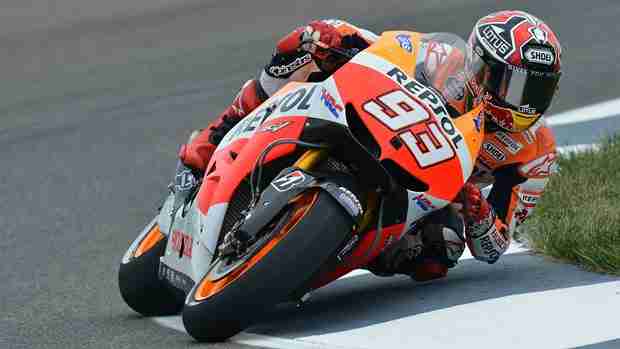 Repsol Honda's Marc Marquez led a Honda 1-2-3 in the first day of practice at Indianapolis MotorSpeedway as the MotoGP rookie set a scorching lap time of 1'39.502 in the afternoon's Free Practice 2 session. Marquez's best time was within half a second of the Circuit Record and just eight-hundredths ahead of second-placed Dani Pedrosa on the other Repsol Honda RC213V. Fresh from his first MotoGP pole position and podium at the last round in Laguna Seca, LCR Honda's Stefan Bradl was third quickest on the day and a further tenth of a second behind. Power Electronics Aspar's Aleix Espargaro was the pick of the CRT riders, his best lap time of 1'40.750 putting him within striking distance of the top ten in P11.
The morning Free Practice 1 session took place under cloud cover which kept track temperatures low, so riders chose softer slick options front and rear to get a feel for the grip level of the circuit. Track temperatures were much higher for FP2 and accordingly tyre choice was more varied, with both the softer and harder slick options front and rear being evaluated by riders. Almost all riders set their best time on the softer rear slick, but those riders that assessed the harder rear slick were able to set competitive lap times so further evaluation of this specification is likely to take place in tomorrow's FP4 session.
Dani Pedrosa
"Today we went on track in both sessions, unlike at Laguna Seca. During the first session I felt a little strange when riding and I was a stiff on the bike, but in the second session I went faster because I loosened up a lot. Let's see if tomorrow we can improve the feel on the bike and take some more off our lap time."
Marc Marquez
"Today went pretty well. After the break it was important to regain confidence on the bike. The truth is that I felt comfortable almost immediately. I tried to stay calm during the first few laps, as they are the most delicate and I'm happy with how the day went. The track improved a lot in terms of grip from session to session, so tomorrow we will likely see the times come down again. I think we're going in the right direction, so tomorrow we will continue as we have been doing so far."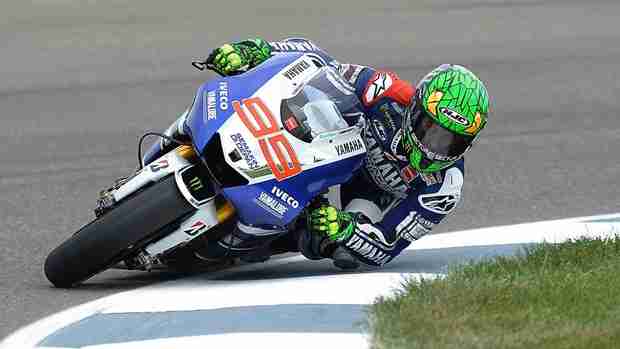 Jorge Lorenzo
"The collarbone is feeling good, it's not 100% yet but it's close. It doesn't give me too many problems to ride at a high level. We are still very far from the track record and the track is still quite slippery. Compared to last year I think we are going to have less problems to fight for the podium. I won here in 2009 but usually it's not so easy for me. Sometimes the other Yamaha riders are faster than me but so far it's a good start. This morning the track conditions were better than I expected and then improved further over the day, so this afternoon all riders improved their lap times. We still have some problems, especially in braking but I think our margin can be improved quite a bit. We didn't make so many laps in the afternoon; I wanted to make more but firstly the red flag cost us time and then at the end I found so many CRT bikes there it was hard to get clear laps."
Valentino Rossi
"Today I had two different bikes to try and improve the feeling in braking and entering. We made two different comparisons and at the end we decided the way to go. Tomorrow we will concentrate on that bike to try to fix some problems with under steer and a bit too much pushing on the front, especially in two or three entries that are very difficult. In general I am quite happy, not so much with sixth position but I am just half a second from pole and I reduced my gap to Marquez and Lorenzo. Together with Cal the three Yamahas are all together. We have to fix some areas and tomorrow we will make another step."
Cal Crutchlow
"Overall it has been a good day because we know this is not the easiest track for Yamaha. All of us are quite close but I am sure we can make some improvements for the rest of the weekend. We tried a few different things on the bike and we need to find some more feeling from the front-end but it is a decent start and something to build on for tomorrow. This morning was quite tough because the track was so slippery and the bumps seem to be much worse then when we've been here before. And I don't remember the change in asphalt being so difficult, but it is the same for everybody."
Stefan Bradl
"The first day was quite good for us: we have a good speed and I feel quite comfortable with the bike. Early in the afternoon session we struggled a bit with the front end and I suffered a little crash. We immediately found a solution and I could go back to my normal pace. Actually the track surface is not as good as it will be tomorrow and on Sunday, so we need to wait until the track is in better conditions. So far we are in the right direction and I am pleased with the 3rd lap time because it's a good way to start the weekend".
Bradley Smith
"It is great to be back on my Monster Yamaha Tech 3 machine again and I definitely felt the benefit of a good summer break with some good training out there today. I feel quite comfortable on this track and I don't really have too many issues. Our base setting is in the ballpark but we can always make improvements and I am confident we can take some steps tomorrow. We know the track is going to continually improve now for the rest of the weekend, so it will be a case of adapting as the conditions change. But to be eighth is a great start for me and hopefully I can maintain that tomorrow to ensure I go immediately into QP2."
Nicky Hayden
"The track definitely came in better on the first day than it has in years past. The lap times are much faster and immediately, we were able to get right into setup. It's also less abrasive and easier on the tyres. Of course I hoped to be a bit faster, but we know we're still sorting out some problems. The turning issue is hurting me a lot in some places, and it's making the bumps worse because I can't get the bike picked up in time to soak them up. We'll keep working hard, but today was fairly positive overall."
Andrea Dovizioso
"The day was so-so, as we're a way off in terms of pace. It's always difficult for everyone here because the grip is quite precarious, with unpredictable bumps that are hard to see. We managed to improve over this morning, as the grip got better, while we were also able to take some small steps forward. We have all day tomorrow to work, so we hope to get more good weather so we can improve my bike's setup. The most important thing is to cut some tenths and not be too far back on the grid Sunday, so we can have some possibility in the race to try to get a good position."
Alvaro Bautista
" Today was our first day back on the bike after the summer break and it was important for us to get a feel for the track and for the bike after such a good weekend last time out at Laguna. The track wasn't perfect this morning but the conditions improved this afternoon and we were even able to test the hard rear tyre but I wasn't happy with it. We went back to working with the soft but the rear grip wasn't great and I couldn't get on the gas as I would like coming out of the corners. Anyway we are confident we can improve tomorrow and improve our feeling with the front, which is currently giving us some problems in corner entry."
Bryan Staring
"I am quite happy because we have established a good feel for the track and taken some positive steps over the course of the day. I thought I would struggle more than I have but we seem to be on the right lines and if we keep working in the same way tomorrow I think we can take a big chunk out of the lap time."
Ben Spies
"Indianapolis has been a really good track in the past for me. It's difficult, after three months of forced stop, to get back on the bike on such a physical track, with a lot of changes of direction, chicanes and slippery asphalt. Anyway I like this circuit a lot and the fans here at home. We have a lot of work to do but we will try to get back step by step. I am satisfied about today's results during the two FP sessions and my aim for tomorrow is to get closer to the Ducati Factory riders and possibly to enter in the Top Ten for Qualifying without doing too much to avoid risks. We will take our time but I finally feel good in riding my bike."
Andrea Iannone
"All in all today has not gone too bad. My shoulder hurts, especially in changes of direction, and also I can't brake well when turning into the curves. It's not ideal, especially because with MotoGP bikes you really have to brake hard. I think that, together with the Clinica Mobile, we will evaluate the possibility of taking painkillers, in order to better withstand the pain, and I hope that, with some small modifications to the bike, tomorrow it can be better."
MotoGP Indianapolis combined free practice timings
1. Marc Marquez (SPA) Repsol Honda Team 1'39.502
2. Dani Pedrosa (SPA) Repsol Honda Team 1'39.582
3. Stefan Bradl (GER) LCR Honda MotoGP 1'39.681
4. 99Jorge Lorenzo (SPA) Yamaha Factory Racing 1'39.765
5. Cal Crutchlow (GBR) Monster Yamaha Tech3 1'39.813
6. 46Valentino Rossi (ITA) Yamaha Factory Racing 1'40.084
7. Alvaro Bautista (SPA) Go&Fun Honda Gresini 1'40.087
8. Bradley Smith (GBR) Monster Yamaha Tech3 1'40.240
9. Nicky Hayden (USA) Ducati Team 1'40.433
10. Andrea Dovizioso (ITA) Ducati Team 1'40.552
11. Aleix Espargaro (SPA) Power Electronics Aspar 1'40.750
12. Danilo Petrucci (ITA) Came Iodaracing Project 1'41.099
13. Ben Spies (USA) Pramac Racing Team 1'41.145
14. Andrea Iannone (ITA) Pramac Racing Team 1'41.444
15. Claudio Corti (ITA) NGM Mobile Forward Racing 1'41.552
16. Colin Edwards (USA) NGM Mobile Forward Racing 1'41.588
17. Hector Barbera (SPA) Avintia Blusens 1'41.814
18. Randy De Puniet (FRA) Power Electronics Aspar 1'41.956
19. Yonny Hernandez (COL) Paul Bird Motorsport 1'42.088
20. Hiroshi Aoyama (JPN) Avintia Blusens 1'42.808
21. Lukas Pesek (CZE) Came IodaRacing Project 1'42.828
22. Karel Abraham (CZE) Cardion AB Motoracing 1'42.927
23. Bryan Staring (AUS) Go&Fun Honda Gresini 1'43.253
24. Michael Laverty (GBR) Paul Bird Motorsport 1'43.741
25. Blake Young (USA) Attack Performance Racing 1'45.590