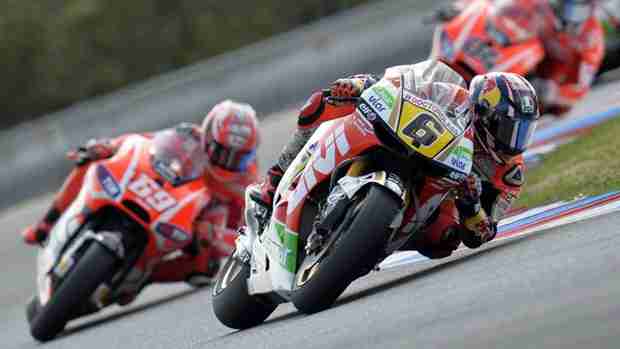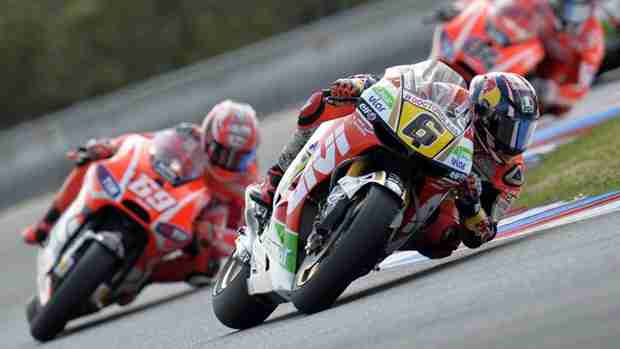 LCR Honda's Stefan Bradl topped the time-sheets in Friday free practice at the Czech Republic Grand Prix, the German rider setting a time of 1'56.500 on his penultimate lap of the day to lead a tightly-packed field at Brno.
Bradl spent his first stint in FP2 evaluating the hard compound rear slick before a late switch to the softer rear unleashed the potential of his Honda RC213V, enabling the German rider to finish the day 0.038 seconds quicker than his closest challenger, Yamaha Factory Racing's Jorge Lorenzo. Having finished top in the morning FP1 session, Lorenzo's best time in FP2 saw him narrowly miss the top spot, but placed him 0.062 seconds ahead of Repsol Honda's Dani Pedrosa who ended the day third overall. Once again Power Electronics Aspar's Aleix Espargaro was the quickest of the CRT riders, his best lap time of 1'58.217 sees the Spaniard end the day twelfth overall.
Conditions throughout the day at Brno were fine, with track temperatures reaching a peak of 38°C in the afternoon FP2 session. The fine weather allowed the riders to test a wide range of tyres, with all five slick options brought by Bridgestone to this race evaluated today. The cooler morning session saw riders prefer the softer slick options front and rear, while in the afternoon session both the softer and harder slick options were used. The preferred slick options at this stage of the race weekend are the hard compound front due to its greater braking stability, while at the rear, the softer slick options — which give greater drive through the sweeping sections of this circuit were favoured. Initial feedback from those riders that used the harder rear slick options show that this option is working well when track temperatures are higher.
Stefan Bradl
"We can be happy with this first place but I want to keep my feet on the ground. It looks good on the paper but I am still not 100% happy with the bike setting and this is the reason why we have struggled in the first free session this morning. We need to work on the front part of the bike as we do not absorb the bumps as good as I want. I think we have more potential than this but we need to be more consistent tomorrow because the other guys will push to qualify in the front".
Jorge Lorenzo
"I started in a very good way in the morning and also in the beginning of the second practice. Then we started to try some things on the bike that weren't as good as we expected. We spent all the practice trying things so I wasn't very fast at the end of the session. Anyway, the positive thing is tomorrow we have a clear direction so we can go more quickly to a better lap time. We can improve tomorrow on braking, and the smoothness of the bike at the beginning of the corner."
Valentino Rossi
"I think that we are equal at this track because Dani won last year with the Honda after the battle with Jorge on the last lap. For sure the Yamaha is more competitive here in Brno and also I am more competitive because I like the track and I ride in a better way than in Indianapolis. Today it was a positive day for me, especially this afternoon, we modified the bike and I improved a lot. I was fast with the soft tyre and the hard tyre and I have quite a good pace. We are all very close; we are five or six riders within a few tenths. We hope for tomorrow and Sunday we have good weather because the forecast says it's not so positive."
Dani Pedrosa
"Today was a little more difficult than expected, as I felt more pain than I have in the past few days. I was unable to ride at 100%, but still we were able to have two good sessions. We tried some different setups with the bike and different tyres. Let's see if tomorrow I feel better and can improve aspects of the bike to lower my time."
Marc Marquez
"I felt really good from the start which is good news! I thought it would take a little more time and that we would be further behind Jorge and Valentino, as they have tested at this circuit recently. In general, the feeling was good but there are still aspects of the setup where we can improve a lot, which will hopefully give us more comfort and in the end more speed. I'm not worried, we know that tomorrow the times will come down, but we must continue working in the same way and focus, because we know that we can perfect the setup."
Cal Crutchlow
"It wasn't an easy first day here in Brno but the positive point is I was very consistent and the lap times between the top six are very close. The overall lap time is not the best but I am able to lap in the 56s consistently and that is encouraging for the rest of the weekend. We need to improve the bike, so I am hoping it stays dry tomorrow and we can try the modifications we need to improve. I can't turn the bike well and I am also struggling a little bit for rear grip. I got my first podium in Brno last year and it would be great to repeat that achievement on Sunday. It will be tough but I will be giving it my all."
Bradley Smith
"Today was a positive start to the weekend although I encountered a couple of small issues with the front-end. I need to get some more grip to allow me to carry more corner speed but I am happy because I was able to make a big step in the second session. This is a track that the Yamaha really likes and I am enjoying riding the YZR-M1 here, so if I can get some more confidence with the front I am sure I can be even stronger. It is going to be difficult to make that final step to get into the 56s but we will pour over the data tonight and try and find a solution to help me do that."
Alvaro Bautista
"Today did not go as well as we expected because we had a lot of rear grip issues and I couldn't get confident with the tyre. We tried a few different things but couldn't find what we were looking for. Anyway, we have some clear ideas for tomorrow and I am confident we can improve and close the gap to the top. We will work hard tonight but we are not panicking."
Bryan Staring
"I am disappointed because I thought my prior track knowledge here would help us move up a few positions but we had a lot of vibrations from the bike. We will look at the data tonight and I am sure that the guys will work hard to fix the problem, as the always do. I am still confident that I can show my true level at this circuit tomorrow."
Andrea Dovizioso
"The afternoon session was very strange, because we suffered a big loss of grip. Honestly, I thought there was something wrong with my bike because I didn't expect such a big difference compared to this morning. We tried a number of things in an effort to understand if there was some problem, so we weren't able to follow the planned work program for the session. Unfortunately, when the temperature rises, it affects us Ducati riders more than the others, and it becomes much more difficult to ride the bike well."
Nicky Hayden
"It wasn't a very positive day. This morning we weren't so far off, but in the afternoon I struggled with a lack of grip, problems turning, and chatter. I also made some mistakes with my riding and was running wide. Now we need to understand exactly where to go with the bike's setup and try to do a much better job tomorrow."
MotoGP Brno Free Practice Times (combined)
1. Stefan Bradl (GER) LCR Honda MotoGP 1'56.500
2. Jorge Lorenzo (SPA) Yamaha Factory Racing 1'56.538
3. Dani Pedrosa (SPA) Repsol Honda Team 1'56.600
4. Valentino Rossi (ITA) Yamaha Factory Racing 1'56.726
5. Marc Marquez (SPA) Repsol Honda Team 1'56.733
6. Cal Crutchlow (GBR) Monster Yamaha Tech3 1'56.800
7. Bradley Smith (GBR) Monster Yamaha Tech3 1'57.351
8. Alvaro Bautista (SPA) Go&Fun Honda Gresini 1'57.401
9. Andrea Dovizioso (ITA) Ducati Team 1'57.754
10. Nicky Hayden (USA) Ducati Team 1'57.896
11. Andrea Iannone (ITA) Pramac Racing Team 1'58.039
12. Aleix Espargaro (SPA) Power Electronics Aspar 1'58.217
13. Michele Pirro (ITA) Ignite Pramac Racing 1'58.958
14. Hector Barbera (SPA) Avintia Blusens 1'59.235
15. Claudio Corti (ITA) NGM Mobile Forward Racing 1'59.288
16. Colin Edwards (USA) NGM Mobile Forward Racing 1'59.390
17. Yonny Hernandez (COL) Paul Bird Motorsport 1'59.539
18. Hiroshi Aoyama (JPN) Avintia Blusens 1'59.613
19. Danilo Petrucci (ITA) Came Iodaracing Project 1'59.719
20. Randy De Puniet (FRA) Power Electronics Aspar 1'59.799
21. Michael Laverty (GBR) Paul Bird Motorsport 2'00.338
22. Karel Abraham (CZE) Cardion AB Motoracing 2'00.413
23. Martin Bauer (AUT) Remus Racing Team 2'00.730
24. Lukas Pesek (CZE) Came IodaRacing Project 2'01.549
25. Bryan Staring (AUS) Go&Fun Honda Gresini 2'01.746