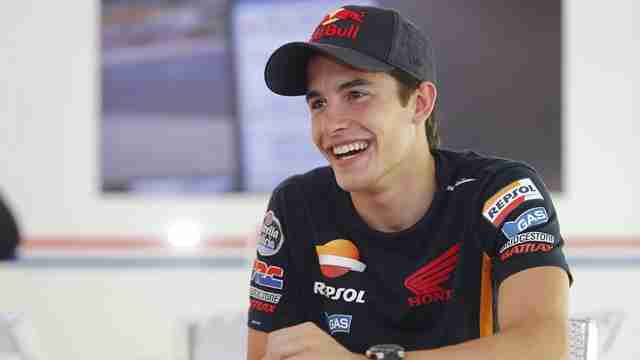 If anything has characterized the career of Marc Marquez, it is his talent and his ability to work and learn. However, far from getting carried away by the headlines and television coverage, the 20-year old remains humble. The Repsol Honda Team rider has dazzled in his first season in MotoGP, but knows that staying on top of the World Championship means there is no room for relaxation.
What was your first thought on Monday after celebrating the title win?
"We had a bit of a party, but always in moderation, because the next day we had the testing plan to follow. I was laying in bed thinking about spending my first night as World Champion, but in the end I'm still the same. Not much has changed."
How does it feel to see yourself on the covers of national and international newspapers?
"Obviously seeing all the media coverage is impressive. I've also received many messages of congratulations via Twitter from other athletes and celebrities which really gives you goosebumps! Maybe I didn't realize how important it is to be MotoGP World Champion."
Which messages particularly stood out?
"Those from family members or friends who have always been by my side, supporting me, and who send messages which are more natural and personal. But I appreciate every compliment that I receive."
Did you talk to Nakamoto before going out on track?
"Before the race he spoke to me seriously —and rarely do we speak too seriously— and told me 'Please use your head today.' And I thought that if the boss was telling me that, it was for a reason (laughs)."
Who has been most amazed? You, your parents, your brother, your grandparents, your friends…?
"It's hard to say but I think I'm the least affected by it all, because I've always been pretty good at managing this and kept my feet on the ground. If I don't, then those around me have my permission to make sure I do!."
Your mother said that you had to clean your room at home. Are you still doing this?
"Yes, I have to clean, make the bed… but only in my room! I also lay the table for lunch and my brother Alex clears up when we are finished. It's always been that way."
What have you said to your parents, who have made so much effort so you could compete, now that you've won the MotoGP world title?
"I have thanked them a lot. A rider can be good but, if you don't have a team and a family who create a good atmosphere around you, it is very difficult —almost impossible— to win a title or become a good professional rider."
With so many accomplishments in your first year in MotoGP, do you think you've learned all that you have to learn?
"There are always so many things to learn, but you learn as you go along. Logically, when you are starting out is when you absorb the most, but every year you gain experience. Dani [Pedrosa] and Jorge [Lorenzo] acquire new knowledge each season which means that they will be even more difficult to beat each time."
If you look back over the whole season, do you think you've shaken up the category?
"If a year ago you were to tell me that I would be in this situation, I —and I think everyone— would have said that you were crazy. But we work as we always have done and how I will always try to do so whilst I have the motivation to give one hundred percent and push to the limit. We have always fought for what we wanted with clear intentions."
Do you think your arrival in MotoGP marks the beginning of a new phase or a changing of the guard?
"We won the title, but the start of a new era depends on more than just one rider. This year I've come up and now Pol [Espargaro] and Scott [Redding] are making the jump. There is always young talent moving up and when we arrive, we want to prove our worth and make a name for ourselves. The age thing is relative. At the time Jorge and Dani came up, they rode some very good opening seasons in MotoGP and it's hard to say it's a new era now, because they are still very young."
How did the recent test for the 2014 season go?
"I think the overall assessment is very positive, especially for Honda, because we've been able to work very well and study different options. On Tuesday we had two prototypes to work with that were slightly different, so then for Wednesday we focused on the bike we felt more comfortable with. We tested different configurations with the electronics and setup and I think we've done a good job, because we found things that we can improve. It will be the base which we will use at the Sepang test, but if HRC have a clear direction, then I'm sure they will bring us some improved updates."
On Monday you had a nice gift when your new mechanics appeared with the Repsol Honda team uniform.
"Yes, I am very happy and excited to have the same team with me that I had up until this season. Some of them have worked with me back when I was 11 and to be back with them is a dream come true and I have to thank the Repsol Honda Team. Now we will have to show that we are a good team together."
How did they seem on their first days of work?
"You could see that they were much more tense than usual. I was very careful, because they too have had a lot of work to do, a lot to learn, and have had to serve their apprenticeship. But we have already seen that between the first day and the last day they have improved and increasingly are getting to know the bike. The important thing is that this winter they will have to go to Japan to take an intensive course, and it will be then that they will know their way around the bike with their eyes closed, like any good mechanic."
How long has it been since you last went to an amusement park?
"A long time and now I cannot really go. Before, every summer I escaped at least twice to waterparks and enjoyed that a lot!"
Is it true that you do not like the sea?
"I go in the sea as little as I can. If there's a girl and I have to accompany her, then obviously I go (laughs)!"
"Yes I went, but I tried to avoid falling off. If I do fall off, I'm back on the jet ski swimming before anyone else! Even if I was swimming against Michael Phelps!"
Have you decided what you will do in your holidays?
"I have not thought about anything, but I will have to find some time to unwind a bit for sure."
The first job will be this coming Saturday afternoon…
"Yes, I know my fan club is preparing a big party, with a parade through the streets of Cervera. We can celebrate the title without having to think that tomorrow I have to test, unlike last Sunday!"