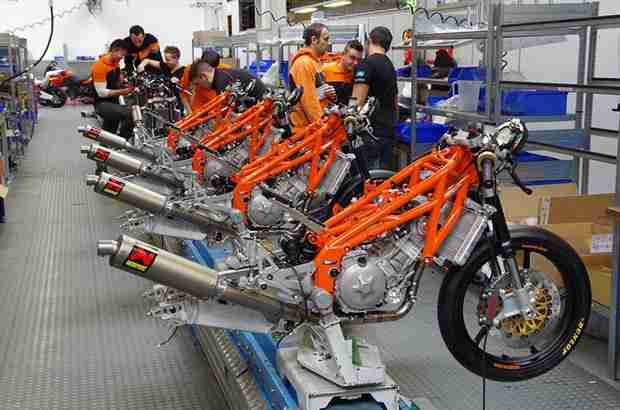 The KTM RC250R is probably one of the best if not the best ever 250cc production racer yet. It may not exactly be the easiest motorcycle to get your hands on but its very close relation to the KTM factory Moto3 bike makes it worth every penny. Only 67 of these machines will ever be made and of these 40 go up for sale, 27 of them will go to the Red Bull Rookies Cup.
"The differences (between the RC250GP & RC250R) come through some little details" says Head of KTM Customer Racing Wolfgang Felber. "The GP bike for example runs with the regulation enforced Dell'Orto electronics unit, has a different Akrapovic exhaust system, magnesium wheels, and modified brakes as well as WP factory suspension parts, which help to save some more weight."
Check out below for a time lapse video of the RC250GP being built up from scratch followed by a gallery of photographs of the RC250R production racer along with its specifications.
2013 KTM RC250R Production Racer Technical Specifications
Engine: Single cylinder, 4-stroke, DOHC
Displacement: 249.5 ccm
Bore/Stroke: 81/48.5 mm
Power: min. 37 kW (50 PS) at 13.000 rpm
Max. torque: 28 Nm at 11.000 rpm
Compression ratio: 14,5
Battery: 12 V / 0.8 Ah
Gear box: 6 speed cassette gear box, 2 optional ratio versions
Intake system: dual injector throttle body, oval, Ø 50 mm equivalent
Cooling system: WP water radiator + WP oil-water heat exchanger
Generator: 12 V / 70 W
Lubrication: semi dry sump, 1 pressure pump, 2 suction pumps
Primary drive: straight teeth gear drive
Valvetrain system: chain drive, intermediate gear, radial valves, DLC-coated finger followers
Clutch system: multi disc wet clutch
Motor management/ignition: GET by Athena ECU, GET by Athena Software MAYA EVO. Adjustable motor brake, traction control, launch control, fuel mapping, ignition mapping, pit speed limiter and quickshifter. Interface for data recording.
Frame: tubular steel trellis frame with adjustable headstock and swingarm pivot
Subframe: Wethje carbonfibre composite, monoblock
Swingarm: Upside down shaped, welded aluminium
Handlebars: clamps milled from billet aluminium, changeable handlebar tubes
Front suspension: WP USD fork RCMA 3548 / Ø 35 mm, adjustable spring preload, adjustable compression and rebound damping, 20 clicks
Rear suspension: WP rear shock BAVP 4618, adjustable shock length, hydraulic preload adjuster, adjustable High-/Low-Speed- compression damping and rebound damping, 20 clicks
Triple clamps: milled from billet aluminium, adjustable, 28/30 mm offset
Front brake: Brembo single disk, 290 mm Ø, Brembo radial caliper and radial master cylinder
Rear brakes: Braking, disk 190 mm Ø, Formula radial caliper and Formula master cylinder
Front/rear wheel: OZ forged aluminum 2.5 x 17''
/ 3.5 x 17''
Front/rear tire: Dunlop 95/75-R17 / 115/75-R17 / Moto3 M Slick
Secondary drive: 415 chain, sprocket options 16 — 18T, rear sprocket options 34 — 42T
Exhaust: Akrapovic full titanium system single silencer, 107 dB, additional 100/103 dB killer
Steering head angle: ± 1° adjustable with optional headshock inserts
Swingarm pivot: ± 4 mm adjustable with optional swingarm pivot inserts
Wheel base: 1210 mm ± 35 mm
Ride height: adjustable ± 6 mm
Seat height: 760 mm
Tank capacity: approx. 10.5 litres
Dry weight: approx. 82 kg (without fuel)
GP125: geometry, ergonomic, aerodynamic components
MOTOGP engine: layout cylinder head and throttle body
RC8 R SBK: electronic, frame knowhow, materials processing
MX: lubrication system, transmission, clutch, kinematic valve gear