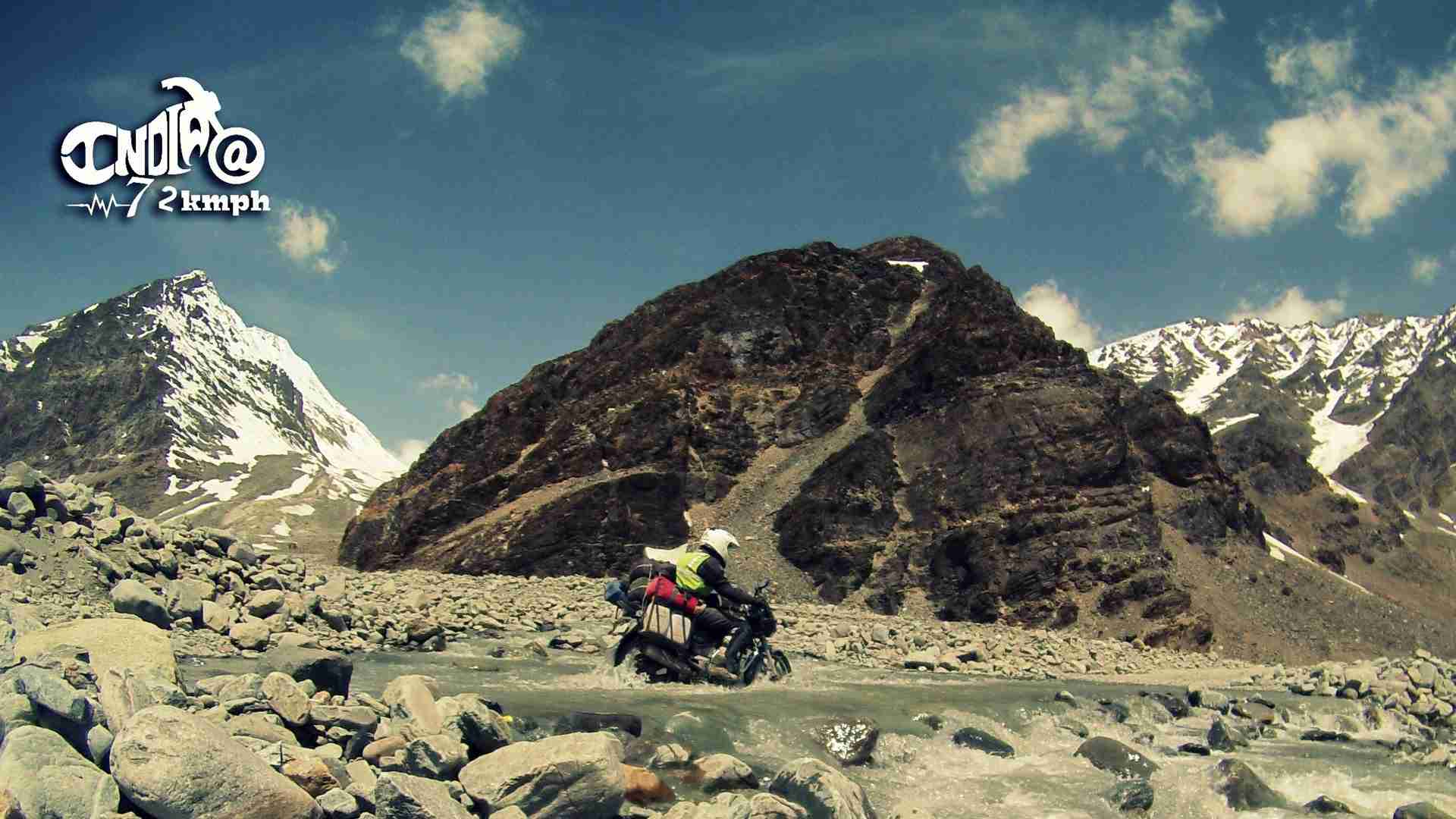 Hi, I'm Pruthwik Janamatti, a Bangalore based rider or rather, I used to be.
I'm a little nervous, a little hopeful and extremely excited about the adventure that lay ahead of me. And this is how I would describe my feeling before my first long ride. My ride, a Bajaj Pulsar 150 cc is fully loaded, complete with a touring rail. This would to be my home for the next 60 days and my new address would be KA 01 EE 3458.
I am standing on the Electronics City Flyover, gathering my thoughts and mentally preparing in solitude for the feat I am trying to accomplish and on comes this bony lass with the most curious of smiles riding along, checking me out. I'm not the one who believes in 'signs' but that sure brightened up my day, and I figured, it must be a good day to start after all. I had initially planned to ride 60 days out of which, I had my itinerary set for the first 20 days. I couldn't keep up with that since the very first day I had an electrical breakdown on the way from Bangalore to Pondicherry, so much for lady luck. After spending a lot of time in a garage in Krishnagiri, I finally got the bike fixed and was on the verge of pushing myself back home and starting afresh in a week or so. Then it hit me, I was living a dream, I was doing what so many people wanted to do and yet couldn't. I had planned on travelling like a traveller and not like a tourist in my own country, without knowing where I would end up spending the night, exploring the local essence of each place as it comes. Instead of pre planning a stay at a swanky hotel or lodge. And the most important part was that I didn't have a back up. Even when everyone asked me to talk to the respective motorcycling community of the region, I did not because that would not do justice to my entire sense of adventure.
There were so many instances while riding on the highway where my bike would be the only non-truck vehicle, sometimes even for hours. At times, there were also quite a few boring roads and I was disheartened a lot of times because I could not communicate with the people because of the language barrier. There were a lot of interesting and of course shady places where I stayed/took a break/rode through, places where I could not even express my feelings about how wonderful it was to be there, places where I could not even tell myself, why I was doing this. Most people were not open to the thought of someone travelling because that's not the idea of life that they're used to. I was insulted for doing what I did, but mostly, people were admiring the fact that someone was doing what they wished they could do, at least at some point in their lives.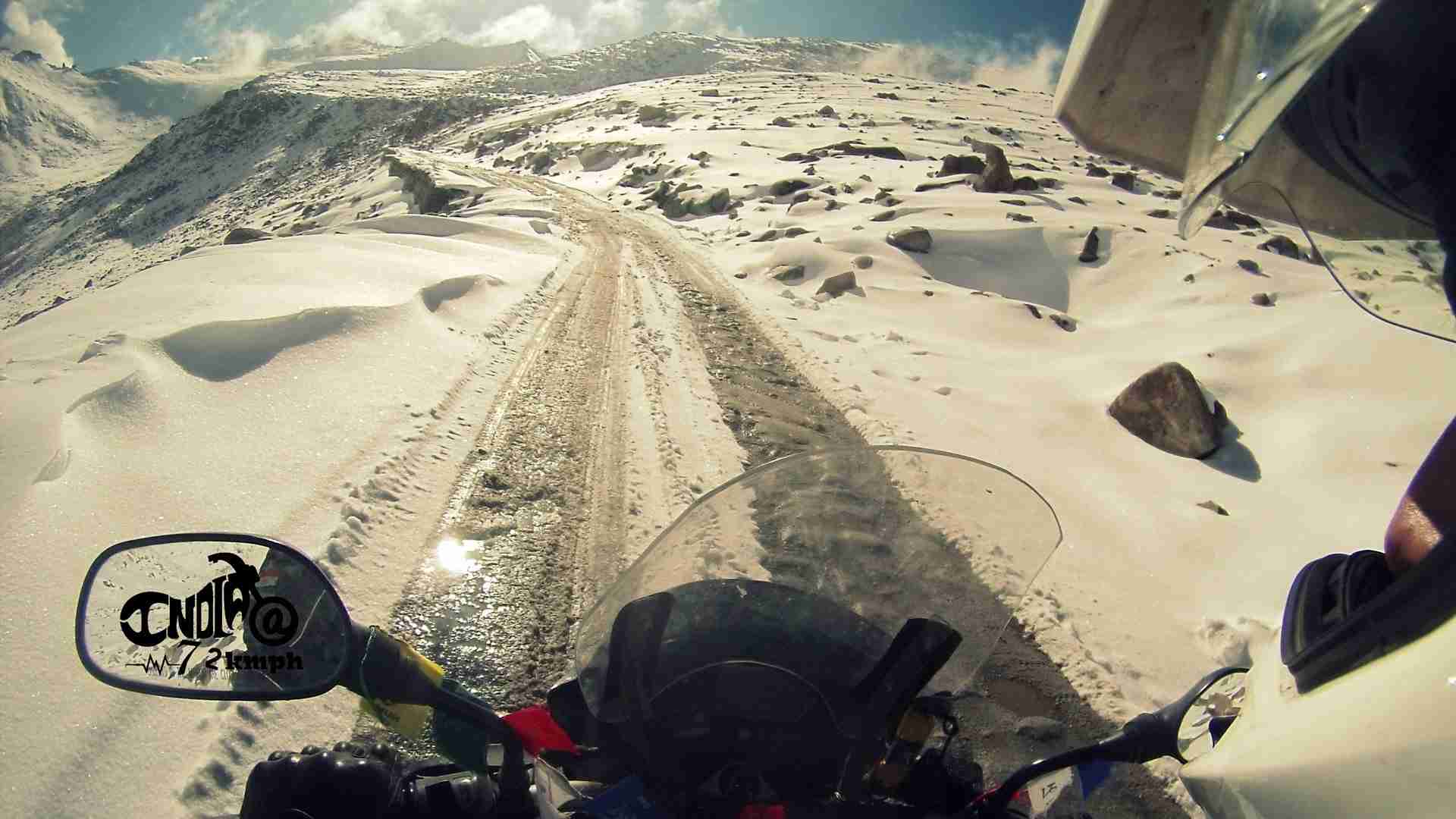 My experiences varied contrastingly. From meeting a 28 year old who doesn't want to do anything in life because he's got his father's money to blow up, to a seven year old kid at a dhabha who's normally referred to as 'chotu' but had the biggest of dreams. I met a complete illiterate who has a dream to provide education and of being an owner of a college, then I met a cheap liquor manufacturer in a dry state, also chanced upon a drug peddler at the seashore, and even a hooker. I had the pleasure of meeting a very inspirational business man, a visionary. Every one had their own special story to tell, all these experiences can only be lived and I was lucky to be part of their lives, even if it was just for a few amazing moments. The best part, I'd have to say is that they all shared my dream, to see their country travelling on a motorcycle.
My ride, India@72kmph took me through innumerable experiences and has given me a treasure trove of memories. I will never forget those two fishermen who treated me like their friend and took me fishing along with them. I will never forget riding in Jaisalmer at 49 degree Celsius, where everything from the water I was carrying to my shampoo and my toothpaste were burning hot and sleeping meant lying down on a hot mattress that felt like a heated pan. Another experience that I will ever forget, is getting stuck in the sudden rains at the Little Rann of Kutch and feeling like I've hit rock bottom, as I couldn't go through the marsh because of sudden rains. It was raining there for the first time in three years and it had to be on the day I was there.
I collected our nation's flags strewn all over the streets after the procession at Wagah Border, thrown by people who buy it for the heck of it and show absolutely no respect to it later on. I received prayer flags from a monk in Lama Yuru. I was invited to stay for a day by this family in Kashmir, they wanted to hear my stories. I even ended up in the hospital due to Acute Mountain Sickness after fainting at Pangong Tso. I was threatened by a drunk man pointing a knife on a dingy road in Himachal Pradesh. I was frisked and interrogated at Ayodhya for over 2 hours by the police because my gear made me look like a terrorist. I rode on a trekking trail on the Indo-Nepal border, where my bike was the first to go through that route in the last two years. All these and more, combined with heart warming people, like Dhabha owners who would refuse to take money for the meals I ate because they really liked what I was doing and a million other little things and gestures made it a journey impossible to forget.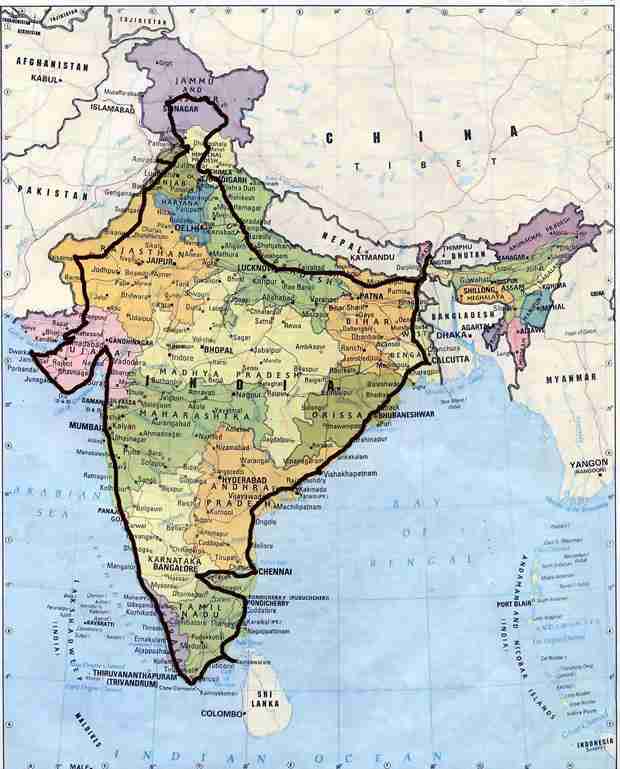 Be it the rains in Kerala, the humidity in Gujarat, the heat in Rajasthan, the cold in J&K, the floods in Uttarakhand, the rains in West Bengal or the barren landscapes of Orissa and Andhra Pradesh, it's a whole different ball game everywhere, I got to see the culture first hand. The sceneries are different every mile, the challenges were different with every second and there's nothing you can fall back on. That's the whole joy of motorcycling, which I got to see, feel and go through life being so close and within the various extremes of nature. This has changed my perception towards all the things that I had taken for granted. I suddenly had answers to all the questions in my mind about a million things I wanted to do ever since I was a kid, not knowing why.
These experiences made me a better person and they will live with me forever but most of all I am in love, in love with the roads. The roads, they are alive, they teach you, they guide you and are never meant to be taken for granted. Riding solo was also one of the biggest take backs for me, it was bliss. It leaves you completely free. Your decisions guide you, and every time you decide, you are on a new path, exploring, experiencing and living. Its every bit your journey, irrespective of anybody else's itinerary. No words can do justice to these experiences. I could go on and on and still not run out of stories to tell. This is just the first one, I'm sure the joys of motorcycling will bring more of such memorable stories my way.
India@72kmph quick statistics
No. of bikers: 1
No. of bikes: 1 – Pulsar 150CC (2007 edition)
No. of Kilometers done: 14,483 Kms
No. of days taken : 67 (May 15th to July 19th)
No. of states ridden through: 19
No. of Borders touched on the ride: 6 (Indo-Sri Lanka, Indo-Pakistan, Indo-China, Indo-Nepal, Indo-Bhutan & Indo-Bangladesh)
Southernmost point of the Ride: Kanyakumari (Tamil Nadu)
Westernmost point of the Ride: Okha Port (Gujarat)
Northernmost point of the Ride: Kargil (Jammu & Kashmir)
Easternmost point of the Ride: Hasimara (West Bengal)
Lowest altitude of the ride: Kuttanad (Kerala; 7.2ft below sea level)
Highest altitude of the ride: Khardung La (Jammu & Kashmir; 18,380ft above sea level)
Highest temperature ridden through: 50.3 degrees Celsius (Rajasthan)
Lowest temperature ridden through: -3 degrees Celsius (Jammu & Kashmir)