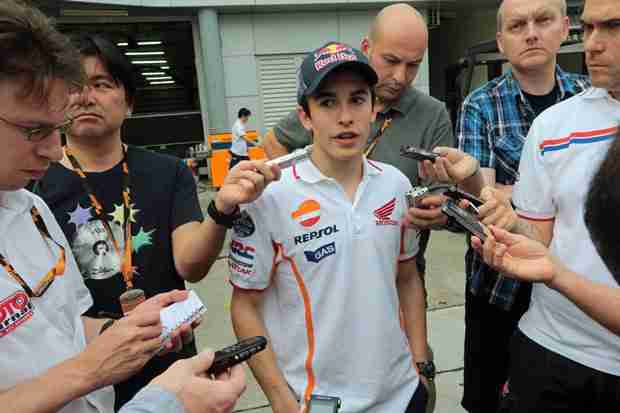 After first wearing the Repsol Honda Team uniform in the team presentation at the end of January, last week Marc Márquez was back on his new MotoGP bike to ride alongside the stars of the class. He made a positive assessment of the three days of testing in Malaysia.
What is your assessment of these three days of testing at Sepang?
"The first practice is always special, because you're always nervous after winter. I felt very good, better than I expected with the bike. With the team everything is working well and we're integrating slowly. I've tried new things and I also had my first crash with the MotoGP bike. It was not a big one and little-by-little we are getting to know the bike, which is what preseason is all about."
After three days of testing on the RC213V, what do you most enjoy and what was hardest when riding?
"What is still most difficult is braking, always having the same reference point and being consistent. What I enjoy most –although I always enjoy myself on the bike– is the power and acceleration. Now that I can control that a bit more, I'm starting to enjoy myself better."
Are you very sore?
"The second day I was very sore, but the physios did a very good job. This is normal with it being the first test."
Is the bike still leading you, or are you more relaxed?
"At the moment, it is still in charge in some aspects. I'm seeing that on some corners I can play around with my body position, but I still need to adapt to the bike."
Is it possible to have fun on the bike?
"Yes, it is possible. In fact, I had fun on a few stints, like when I started to slide on worn tyres and began to understand the reactions. It is a bike that you can have a lot of fun on."
Is it exciting to ride this bike?
"The first lap that you do after the winter break is exciting. Especially when you get to the end of the straight and lift your head to face the air at 300km/h. I had a bit of soreness in my neck on the first day. They are certainly powerful machines."
Did you encounter other riders on track?
"A few, like Lorenzo, Dani [Pedrosa] and Valentino [Rossi]. We saw each other a few times, but we weren't going fast and I wasn't able to pick up much."
Did you expect to be at their level? Did getting a good time add pressure on you?
"I did not expect to be at the level of Dani, Valentino and Lorenzo. But gradually I have been feeling good. Now the times are not important, because they are trying lots of things out, but yes, it is better to be up there than suffering a little further back."
In two weeks you will be testing again in Sepang. What do you have planned for the three days?
"Right now I have not found the limit of the bike. In this test we had it so that it was me who adapted to the bike. For the next test we will go with the idea of trying to suit the bike to my riding style."
Are you starting to note the pressure of the premier class?
"Yes, little-by-little I am taking that on. Obviously there is not just a change on track, but also off it with interviews and everything else. It is a little strange at the start."
What language is spoken in the garage? Spanish, Italian or English?
"English, above all. But in our free time it is more Italian and some Spanish. Italian dominates, but for work we speak in English."