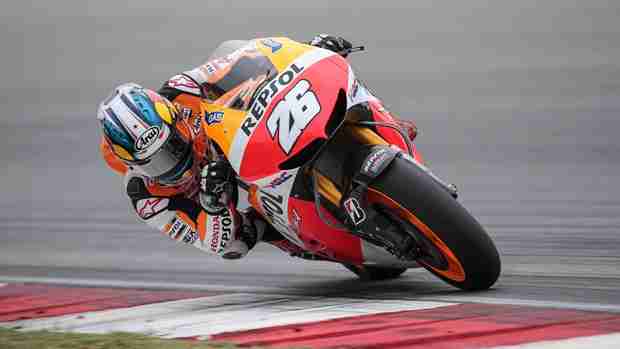 The Losail International Circuit will host the curtain raising race off a new MotoGP World Championship season this weekend. The Qatar track has been a fixture on the calendar for ten editions, and has been the first race of the year for the past five seasons. Dani Pedrosa and Marc Marquez will once again be in Repsol colours in the premier class, with Alex Rins and Alex Marquez doing likewise in Moto3.
The main protagonists in preseason testing, both Dani Pedrosa and rookie Marc Marquez are ready for action under the floodlights. The reigning MotoGP runner-up and the 2012 Moto2 World Champion form an extraordinary all-Spanish tandem for the series' most powerful factory, Honda, and come to Qatar in a great form on their Honda RC213V machines. Alex Rins and Alex Marquez will be onboard KTM bikes in the lower cylinder class, eager to realise their full potential in the opening race. The action begins on Thursday with the first practice for the Qatar GP, with the races taking place on Sunday evening.
Dani Pedrosa
"After a long testing period I am now really ready to go racing! The team has worked hard to get us in the best place for the start of the season and I'm pleased with my physical situation. It's a long weekend in Qatar, with the schedule over four days, and the grip level takes some time to improve with the sand and conditions there. It will be interesting to see how the new qualifying format works and really looking forward to the race. I'm just excited to get the season started!"
Marc Marquez
"We've had a good winter testing and now it's time to go racing. Qatar isn't one of my favourite tracks but I still enjoy it. There are many factors to consider there with the sand from the desert which affects the grip and also the fact it's a night race. Also, as I saw in Jerez, everything is very different on the MotoGP bike compared to Moto2 so we will need some time. Let's see when we get there, for sure I will be nervous going into my first MotoGP race but I'm also excited."
Alex Rins
"The Qatar circuit is very nice and I like it a lot, but at the same time it is a track that I find difficult. Last year we finished tenth in the race and the goal this year is to improve on that result. At first it was a bit difficult to adjust to the lights, because the shadows confuse you. You see them and think that they are from other riders trying to overtake, so you move over a little.
The three fast linked right handers are something that we must prepare well for, as they make the difference. For this first Grand Prix we are satisfied with the performance of the bike in preseason, but that does not take away the nerves that you have about wanting to go out and have a good race."
Alex Marquez
"Qatar is the first race of the 2013 season. I go there eager to start this World Championship campaign. This is a new track for me, and it being at night makes it a little bit of a different Grand Prix. The team are in a positive mood, as we have a good feeling with the bike and are all working well. This race comes at just the right time. To prepare, I have watched videos of previous years' races, as well as playing the track on the X-box to learn the corners and circuit layout. But you never really get to know until you get there. Once we arrive, my brother will tell me some details, I'm sure."