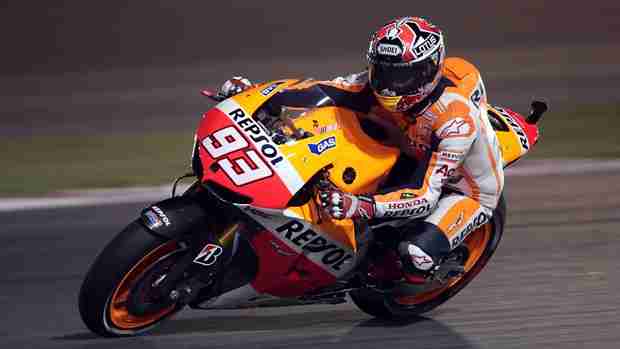 Championship finally got underway. On the first night of free practice for the Grand Prix of Qatar, at the Losail International Circuit, Marc Marquez and Dani Pedrosa placed fourth and eighth, respectively. It was a discreet start for the Repsol riders, due to the large amount of sand that covered the asphalt on the Qatar track. They were cautious in the first 45 minutes of riding on a tricky surface. After 18 laps, Marquez stopped the clock at 1'57.276, 0.591 off the fastest time of the night —set by Jorge Lorenzo. The Spaniard broke the track's speed record today, with a top speed of 344.7 km/h. On the other side of the Repsol Honda Team garage, Dani Pedrosa finished eighth on the time sheets with a time of 1'57.749.
Friday sees two further practice sessions in Qatar for the MotoGP riders, before qualifying on Saturday to decide the grid for the first race of the year.
Dani Pedrosa
FP1: 1:57.749, 17 laps, 91 km.
"Today wasn't our best day. We weren't able to ride well with the bike, because I had a little issue on corner entry. That's why we didn't get better lap times. We hope that things go better tomorrow and that we can get better one-off times again."
Marc Marquez
FP1: 1:57.276, 18 laps, 97 km.
"The truth is that I was a little nervous -above all at the start,- but that's normal. I got over that immediately and set about the practice just like we did in Moto2 last season: Working hard with a focus on the race. I made steady improvement and felt good, which is important at the start but we must remember that this is just the beginning. The grip levels improve a lot during a GP weekend, and thus we will have to keep working on the setup."
MotoGP 2013 Losail, Qatar FP1 timings
Jorge Lorenzo Yamaha 1:56.685
Cal Crutchlow Yamaha 1:56.743 +0.058
Valentino Rossi Yamaha 1:56.756 +0.071
Marc Marquez Repsol Honda 1:57.276 +0.591
Andrea Dovizioso Ducati 1:57.538 +0.853
Alvaro Bautista Honda 1:57.601 +0.916
Stefan Bradl Honda 1:57.670 +0.985
Dani Pedrosa Repsol Honda 1:57.749 +1.064
Aleix Espargaro ART 1:57.843 +1.158
Nicky Hayden Ducati 1:57.926 +1.241