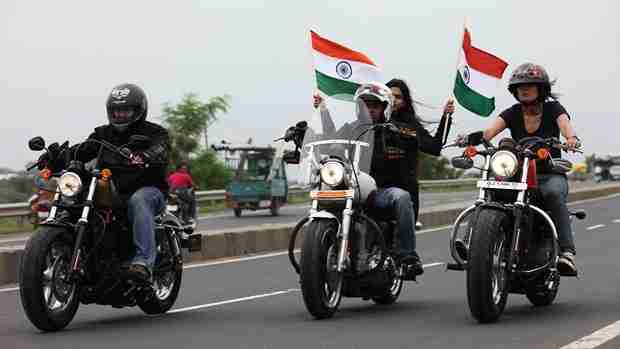 Paying tribute to Nation's 67th Independence Day Harley owners across the country rode together in their respective cities and celebrated the true spirit of freedom and brotherhood. Organized by every local chapter, freedom oriented H.O.G members united and saddled up their machines to kick start their thunderous engines today morning in Delhi, Mumbai, Kolkata, Bengaluru, Ahmedabad, Hyderabad, Cochin, Chennai and Chandigarh.
Nine Bridges Harley — Davidson came together to celebrate Independence Day to support a noble cause. They rode from the Harley-Davidson dealership in Ahmedabad to Mahatma Gandhi's birth place in Porbandar and donated a charity amount to an old age home. On the other hand- HOGs from Himalayan Harley-Davidson rode together to Wagah border to salute the real heroes and celebrated the day with the jawans.
Down south HOGs from Spice Coast Harley-Davidson rode to Karuna, Nilayam Old Age Home and spend the day with the senior residents. HOGs from Coromandel Harley-Davidson undertook a fundraiser ride and rode to Gurkukan School for the under privileged. Seven Island Harley-Davidson, celebrated the Independence Day in style and rode in unison to usher into the 67th freedom year with holding the true spirit of brotherhood and camaraderie in their hearts. HOGs from Banjara Harley-Davisdon rode within the city of Nawabs and celebrated the day with fellow community members. Bengal Harley-Davidson came together on Independence Day morning to ride together from Kolkata to Bhubaneswar and stayed overnight soaking in the scenic beauty of the temple city.