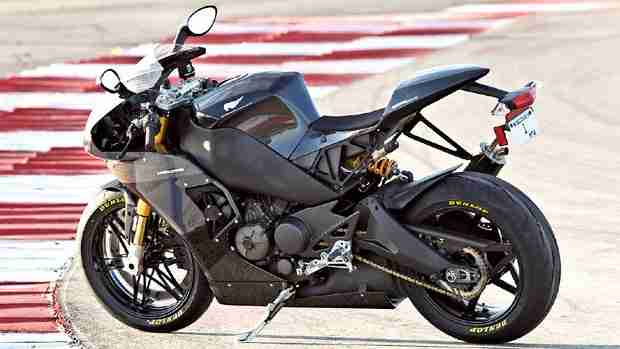 The partnership between Hero MotoCorp and Erik Buell Racing came through early last year and soon enough we heard that they were working on a 250cc motorcycle with its R&D happening mostly at EBR's facility in the US. This motorcycle along with more of Hero MotoCorp's own motorcycles (developed with EBR) will be displayed at the 2014 Auto Expo in India. Now further strengthening the partnership Hero MotoCorp has announced that it will be buying into 49.2% of Erik Buell Racing through its newly-incorporated wholly-owned American subsidiary – HMCL (NA).
What does this mean for the future of the Indian company? Well Erik Buell Racing (EBR) has a strong history of making some unique motorcycles through its former company Buell Motorcycle's which was once upon a time owned by Harley Davidson. The support from Harley was withdrawn in 2009 and up came EBR to concentrate only on racing. Hero MotoCorp is already sponsoring them in the AMA Pro racing championships. All this, with their own technology and R&D, that has shaped them into quite competitive motorcycles in their own segments. Hero MotoCorp will leverage on this expertise and use the existing knowledge bank at EBR and develop lower capacity motorcycles. Hero MotoCorp already has a massive R&D centre setup in Jaipur and this facility and EBR's US facility would jointly work on these machines. In-fact work on a 250 is already at full swing with latest reports being that the engine is currently being extensively being tested at EBR headquarters with key Hero MotoCorp engineers among the mix of specialists there.
Now if you see other tie up's that Hero MotoCorp has done in the time post the Honda breakup, ie. the tie up with AVL and Engine's engineering there is a strong possibility that Hero MotoCorp might actually be looking at some major forays in the motorsport world. A MotoGP team would take far too much time and effort to get going, we suspect an entry into the Moto3 world soon.
Mr. Pawan Munjal – MD & CEO – Hero MotoCorp Ltd
"The equity partnership with EBR is reflective of our long-term vision of transforming Hero MotoCorp to a truly global two-wheeler major with footprints spread across continents, offering a wide range of technologically-advanced two-wheelers. Indeed, this equity partnership is a natural extension of our existing relationship with EBR, which is going to further strengthen our strategic alliance. As we go on spreading our footprint in new international markets, we will look at having extended centres of our own R&D at multiple locations around the world, developing two-wheelers for our global customers. Our evolving relationship with EBR is an initiative in that direction. We will continue to look for both organic and inorganic growth as we keep expanding globally. Our fully-owned new overseas subsidiaries such as the one in the US and in Netherlands will play important roles in our future overseas acquisitions and investments."