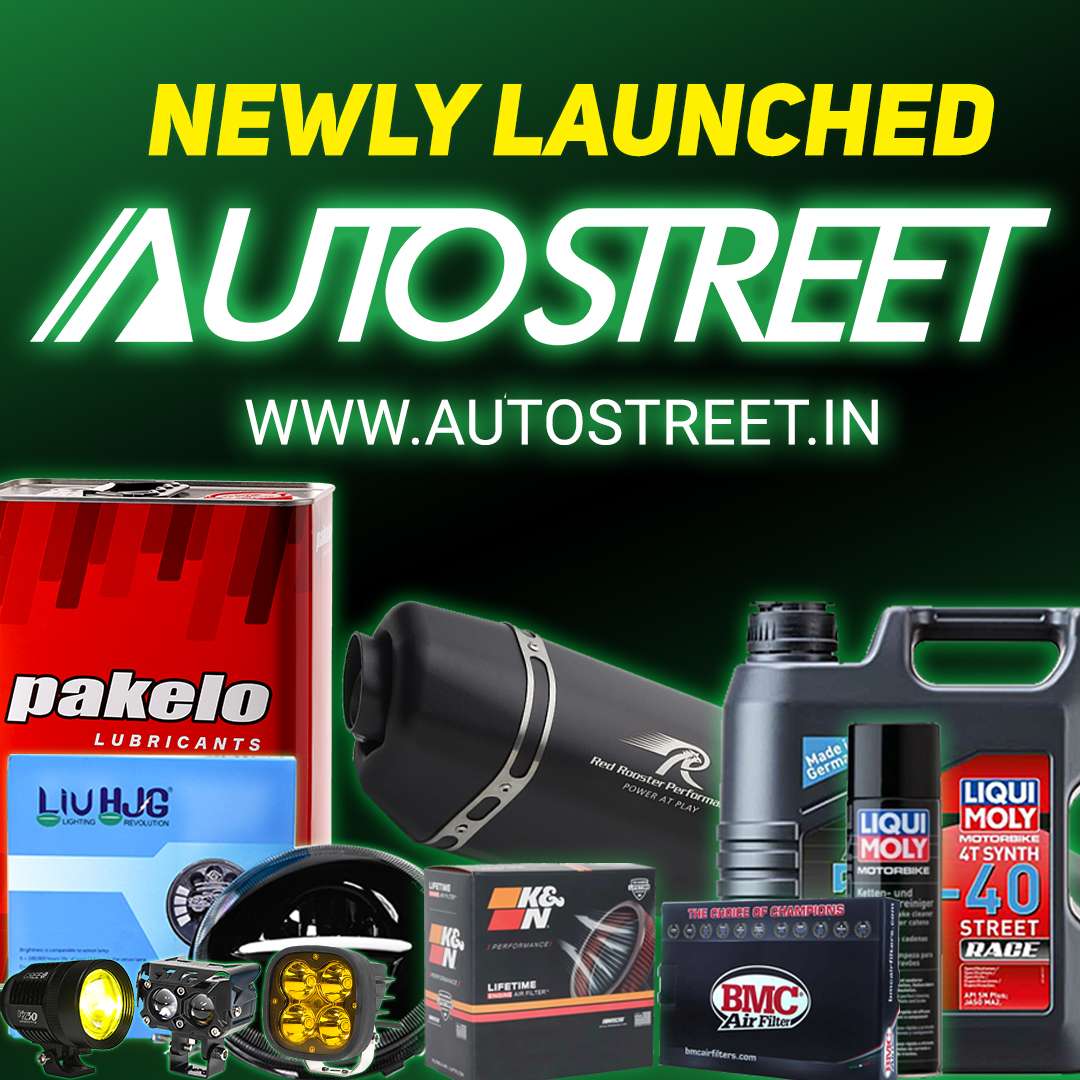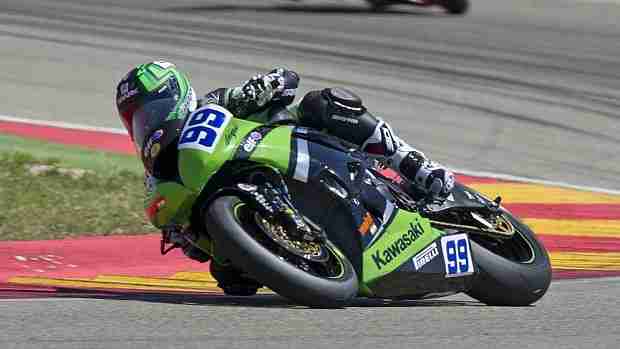 Fabien, who with his team crew had made some late set-up improvements in time for the 18-lap race, eventually got into his stride after a poor first lap that dropped him to 11th. He was in the lead by lap eight, and led a total of six laps, most crucially the final one when his only rival at that point, Sam Lowes, had to retire. Fabien's win puts him into the championship lead by two points, with his total now 38, after his fourth place finish at the opening round in Australia. This victory in Spain was his 16th career win. Fabien was joined on the podium by Kawasaki Intermoto Ponyexpress rider Luca Scassa, going third for his first top three finish of the 2013 season. Scassa is now third overall, on 26 points.
Four of the top five bikes in the final finishing order were Kawasakis, with Andrea Antonelli (Team GoEleven Kawasaki) and Riccardo Russo (Puccetti Racing Team Kawasaki) closing out the top five. Kawasaki Mahi Racing Team India rider Kenan Sofuoglu found a front brake problem early in the race and had to retire. He is now overall fourth, on the same 25 points he took for his first round win in Australia. Kevin Coghlan (Kawasaki DMC-Lorenzini Team) had led the race before crashing out, allowing Foret into the lead. Coghlan restarted to finish 13th and score three points. Vladimir Ivanov (Kawasaki DMC-Lorenzini Team) was a non-finisher, and on the second last lap Scassa's team-mate for this race, Florian Marino, was knocked off while in a top ten position.
Fabien Foret
"I had a plan for the last lap and let Sam Lowes do the work, and was going to try to get back to him. You never know how these things will go but I was ready anyway. We started the weekend with a set-up that was not perfect but my crew chief and my team did a lot of work to give me a good set-up and give me confidence for the race, so compliments to them. We got onto the podium, in first position, so we have to be pretty happy about that. Consistency in this championship is the key but you have to win when you can because full points are important too. It is a long season and this on should be exciting but I will try my best as I always do."
Dutch rider Michael van der Mark scored another rostrum finish in today's second round World Supersport race at Motorland Aragon in Spain — his second successive podium, following his World Supersport debut in Australia seven weeks ago.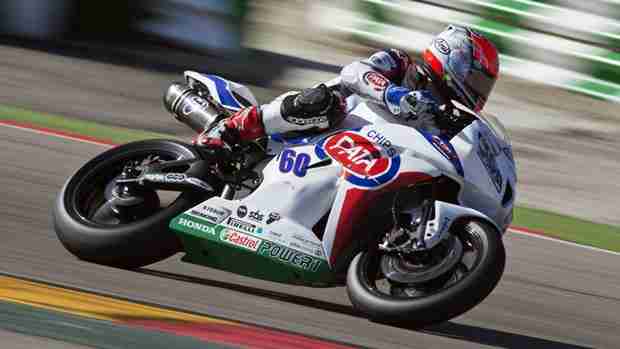 Michael van der Mark
I made a really good start and passed the fastest guys and I tried to push but I had not such a good feeling with the bike today. It was very different to how it was in practice and it's a shame we could not have done a little bit more. I tried to stay with Fabien (Foret) and Sam (Lowes) when they passed me but it was too risky. I saw that the guy behind wasn't catching me so, although I kept pushing, I wasn't on the limit because I felt that another podium would be a good result. I'm really happy to be back on the podium and to be in second place in the championship. The guys have done a really good job all weekend and now I'm really looking forward to Assen.
Luca Scassa
"It has been hard because as we can see on the straights it was tough for me but I did not want to relax so I kept on pushing and hoped that as usual the other riders would have more problems than me with grip at the end of the race. That is what happened and from tenth I was able to be third again. Other riders had problems and I am sorry for that but this is racing. It was fun to be back on the podium and to fight for it, and I have to thank all the guys in the team for giving me a bike to get to third place."
Kenan Sofuoglu
"This morning in warm-up and yesterday in qualifying we saw some problem with my brake calliper and we put a new one on. We still had a problem so we bled the brakes really strongly and the mechanics worked really hard to fix it. We really tested it as much as we could and we were sure there was no problem. For the race we felt we were really ready. I felt we could win this race but luck was not with me. I had to pull in. I am disappointed because my pace was very strong but this is motorsport, everything has to work together all the time and I just got this problem now at this round. Sam Lowes also no scored for a technical problem, so it can happen to any of us."
WSS Aragon 2013 results
Fabien Foret – Kawasaki ZX-6R
Michael Vd Mark – Honda CBR600RR
Luca Scassa – Kawasaki ZX-6R
Andrea Antonelli – Kawasaki Ninja ZX-6R
Riccardo Russo – Kawasaki Ninja ZX-6R
Lorenzo Zanetti – Honda CBR600RR
Jack Kennedy – Honda CBR600RR
Vladimir Leonov – Yamaha YZF R6
Roberto Rolfo – MV Agusta F3 675
Luca Marconi – Honda CBR600RR
Kev Coghlan – Kawasaki ZX-6R
DNS David Salom – Kawasaki ZX-6R
DNF Vladimir Ivanov – Kawasaki ZX-6R
DNF Kenan Sofuoglu – Kawasaki ZX-6R