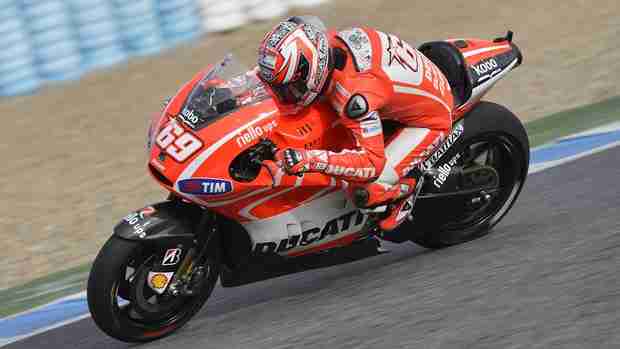 With the 2013 MotoGP championship fast approaching, the Ducati Team completed its final day of pre-season testing today at the IRTA-organized test held at Southern Spain's Circuito de Jerez. As had been the case yesterday and on Saturday, the planned work programme for Andrea Dovizioso and Nicky Hayden had to be altered due to uncooperative weather conditions, as morning rainfall left the track damp until after lunch. Even in the afternoon, conditions were less favourable than they had been for yesterday's dry portion, but Dovizioso and Hayden made the best of the situation. During the last hour and a half before the track closed, both riders tried a number of setup options on their Desmosedici GP13 machines, with the Italian again using the fairing that he had tried for the first time yesterday. Andrea rode 30 laps today and was eighth on the day but seventh in the combined times, 0.811 seconds off the pace of leader Cal Crutchlow. Nicky turned 42 laps today and ended ninth fastest on combined times. The Ducati Team now heads home to prepare for the opening MotoGP round, which will take place on 7 April in Doha, Qatar.
Andrea Dovizioso
7th, 1:40.322 (Day 2)
"Unfortunately, we didn't have much time today, so it wasn't possible to learn anything regarding the race pace. Still, I didn't expect to leave Jerez just eight tenths from the leader. I'm surprised and pleased at the same time, as this helps us to realize that we're not so far from the others when we have a fresh tyre. The weather didn't allow us to do a race simulation, so we're not sure what to expect when the tyres are worn. These three days were important for me and for the development, even if we weren't able to do a great lap time. We should be able to fight for a decent grid position in Qatar, and that's important, but we're not sure about the race."
Nicky Hayden
9th, 1:40.370 (Day 3)
"We started winter testing in Malaysia with a bigger gap than we had hoped, but since then I feel like we've worked well and recovered some of the gap, although part of that is down to this track being shorter. The test team is doing a good job with us, and I achieved my goal for this test, which was to be inside a second from the leader. Yesterday I didn't feel like I was riding so well, but I went better this afternoon when it finally dried out. There wasn't much time, but the team did a good job. My suspension guy had a few ideas, and they seemed promising; it's a good sign that I was a second faster than yesterday on a patchy track. There's still a lot of work to do, but everyone's really motivated for Qatar."
Paolo Ciabatti – Ducati MotoGP Project Leader
"Unfortunately, the bad weather affected every test that we took part in this year, and once again here at Jerez we weren't able to complete all the work we had planned. Still, we go home somewhat satisfied because we were able to significantly reduce the gap to the top, although we're aware that we have more hard work to do in order to make further improvements to our performance."
Ducati Corse development rider Michele Pirro turned 44 laps on the day, his best time of 1:40.881 putting him ninth on the day's timesheets, 11th in the combined times.