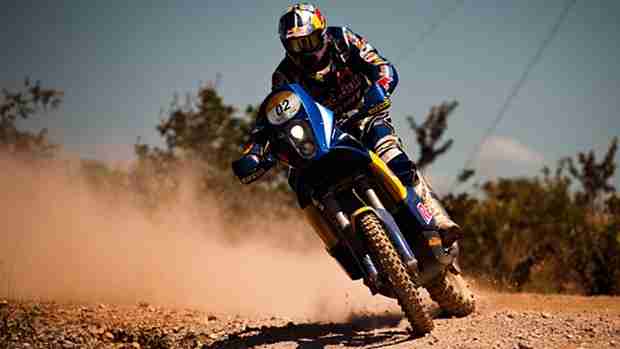 New Yamaha signing Cyril Despres has taken his first ever stage victory with Yamaha today on stage four of the Rally dos Sertoes in Brazil. The five-time Dakar winner is competing in Dakar Rally territory for the first time on his Yamaha YZ450F Rally. Despres wrapped up the 132km fourth stage between Uruaçu and Porangatu 24 seconds clear of second placed rider Marc Coma to move up to second in the overall standings and close the gap to Coma in the lead. Team-mate Mickael Metge completed today's stage in sixth position after a good ride to move up to sixth in the overall standings.
The two Yamaha riders started the Rally in good form with the prologue event on the 26th July in the city of Goiania, Metge completing the day in third with Despres just behind in fourth position. The Rally proper got underway the next day with stage two, an 84 kilometre ride between Goiania and Pirenópolis. The two were again not far from the front and repeated the first day with Metge taking third place and Despres fourth.
By the third stage it was clear to see Despres had adapted well to the Yamaha as he picked up the pace on the 287km trial between Pirenópolis and Uruaçu, finishing in second behind Coma and setting the scene for the following day's stage victory. Metge had a less fortunate third stage, the French rider missed a way point so doubled back, adding an extra 10km to his ride and finished in eighth as a result. The Rally, which runs for nine days in total and covers 4,115km, will continue for a further six stages as it winds its way to Palmas before returning to Goiania on 3rd August.
Cyril Despres
"Today we were rewarded for the months of hard work the team have put in with a first stage victory here in Brazil on the Rally dos Sertoes. It's a great boost for all of us, not only for those of us present on the race but also for everybody at Yamaha who believed in the project and who have been so solidly behind us. Obviously it isn't a Dakar stage victory, let alone an outright Dakar victory, but it is an important milestone on the road to that ultimate ambition and I must admit today's result has a special flavour to it. Not that we have much time to saviour it! Tomorrow is the first leg of a particularly tough 900 kilometres marathon stage and we have a lot of work to do, both on man and machine, to make sure we are in good shape for the challenge."
Mickael Metge
"My result isn't too bad and I'm really pleased for Cyril and the rest of the team, but the actual stage itself was a little frustrating for me. Yesterday evening they changed my GPS after it cut out on the special but it didn't solve the problem and it cut out 7 times again today. In addition I rode much of the time in the dust, especially over the last 50 kilometres after the refuelling. Hopefully starting 6th on the road tomorrow it will be less of a problem and a new GPS antennae will solve the cutting out problem."