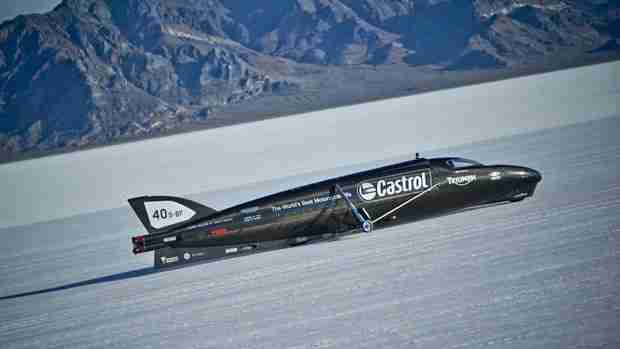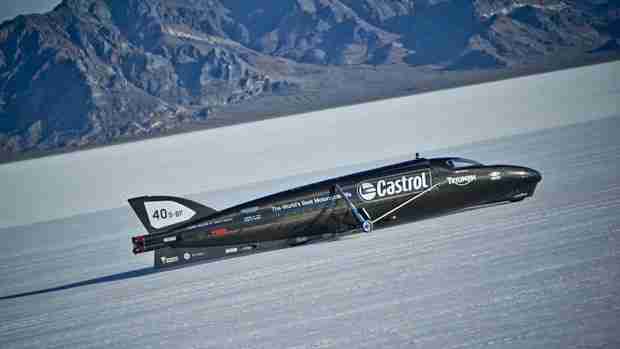 Litre class production motorcycles nowadays has made speeds of 200 miles per hour (321.8 kmph) possible without much drama, of-course given that length of a straight. Anything above that demands a strong aerodynamic approach with power figures boosted up so high just to push through all that air. Then there is the added risk, with even a small bump resulting in a possible lift off. Fighting all this comes Triumph, Matt Markstaller, Bob Carpenter and Jason DiSalvo with a machine that's mostly just carbon fibre and is powered by two Triumph Rocket III engines that are turbocharged. What this results is in a power output of more than a 1000 horses and a massive 677.9 Nm of torque going down on its two wheels.
Markstaller serves as aerodynamic engineer; Carpenter is the high-peformance engine builder; and Daytona 200 winner and Bonneville class record holder DiSalvo bravely pilots Triumph's latest entry. This cross-country team converges on the Bonneville Salt Flats, a 40 square mile salt pan in northwestern Utah, with the goal of a 400 mph plus record-breaking run.
This streamliner powered by methanol will be ridden Jason DiSalvo and the target is not just 400 miles per hour, but to actually go past it a substantial amount and reach atleast 430. The current record is at 376.156 miler per hour and by the look at the preparations this time around the Flats are in for something special. Triumph held the title of "World's Fastest Motorcycle" from 1955 to 1970 with the exception of a brief 33-day period.
The Castrol Rocket specifications