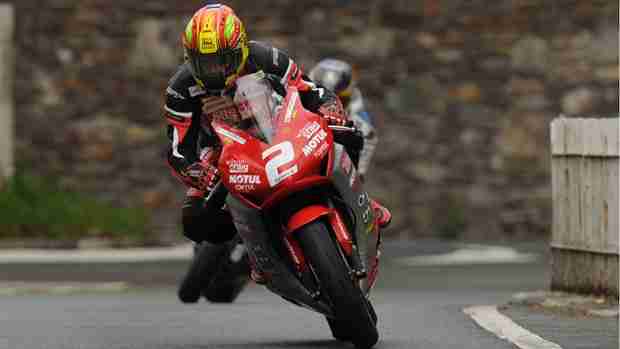 Leading Helmet manufacturer Arai is the latest brand to back the inaugural Classic TT Races on the Isle of Man in 2013. Arai, which is distributed by Moto Direct in the UK, will receive a series of high profile sponsor benefits including trackside, programme, web and race guide advertising.
The company will be providing its well-established race service to the race paddock, which includes helmet servicing and replacement throughout the race fortnight. Many of the established Classic TT stars are Arai registered riders including Australian ace Cameron Donald. The company will also provide helmets to the Travelling Marshals who operate during the qualifying sessions and races.
Arai joins a number of well-established Motorcycle industry brands and blue-chip companies in supporting the inaugural Classic TT Races, which is part of the newly established Isle of Man Festival of Motorcycling. Many of the leading TT Race specialists have confirmed entries and they will go 'head-to- head' against Classic Racing specialists in the three races.
This year's festival also includes two parade laps, which will feature some of the greatest names in motorcycle racing. Stars confirmed to appear include John McGuinness and Giacomo Agostini who will be recreating the 1967 Senior TT Race while World Champions Phil Read MBE, Kork Ballington, Chas Mortimer, Carlos Lavado, Freddie Spencer, Manuel Herreros, Steve Baker, Kel Carruthers and Brian Reid will join TT stars past and present in the 'Classic Racer Heroes' parade lap.
Laurence Skelly – MHK, Political Member, IOM
"We have a long established partnership with Arai and as the leading helmet provider we are very pleased that they will be endorsing our event. They play a really important role in providing a race service to competitors at the TT and Isle of Man Festival of Motorcycling and have become an established part of the paddock. We have had a great reaction to the new festival from commercial partners and fans and look forward to welcoming everyone to all the events that we've got going on including the Classic TT, The Manx Grand Prix's ninetieth anniversary, the Classic and two day trials and the VMCC's festival of Jurby in what promises to be a great celebration of Motorcycle racing."