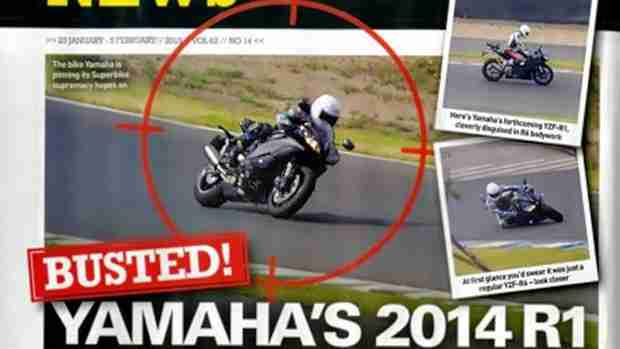 Yamaha has already confirmed that the 2014 Yamaha R1 will finally see a massive overhaul and bring it back in contention in the battle for being the best litre bike out there. There has been a lot of talk that this new 2014 Yamaha R1 could have a 3 cylinder engine based on what Yamaha presented at the Intermot. But we think that the chances of the flagship model having a triple are slim and instead Yamaha would focus on making the R1 less heavy and more aerodynamic with of-course minor changes to the current cross-plane crankshaft engine. The 3 cylinder engine would most likely make its way into a supersport option in the 600-750cc category.
Coming back to the photographs caught by MCN Australia, it is natural for a lot of people to think that this could very well be the R6. But on close examination it is easy to decipher that the swing-arm and the different silencer point towards a new R1, for arguments sake for those of you who say that it could be the new R6, the photographer confirms that the bike sounded like its predecessor the 2013 Yamaha R1 with the characteristic deep growl of the cross-plane crankshaft, also visually the engine looked too wide to be a 3 cylinder. The biggest changes of-course is the shift from the under-seat exhausts to a more regular single sided one for better mass centralization and weight reduction. Another key change that made it possible to use an R6 shell is the addition of a ram air intake.
It is still too early to rule out anything or write anything in stone, but yes 2014 will see a new Yamaha R1 and that is for sure and it will probably be showcased at the Intermot or the EICMA along with the much awaited Yamaha 250, unless of-course we can get to see some more clear spy photographs, chances of which are higher with every passing day.