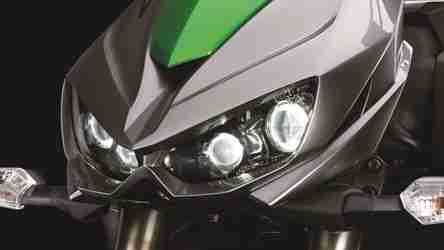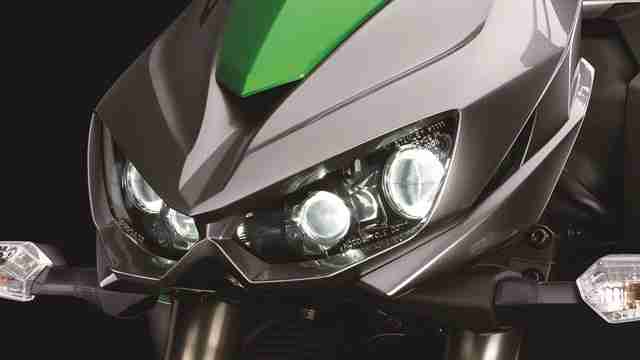 The "it" factor is hard to describe, but you always know it when you see it. Likewise, the new 2014 Kawasaki Z1000 has a hard-to-define "streetfighter" style that is impactful enough to ensure everyone knows they're seeing something special. In a significant departure from the concealing bodywork of its sportbike predecessor, the new Z1000 strips-off unnecessary covers and bodywork to expose the superior functionality of its parts. The Kawasaki Z design language has been elevated to a higher level with the new Z1000's "Sugomi" styling. From its seductively sculpted shapes invoking a crouching predator and painstaking details like its special "Z" logo ignition keys, machined aluminum steering stem bolt, and intricately textured "Z" motif seat cover, to the tighter tolerances of its high-quality components and bodywork, the dramatic result has a very special feel that helps set the stage for the excitement to follow!
For 2014, Kawasaki engineers concentrated on making the Z1000 more potent and capable than ever. Its extremely exciting inline-four produces the sort of power that launches you away from stops and out of corners in a way lesser powerplants simply can't hope to match. The Z1000 engine produces strong, instant-on thrust that's capable of embarrassing many hardcore sportbikes.
Z1000's 1,043cc, DOHC, liquid-cooled, 16-valve engine features revised intake cams that boost its low-to-midrange torque–where most street bikes spend their time. When the road opens up, this stylish streetfighter can better stretch its legs thanks to additional airbox vents and new cylinder connecting passageways that help strengthen mid-to-high RPM performance by improving breathing and reducing the pumping losses associated with displacing air inside the crankcase. The more pronounced growl of the intake at low-RPM and its intoxicating howl at full-song will put a smile on even the most jaded rider's face. This engine's responsive power allows it to excel at almost any street-going activity, be it playing around town, sport riding, or dispatching miles on the open road.
Four 38mm Keihin downdraft throttle bodies inject an ideal mix of fuel and air into each combustion chamber with help from an advanced ECU that's been re-tuned to provide a livelier engine feel. An updated cool air intake system routes fresh air to the airbox via extra ducts at the front of the bike, and a new, non-woven air filter element provides better flow at high-RPM, while four equal-length velocity stacks help provide snappier throttle response to further increase the engine's fun factor. Digital Timing Advance contributes to the increased low- and mid-range power, while spark plug-mounted ignition coils help ensure perfect timing for each cylinder. It's a perfect engine for a road-going sportbike — aggressive, powerful, flexible, and blessed with the legendary reliability associated with Kawasaki sportbikes. Shorter overall gearing complements the more responsive engine to deliver astounding thrust at the rider's command. However, a new, slightly taller 6th gear helps maintain reasonable RPM at highway speeds so comfort and economy don't suffer when covering miles on a long ride. A beautifully styled 4-into-2-pre-chamber-into-2 exhaust offers a pleasing growl that is well-matched to the more-aggressive tone of the Z1000's intake system. A butterfly valve in the right-side muffler not only helps reduce noise, but also tunes exhaust back-pressure waves to help enhance low-rpm engine response.
The Z1000 features an advanced aluminum frame similar in design to the Ninja® ZXâ"¢-10R superbike's. The lightweight assembly curves over the engine, cradling it from above and bolting solidly to it in three places, with a rubber-backed fourth mount provided for added vibration isolation and torsional rigidity. This design allowed engineers to keep the bike's waist narrow for superb rider interface and maximum comfort and control. The main frame and swing-arm pivot pieces are cast as a single unit, with welds eliminated wherever possible for seamless aesthetics. Its new sub-frame tapers to a very shallow cross-section at the rear, allowing the bodywork to take-on an aggressive minimalist profile. The wheels, brakes and suspension bits that allow this bike to move so gracefully and swiftly are truly state-of-the-art. Suspension is handled by a new fully adjustable 41 mm inverted SFF-BP (Separate Function Fork — Big Piston) fork up front and a preload- and rebound-adjustable horizontal back-link shock in the rear. The single-shock system features a damper mounted nearly horizontally above the swing-arm for optimal mass centralization and heat resistance. The gas/oil shock offers superb wheel control whether you're hammering along deserted back roads or prowling across pothole-infested city streets.
Great looking new one-piece "monobloc" radial-mount front brake calipers offer world-class power and feel. The ABS equipped disc brake system — 310mm petal-type front rotors squeezed by those ultra-rigid radially mounted "monobloc" calipers, is controlled by an equally race-spec radial pump master cylinder. The new, monobloc front calipers are machined from a single piece of aluminum delivering both increased caliper stiffness and reduced weight. Riders will love the responsive braking power and improved feel at the lever. A 250mm petal-type rotor and single-piston caliper provide good rear brake feel at the pedal for maximum finesse during aggressive riding. The power and feel of the brakes at both ends is amazing, providing supreme confidence when slowing the bike down from speed. The Z1000's standard anti-lock brake system (ABS) promotes additional rider confidence when riding in slippery situations.
The wheels working with those brakes — lightweight six-spoke supersport-style units — are also the latest in lightweight production technology. They not only reduce un-sprung mass, which allows the suspension to function optimally, but also carry the latest in radial tire technology. The result is superb grip, precise handling and reasonably long tread life. The Z1000's sculpted styling is easily its most stunning aspect. The thin, compact headlight housing was positioned as low as possible, extending the line that starts from the top of the tank. The new reflector-less LED headlight design is a first for Kawasaki. It uses four LEDs that enable the housing to be shaped in a way that contributes to the more intense glare of the Z1000's new face. All four long-life, low-energy LED bulbs: two low-beam (center), two high-beam (outside) illuminate when the high-beams are on, and a separate LED position lamp is located on the instrument cover. Slim, futuristic looking radiator shrouds partially surround the Z1000's powerful engine, and a new under-cowl further contributes to the aggressive image. The new slender tail section bodywork is more compact than the previous Z1000 models, further contributing to the bike's crouched-forward appearance. The compact passenger pad was designed to integrate with the rider's seat and gives the appearance of a solo-seat cover, adding to the sporty look of the new more-compact tail section. A new LED taillight design also adds a futuristic touch to the bike's rear.
In keeping with its radical looks, the Z1000 offers a highly effective riding position. The wide, large-diameter aluminum handlebars offer great leverage for aggressive maneuvers, and the knurled metal foot pegs grip the rider's boots to provide a direct-connection to the chassis. It all adds-up to the perfect cockpit for maximum agility without sacrificing real world comfort. As a package, the Z1000's engine and chassis are tuned to act more like European "streetfighter" models in both looks and feel. This innovative bike marks a significant step forward, providing an overall experience that is very different from other Japanese motorcycles, a quicker, more direct feel that is sure to please experienced riders.