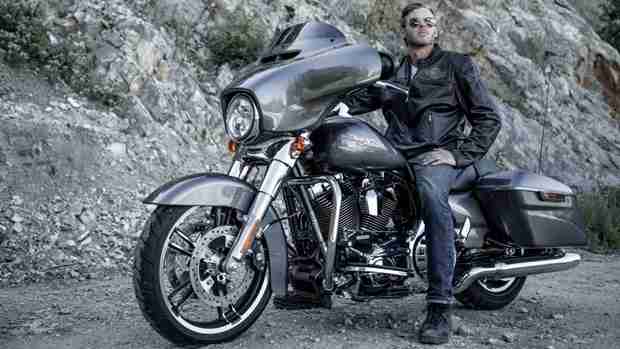 As the leisure motorcycle culture in the country becomes stronger, Harley-Davidson today gave motorcycle enthusiasts another reason to hit the road with the launch of the new 2014 Harley-Davidson Street Glide in India. Introduced under the Motor Company's Project RUSHMORE – a global customer-driven initiative by Harley-Davidson to fundamentally improve every aspect of the touring experience – the all new 2014 Street Glide comes to India as a Completely Built-up Unit (CBU) at a price of INR 29,00,000 (ex-showroom Delhi) and will be available at all 11 Harley-Davidson dealerships across the country.
Mr. Anoop Prakash, Managing Director, Harley-Davidson India
"Project RUSHMORE is an epic, customer-focused journey by Harley-Davidson to fundamentally improve the riding experience for owners of touring models. It not only showcases our commitment to our core customers but also represents a new direction in product development at Harley-Davidson. The new Street Glide is our premier offering for the Indian market and offers the perfect balance between custom touring style and long haul functionality. With its stunning design and rider focused engineering, I am confident that it will rouse a sense and feeling of freedom like never before."
The 2014 Street Glide showcases the key achievements of Project RUSHMORE and highlights innovation and technological enhancements that are combined with splendid looks for an unmatched touring experience that will have both riders and passengers measuring rides in smiles per gallon.
Launched August 2013, Project RUSHMORE is a customer-driven venture by Harley-Davidson to fundamentally improve every aspect of the riding experience. The culmination of an intense four-year product-development program, Project RUSHMORE introduces category-leading technology and design enhancements that will recalibrate the expectations of touring motorcyclists. Project RUSHMORE produces refined technology, thrilling performance and stunning styling that collectively transform the Harley-Davidson Touring and Trike motorcycle platforms. Those enhancements slot into four customer-defined categories: Control, Infotainment, Feel and Style.
New & Differentiating Features
Inspiring rider confidence are the improved Dual Halogen lighting, Reflexâ"¢ Linked Brakes with Anti-Lock Braking System (ABS), and High Output Twin Cam 103â"¢ powertrains on 2014 Street Glide.
Harley-Davidson powertrain engineers working with Project RUSHMORE tuned the new High Output Twin Cam 103 engine specifically to deliver more passing power. The result is 138 Nm of peak torque at 3500 rpm. Equipped with a new camshaft to optimize bottom-end torque and a new high-flow airbox, the HO Twin Cam 103 delivers 5 percent more torque than the standard Twin Cam 103 powertrain in a Touring configuration. The result is a dramatic improvement in 60-to-80 mph roll-on acceleration in fifth gear, the kind of real-world power that hustles a rider back into the desired lane or up the mountain briskly, even with a passenger and a week's worth of gear on board. The new airbox has the added comfort-enhancing benefit of improving legroom and airflow around the rider.
Reflex Linked Brakes with ABS
Reflex Linked Brakes combine ABS with electronically linked brakes that dynamically optimize front/rear brake balance. Linked braking is activated when the motorcycle is traveling above the threshold of 25 mph. If braking is initiated at slower speeds the front and rear brakes function independently. When linked braking is active, applying the front, rear or both brake controls will apply braking force to both the front and rear brakes in a proportion determined by the Reflex Linked Brakes system to optimize performance. Reflex Linked Brakes incorporates ABS to further help the rider maintain control during braking events, especially those that happen in less-than-optimal conditions.
New Hydraulic Clutch Control
2014 Street Glide is equipped with a new hydraulic clutch control that maintains the previous cable clutch-lever effort despite stronger clutch springs. The hydraulic clutch also does not require periodic adjustment or service, provides consistent engagement and modulation in all operating conditions, and provides consistent clutch-lever effort over the life of the vehicle.
The new Dual Halogen headlamp significantly outperforms a single-element halogen headlamp in high-beam situations because the low beam is also illuminated, increasing total lumens output. The Dual Halogen headlamp is paired with halogen fog lamps on models so equipped.
Improved Front Suspension with Stiffer 49 mm forks
The 2014 Street Glide is equipped with new front suspension components, including larger fork sliders and stiffer triple clamps that provide improved steering response. Fork diameter is increased from 43.1mm to 49mm (14 percent). The steering stem is supported by larger bearings. Suspension damping has been re-tuned for a smoother ride over minor pavement irregularities like tar strips.
New colour-screen Boom! Box infotainment systems combine quality audio, Bluetooth® connectivity, voice recognition, text-to-speech technology, GPS navigation, plus support for intercom and CB communications in a single module. The Boom! Box 4.3 highlights below.
High-resolution 4.3-inch colour screen with auto and manual dim functions
Audio output is 25 watts per channel through either a two-channel or four-channel system, depending on the model. Distortion is limited to just 1 percent so the volume can be set louder without compromising audio clarity. Accessory external amplifiers rated at 75 watts per channel will be available.
The Original Equipment 5.25-inch speakers are optimized to the system. Speaker enclosures are sealed and tuned. The Electra Glide Ultra Classic features a bass port to the Tour-Pak. The enclosures are designed to accept 6.5-inch Boom! Audio accessory speakers.
Equalization is optimized for the motorcycle environment and automatically adjusts the bass and treble levels with the volume for optimal sound quality at all motorcycle speeds.
The Boom! Box 4.3 is Bluetooth capable for pairing a mobile phone. An Advanced Audio Distribution Profile (A2DP) streaming audio Bluetooth interface transmits high-quality audio. Using a wired headset the rider can make and receive calls without leaving the motorcycle hand controls, and stream music directly from the phone.
If the Bluetooth-connected mobile phone is compatible, then receiving and auto replying to Short Messages Services (SMS) can be viewed and listened to through the Boom! Box system (in US English only).
The Voice Recognition (VR) system gives the rider the ability to initiate voice-operated commands to a connected mobile phone (in US English only).
The new Jukebox compartment on the fairing dash features a USB port for charging and playing electronic devices, including Apple iPod/iPhone and other MP3 sources, an SD card, and mobile phones. Apple iPod and iPhone functions are available through the hand controls. The Jukebox compartment features a cushioned bottom and water-resistant foam seal around the one-touch door.
Large faceplate buttons on the Boom! Box 4.3 are designed for easy use while wearing gloves.
All infotainment functions are controlled through thumb-operated five-way joysticks located on the left and right hand control areas.
Radio functions include AM and FM bands plus WB (weather). All radio functions are available through hand controls.
Boom! Box 4.3 supports CB radio and voice-activated (VOX) intercom functions.
A selectable Vehicle Information screen displays ambient air temperature, oil pressure, and Engine Idle Temperature Management Strategy (EITMS).
From the new Batwing fairing with split stream venting to a refined passenger seating area, aerodynamics and ergonomics come together to improve comfort.
The key design element of the new fairing is its split stream vent located below the wind-shield which alters the air pressure behind the fairing and contributes to a significant reduction in buffeting. The vent is intended to be open in almost any riding condition, but a door controlled by a One-Touch push-button will close the vent to keep rain water off the dash panel area.
Other alterations to the shape of the fairing include a new contour below the wind-shield, slightly more coverage in front of the hand controls, and more overhang of the headlamp. The compact shape and position of the airbox for the new High Output Twin Cam 103â"¢ engines improves airflow around the rider and creates additional leg room on the right side of the motorcycle.
The form and the function of many components are improved — a reshaped Tour-Pak and saddlebags with convenient One-Touch design elements, sleeker fenders, lighter cast aluminium wheels and intuitive hand control switches.
The new fairing is the most obvious styling change for 2014, in part because its shape is so familiar to riders and non-riders alike. The new Batwing fairing represents an intense collaboration between stylists and engineers. The two teams worked together to create a shape that is a fresh yet recognizable interpretation of an iconic design, and also provides a significant reduction in head buffeting to the rider.
New Enforcer cast aluminium wheels
2014 Street Glide features new 10 spoke Impeller cast aluminium as Original Equipment, designed to be lighter and stiffer than previous wheel styles. The motorcycle has a 16-inch diameter rear wheel.
Restyled saddlebags with One Touch latch and 8% more storage
The new hard saddlebags have a sleeker shape that complements the Tour-Pak, and offer more capacity. New One-Touch latch handles are located between the seat and the saddlebag. A new hinge design makes it possible to open the lid with one hand. The tubular saddlebag guards have been reshaped to increase passenger leg room while still providing protection for the bags. The new saddlebag supports are made of cast aluminium and are cleaner looking, lighter in weight, comprise fewer parts, and provide better bag alignment than the steel supports they replace. The new supports also accommodate easier installation of accessory docking kits for backrests and racks.
The new Jukebox compartment on the fairing dash features a USB port for charging and connecting to mobile phones and other electronic devices. The Jukebox compartment features a cushioned bottom and water-resistant foam seal around the One Touch door.
A functional element applied to the fuel tank door permits latching and unlatching with a simple press or pull of a finger.
2014 Street Glide features a more contemporary front fender design. The steel fender has a more streamlined shape, and the skirt has been cut slightly higher to expose more of the front wheel. The fender is also tilted forward slightly to level it with the ground.
Larger gauges with improved graphics
Designed to be easier to read in all conditions, new speedometer and tachometer on all fairing-equipped models feature a 10 percent larger viewing area and 68 percent wider numbers. Warning lights and the speedometer screen are also larger and more visible. The fuel and volt gauges are 28 percent larger. The oil pressure and ambient air temperature displays have been moved to the Boom!â"¢ Box infotainment screen. The Ultra Limited gauges have an elevated and lighted "stadium" tic band around the perimeter.
New Intuitive Hand Controls
The shape, feel, position and function of all hand controls have been improved. Hand control buttons have a dished shape and angle that better fits the thumb or finger and provides positive engagement. Switch texture and keystroke was designed to provide better feel and feedback. The cruise control button is moved to the left hand control so the right hand no longer has to maintain the throttle and engage the control. All infotainment functions are controlled through thumb-operated five-way joysticks located on the left and right hand control areas. A new trip switch trigger on the back of the left hand control cycles the LCD screen on the speedometer through odometer, trip, range to empty, clock and gear displays. Five open panel switches are prewired for installation of accessories.