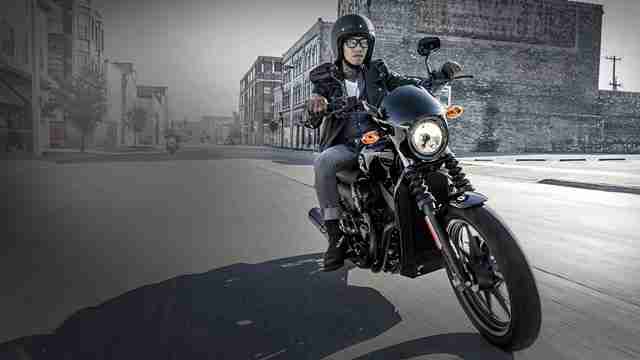 Harley-Davidson is continuing its monumental ride, which began with the introduction of Project RUSHMORE in August, by revealing two, new Dark Custom motorcycles designed for young urban riders around the world. The Harley-Davidson Street 750 and Street 500 motorcycles — the first all-new platform from Harley-Davidson in 14 years — are built for urban environments with all-new liquid-cooled Revolution X power trains, nimble agility and the sound and look that lets everyone know they are genuine Harley-Davidson.
"These are the newest motorcycles to join our Dark Custom line-up, which helped make us the number-one selling brand to young adults in the U.S. for the past five years," said Matt Levatich, President and Chief Operating Officer, Harley-Davidson Motor Company. "Both the Street 750 and Street 500 were designed with thousands of hours of input from young adults in cities around the world. This input guided both the attitude and capabilities of these motorcycles. They are proof that being customer-led continues to be a core driver of our product development process."
The Street 750 and Street 500 from Harley-Davidson are built for an urban environment. Each motorcycle features the new, Revolution X engine, designed to match the demands of stop-and-go traffic with nimble agility, while delivering instant throttle response to escape city gridlock. The Revolution X engine will be housed in a new, narrow and lean chassis built for agility, with a super-low seat height, new suspension and broad handlebar sweep that provides confidence and manoeuvrability when managing tight turns and fast moves. Both signature Dark Custom motorcycles feature a premium, minimalist style that serves as a blank canvas for riders to customize. Price's of the Street 750 and the Street 500 are expected to start at just above 4L INR.
"These new bikes are leaner, yet still have a mean streak — they're the real deal, made of real steel." said Mark-Hans Richer, Senior Vice President and Chief Marketing Officer, Harley-Davidson Motor Company. "They're designed to handle the abuses of urban environments and provide authentic opportunities to customize." The Harley-Davidson Street 750 and Street 500 will be rolling into dealerships in select markets starting in 2014.
Harley Davidson Street 750 specifications
749 CC LIQUID COOLED REVOLUTION Xâ"¢ ENGINE
6 SPEED TRANSMISSION
BELT DRIVE
2 INTO 1 EXHAUST
MID MOUNT CONTROLS
EASY LOCK TO LOCK SWEEP
SINGLE CALLIPER DISC BRAKES
SPECIALLY TUNED SUSPENSION
2 UP SEAT WITH PASSENGER PEGS
METAL TANK AND FENDERS
LED TAIL LIGHTS AND BULLET SIGNALS
LOCKING GAS CAP, FORKS, AND IGNITION
V TWIN 60° 4-VALVES PER HEAD
WHEEL SIZE: 17" FRONT, 15" REAR
WHEELBASE: 59.5"
WEIGHT: 480 LBS (WET)
Harley Davidson Street 500 specifications
494 CC LIQUID COOLED REVOLUTION Xâ"¢ ENGINE
6 SPEED TRANSMISSION
BELT DRIVE
2 INTO 1 EXHAUST
MID MOUNT CONTROLS
EASY LOCK TO LOCK SWEEP
SINGLE CALLIPER DISC BRAKES
SPECIALLY TUNED SUSPENSION
2 UP SEAT WITH PASSENGER PEGS
METAL TANK AND FENDERS
LED TAIL LIGHTS AND BULLET SIGNALS
LOCKING GAS CAP, FORKS, AND IGNITION
V TWIN 60° 4-VALVES PER HEAD
WHEEL SIZE: 17" FRONT, 15" REAR
WHEELBASE: 59.5"
WEIGHT: 480 LBS (WET)